The Boston Globe
Peak cringe? Critics take aim at 'This car climbed Mount Washington' bumper stickers.
The famous "This car climbed Mt. Washington" decals are a highway fixture. To some, they've worn out their welcome.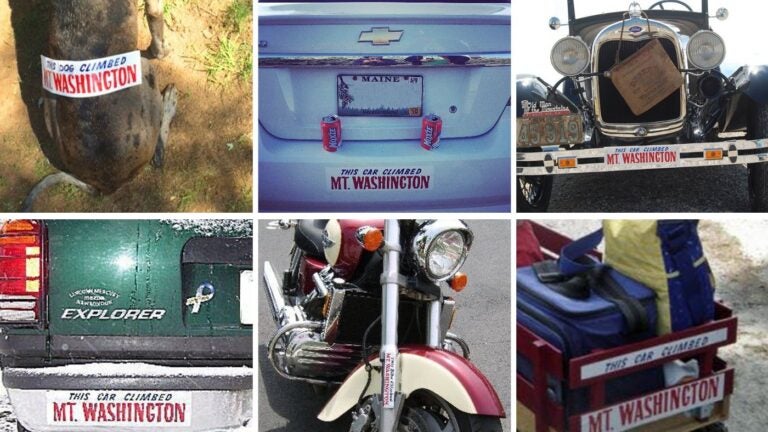 From Nissans in Nashua, N.H., to 4Runners in Fall River and Priuses in Peabody, countless vehicles have traveled to the top of New England's tallest mountain.
We know this because drivers have told us by displaying what's arguably the region's most notable decal on the backs of their vehicles: the large red-white-and-blue bumper stickers that proudly declare "This car climbed Mt. Washington."
Just about everyone who has driven up Mount Washington over the last half century has been given one for free with the price of admission to the mountain's Auto Road, where about 40,000 of them are handed out annually.
To those who slap them on the backs of their cars after completing the 7.6-mile journey to the 6,288-foot summit, they're a badge of honor and a keepsake from a local natural wonder.
But to others, they're seen as goofy, irritating, and even eye-roll-inducing — basically, they're peak cringe.
That's according to the army of naysayers who have recently targeted the adhesive souvenirs in videos on TikTok and Instagram, saying it's time for all the bumper-based bragging to come to an end.
"You're literally just driving up a gigantic hill. That's really all it is. You drove up a hill," said Marc Lewis, a comedian from Saugus who has made several videos about his disdain for the stickers. "It's like putting something on your car that says, 'My car drove down my driveway.' "
Lewis, 31, recently included Mount Washington sticker owners on a list of the "four people from Massachusetts that everybody knows." (Also in his roundup: "townies" who attended UMass Amherst and were never seen or heard from again.)
Lewis said it bugs him to see the act of driving up a paved roadway described as "climbing." But what really grinds his gears is that, in his experience, people who prominently display the stickers tend to be menaces on Boston's roads.
"There's a bunch of different signals you can pick up on as far as if a person is going to drive like an absolute clown," Lewis said. "That is absolutely one of, if not the one. It's a red flag."
Others online have openly described themselves as "a hater" of the decals, declared they "don't care" if your car successfully navigated the road, or questioned whether the trip is difficult enough to warrant a prize.
"I'm starting to think that Mount Washington may not be that hard to climb," one person said in a video, after spotting a sticker on a small blue sedan. "It seems like a lot of cars have accomplished this feat."
In a recent TikTok skit, comedian Matt Lyons, who is known for making parody videos that skewer the mannerisms of outdoorsy people, pretended to gloat about the amount of "blood, sweat, and exhaust" spent securing a sticker.
"How's life been since getting the sticker? Let me tell you, it's not as glamorous as it sounds," he said in the clip. "A lot of honking, a lot of yelling and waving on the highways, but, you know, it comes with the territory."
Lisa McCoy, marketing director for the Auto Road, has seen the recent commentary online. But she takes the criticism in stride.
"It's really funny, actually!" she said.
Although she appreciates the humor, McCoy will always defend the use of the stickers.
There's no question that driving up the 162-year-old Mount Washington Auto Road is much easier than it used to be. In years past, when it was a dirt path covered in roots and rocks, the journey was not for the faint of heart. Now that it's fully paved, she said, nearly every car on the market can make it up with relative ease.
But it still takes strong nerves.
The route, which winds around several steep drop-offs without guardrails, tends to spook drivers afraid of heights. Fog, snow, heavy rain, and strong winds are common impediments. As all drivers are warned, the trip down can be more harrowing than the ascent, because it can cause brakes to overheat.
In many cases, people turn around before making it to the top. McCoy said; some even turn in their stickers after they chicken out.
"Even though the road surface is different, it's still a very exciting drive," she said. "It's still a badge of honor because it is an experience like nothing else."
At this point it's hard to imagine the Auto Road without the stickers, which have been a roadway fixture since the early days of car travel. Before the 1960s, the mountain sold a "This car climbed Mt. Washington" placard made of metal. In the years since, countless cars, trucks, motorcycles, and ATVs have brandished the famous vinyl version, and become rolling billboards for the Granite State attraction.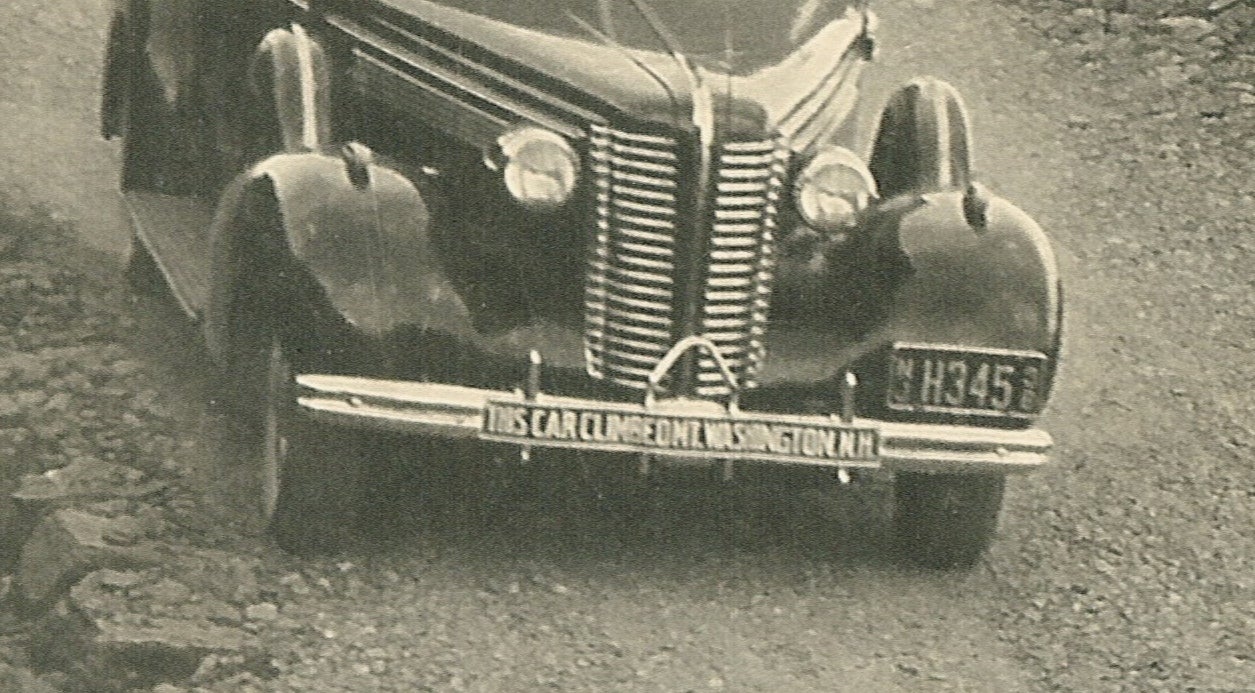 "It's in everyone's psyche," McCoy said. "It's an icon."
Still, some who scale Mount Washington on foot — a taxing journey that takes roughly eight hours round-trip — look down at people who visit the summit without breaking a sweat. Parodies of the sticker that use phrases like, "This driver climbed Mt. Washington, but congrats to your car," are widely available online. Some are even for sale in the Mount Washington gift shop itself.
But McCoy said giving everyone — regardless of skill or ability level — the chance to see the view from the mountaintop is something to be celebrated, not mocked.
She also urged anyone who still pokes fun at the ubiquitous decals to consider just how spectacular the Auto Road really is. In a half-hour ride, motorists can witness the grandeur of the Presidential Range, watch the climate and landscape change at higher elevations, and step out onto a peak that's so otherworldly, it's been compared to the surface of the moon.
If someone wants to commemorate that trip with a sticker, she said, what's wrong with that?
Despite the grief the stickers are getting online, or how easy the drive to the top has become, one thing is certain: They aren't going anywhere.
"Even if there are cars that hover their way up the mountain like 'The Jetsons,' there will always be 'This car climbed Mt. Washington' bumper stickers," McCoy said.