The Boston Globe
A fisherman looking for bass in the Charles River found an abandoned car instead. Then he found another — and another.
Jim Thames and his sonar device have found four long-lost cars under the water's murky surface. Now he's on a mission to find more.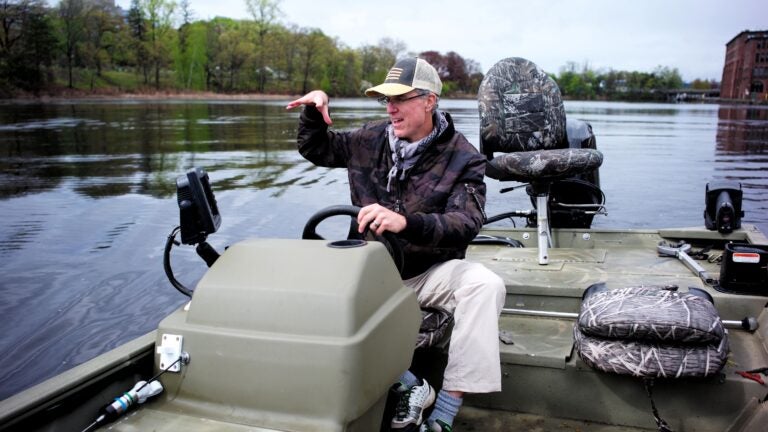 Jim Thames has gotten very good at analyzing what lies beneath the surface of the Charles River.
The Wellesley fisherman has spent countless days prowling around the murky water, using a sonar device called a "fish finder" to look for his next catch.
Last week, he was scanning the river for signs of freshwater bass when he noticed a strange shape emerge on the screen, just a few feet below his boat. It stood out from the logs and rocks he typically sees lining the riverbed.
It looked like a car, he thought. To test his theory, he dropped a fishing magnet into the river to see if it would stick.
"It latched on, right away," said Thames, 55.
He called the Waltham Fire Department, and soon a state police dive team and tow truck arrived and pulled a 2001 Volvo station wagon — coated in muck and slime — from the river. Investigators checked the vehicle identification number and determined it was reported stolen 10 years ago, according to police reports.
On Monday, a quarter mile up the river near the Waltham Watch Factory building, it happened again. This time the car was so brittle and rusty from years underwater that the dive team deemed it unsafe to recover. He believes he found another Wednesday, further east. Police have yet to investigate.
Now, given his recent streak of unexpected discoveries in the river's murky waters, he's determined to locate as many wayward vehicles as he possibly can.
"I'm 1,000 percent confident that I'm going to find more," he said.
Sonar equipment gives boaters a fairly detailed glimpse of objects that may be hidden underwater. Most people who use these so-called fish finders don't pay much mind to the variations on the riverbed — they've got fish to catch, and don't want to waste time worrying about the terrain.
But Thames does.
"I kind of piddle around," he said. "I'm an old enough dude to where I'm not in a big rush. I've got time to just kind of enjoy nature and look around and explore. It's just a fun little hobby."
Thames (it's pronounced like the river in England) got his first taste of car-hunting in the Charles more than a decade ago.
In 2012, he was fishing near a public boat ramp in Waltham when his fish finder alerted him to a big, out-of-place piece of metal roughly 20 yards from the riverbank.
He circled back over it to get a fuller picture, and bingo.
"When you look at the object at the correct angle, it's just clear that this can be nothing but a car," he said. "It really stands out."
He called the police to let them know. But in his haste, he neglected to tell them the car had likely been there for years, and hadn't just plunged into the river with passengers inside.
"They, I guess, jumped to the assumption that it was a rescue situation, so they immediately sent out the rescue team and inflatable boats and the frogmen and stuff," he said. "As soon as they showed up I'm like, 'I'm so sorry. This is definitely not a rescue situation.'"
Divers ultimately determined the car had been down there for decades, and was too "decomposed" to remove, according to police records. So they left it there.
Back then, Thames thought it was a fluke. But now that he's found three more in a little more than a week, he believes there may be many, many more where that came from. And now he knows where to look.
Thames plans to venture out further along the river to scan the riverbed, focusing on areas near docks or parking lots without guardrails — places where someone might ditch a car.
This has added a layer of intrigue to his otherwise peaceful fishing expeditions. Each time he finds a car, his mind races at the thought of what investigators might find inside it.
"I was a little creeped out by the idea that there could be a body in there. That thought crossed my mind," he said.
He also worries about discovering something that someone maybe "did not want to have discovered," but is excited by the prospect of solving a mystery.
After all, Thames said, he's watched plenty of YouTube videos in which people use sonar devices to solve cold cases by finding missing vehicles in bodies of water.
"Who knows?" he said. "Maybe this will answer someone's unknown dilemma that they've had for years."
Thames' investigations do come with a cost, however.
He said police have told him that the price tag for dispatching the dive team every time he finds a car could quickly add up. In the future, they've asked him to simply note the locations of vehicles he finds until he's discovered several of them. That way, they can scoop them all out of the water on the same day.
State police did not respond to questions about his amateur detective work.
Meanwhile, he's earned support from the Charles River Watershed Association, a conservation group that collects more than 50,000 pounds of litter from the river each year. The nonprofit said it's aware there are some cars in the river, and it's not uncommon to find tires and other parts in the water.
Jen Ryan, the CRWA's deputy director of advocacy, said she's pleased Thames, in a unique way, is helping make the river cleaner.
"Cars don't belong in the Charles," Ryan said. "He's stepping up and making a difference."