The Boston Globe
'Accountability needs to be taken': Women hit by Boston police van file for criminal charges
The officer who was driving had been arrested twice on charges of reckless and negligent driving, before being hired by Boston police.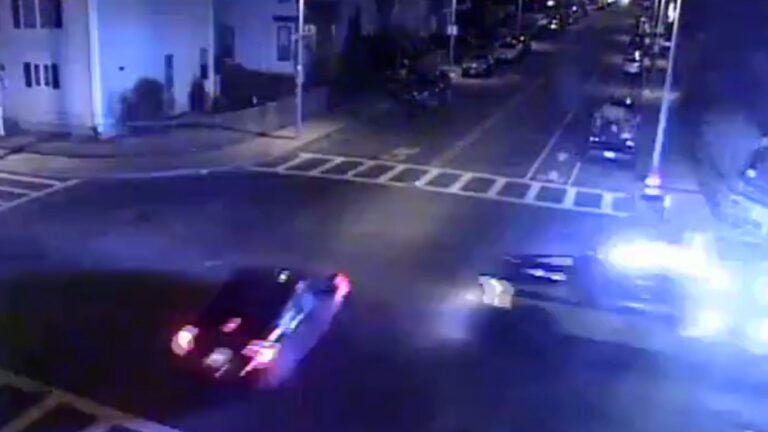 Two women whose car was totaled by a Boston police van in a crash caught on video are seeking criminal charges against the driver, an officer who was twice arrested for negligent and reckless driving before joining the department.
Sylvia Edwards, 37, of Dorchester, was driving her sister Kennette Pannell, 33, of Roxbury, home from a party early one February morning in Roxbury when Boston police officers Edwin Centeio and Nelson Kadey came in the wrong direction down a one-way road.
A 16-minute long video obtained by the Globe shows the van, which police say was driven by Centeio, racing down the street before striking Edwards's car as it approached the intersection of Dale Street and Walnut Avenue.
Blue lights can be seen reflecting off nearby homes in the split second before the van sends both vehicles skidding off the road and into a yard.
The footage was captured by a police camera atop a pole at the intersection where the crash occurred. It has no audio, making it impossible to determine whether the van's sirens were on. The police report states the officers had their sirens on, but both women insist they heard nothing as they approached the intersection.
Walnut Avenue, the two-way street the women were driving on, does not have a stop sign.
An attorney for the two women said she requested both officers body camera footage — which could include sound if they were activated in the moments before the crash — but has yet to receive it from the department. Officers are supposed to activate their cameras during "incidents of emergency driving," according to the department's policy.
Edwards suffered a concussion. Meanwhile, the right side of Pannell's body was pinned inside the crumpled car, her liver sliced and leg injured. Neither woman was cited after the accident.
The two officers were taken to the hospital with non-life threatening injuries. Mariellen Burns, a spokesperson for the Police Department, said both officers are on active duty, and an investigation into the crash is wrapping up.
"An internal investigation is also underway to determine if Department rules were followed," Burns said in an e-mail.
The two women have since filed an application for criminal complaint in Roxbury District Court, asking the Suffolk District Attorney's office to charge Centeio with recklessly operating a motor vehicle after he allegedly "catapulted both vehicles across the street where they hopped a curb, crashed through a metal link fence, and hit the side of a residential building before finally coming to rest."
They've also alerted the Police Department of their plans to sue for damages. They allege the officers violated both the department policy on emergency driving and state law, which specifies an officer responding to an emergency in their cruiser may only drive through an intersection in the wrong direction if they first bring the vehicle to a full stop, then proceed "with caution and due regard for the safety of persons and property."
Gabriella Mainiero, the two women's attorney, said the department's response to the crash points to "an imbalance in terms of how police officers are held responsible for their conduct and how the general public is held responsible."
"The Boston Police Department is failing to take basic accountability for a crash that they caused," she said. "If the situation was reversed and Sylvia had … caused a collision with the Police Department, we have no doubt that criminal charges would've been filed against her."
Centeio, 31, has been arrested twice before for negligent and reckless operation of a motor vehicle and charged in Stoughton District Court. At least one of those arrests, Centeio previously said, initially gave the Police Department pause before hiring him in 2021, according to court documents.
In 2013, Centeio was arrested and charged with drunken driving, speeding, and negligent operation of a motor vehicle.
All charges against Centeio were eventually dismissed after he completed an alcohol education program, according to court documents.
In 2021, Centeio filed a motion to have his case retried, but it was denied by a Stoughton district court magistrate. In their opposition, prosecutors wrote that Centeio claimed he had "been denied employment as a Boston police officer … based upon the charge of operating under the influence."
Nonetheless, Boston police hired Centeio as an officer that same year. Last year, he made more than $120,000, according to city payroll data.
He was also arrested in 2010 on nine charges, including assault with a dangerous weapon and reckless operation of a motor vehicle, after he was pulled over for speeding on an off-road bike and tried to "ram" a police cruiser, according to a report from Canton police. Charges in that case were also dropped after he completed pretrial probation, court documents show.
Burns said "recruit investigations are done on all individuals before" they are accepted into the police academy.
"If the date of an incident of this nature is more than seven years prior to the start of the academy it is not an automatic disqualifier from being considered," Burns said.
In light of Centeio's driving record, Mainiero said "it is disturbing that the department knowingly hired someone with a troubling driving record, put them in a position where they are responsible for driving a department vehicle."
A spokesman for the Suffolk district attorney's office said the criminal complaint filed by Edwards and Pannell will first go to the clerk's office, where a clerk magistrate will hold a closed "show cause" hearing as part of their review. If the magistrate decides to issue the complaint, an arraignment date will be set and prosecutors will formally charge the individual with a crime. Mainiero said she expects the hearing to be scheduled for mid-July.
A representative of the officers' union, the Patrolmen's Association, said Centeio hasn't been appointed an attorney because the union has not yet been notified of a hearing stemming from the complaint.
Since the crash, Edwards said she has not been cleared by a doctor to return to her job as a social worker because of her ongoing concussion, while Pannell says she struggles to care for her son with autism as her leg heals.
"He's so used to having an active mom, but I can't give him everything of me right now and it's really hard," she said. "I can't physically move anything. Cleaning up, bending down… it all hurts."
Mainiero said after calculating the cost of medical care and lost wages, she estimates both women could receive more than $200,000 in compensation.
Both women said they are frustrated and disappointed with the department's failure to hold its officers accountable and prevent similar crashes from occurring in the future.
"You all are supposed to help people, we're not supposed to be afraid of you," said Pannell, who added that she still jumps every time she sees a police car passing by. "Accountability needs to be taken."