The Boston Globe
On Nantucket, billionaire Charles Johnson brings fight against the clam shack to court
But fellow billionaire businessman Charles Schwab has come out in favor of the restaurant.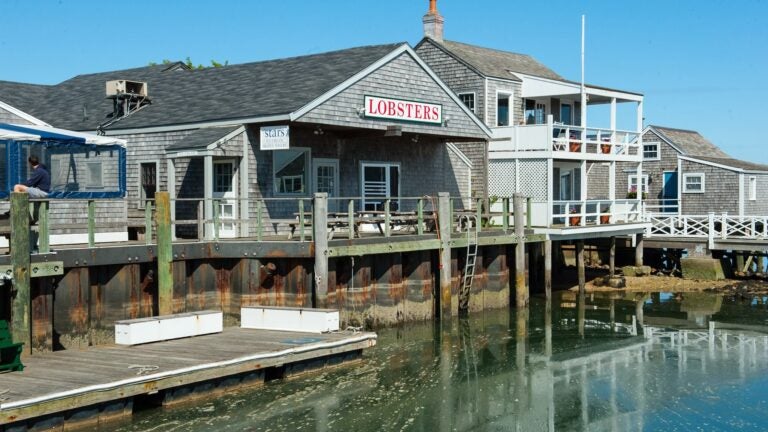 Despite community support, a clam shack overlooking the harbor on Nantucket that the owners hope to open this summer continues to face opposition from a group of wealthy residents,including billionaire Charles Johnson, who owns a seaside fishing cottagedirectly beside the proposedrestaurant.
Johnson, 90, a former mutual fund executive and the principal owner of the San Francisco Giants, filed a lawsuit on May 12in Nantucket Superior Court seeking to invalidate licenses the Straight Wharf Fish Market has received from local and state authorities.
Johnson and a cohort of his neighbors on the historic Old North Wharf have spoken out against the 62-seat restaurant publicly since March, saying it will be too noisy and cause too much congestion, but local boards have backed the plan.
Restaurateur Gabriel Frasca, who has partnered with Kevin Burleson on the project, said the lawsuit could delay their expected opening in early summer, prime days for a Nantucket restaurant,and thatthe deep-pocketed resistancehas been draining.
"This is one of a number of headwinds we are fighting our way through. We remain hopeful we can open this season, but it is hard to continue to throw time and money at a project that we may have to stop at any moment," Frasca, 49, wrote in an e-mail. He said it "seems pretty challenging at this point" to open in July.
Johnson's lawsuit, the latest development in a clash that has drawn attention far beyond Nantucket, asks the court to overturn the state's April 11 approval of the restaurant's liquor license, which the town's Select Board granted in March. The lawsuit is challenging both the Alcoholic Beverages Control Commission's approval of the license and the local licensing authority's granting of said license.
His lawyer, Danielle deBenedictis, called the decision to approve the license improper because it "ignored traffic, noise, congestion, and parking problems" and disregarded the effect the restaurant would have "on the abutting residences and neighbors," among other complaints.
Roughly 25 cabins line Old North Wharf near Nantucket's ferry landing and bustling downtown, small properties that have become extremely valuable. The Johnson property, which his lawyer says would be just 18 inches from the clam shack, is 1,200 square feet and valued at nearly $6.5 million.
While Johnson has sued to halt the project, his neighbor, billionaire businessman Charles Schwab, has come out in favor of the restaurant, support that came as a pleasantsurprise to Frasca and Burleson.
In March,deBenedictis had told the Select Board that in addition to Johnson,she also represented Schwab, 85, and several other wharf residents. But last month, Schwab said in a statement through his attorney that he never opposed the seafood restaurant and was never represented by deBenedictis.
Steven Cohen, an attorney for Schwab and his wife, Helen, on Nantucket matters, said by e-mail that deBenedictis "was never their attorney and was not authorized to make any statements or filings on their behalf."
He added that the couple and others "were initially concerned when presented with certain information [about the project], but quickly adjusted their position when presented with corrected information, which happened before the public hearings."
For her part, deBenedictis said she had no comment about the new lawsuit or her previous statement that she was representing the Schwabs. In April, deBenedictis told the Nantucket Current she had "recently been notified" by Johnson that the Schwabs "no longer want to join in our opposition."
In an April 10 letter to the town and the state alcoholic beverages commission, Cohen wrote "the Schwabs and many neighbors at Old North Wharf were originally concerned when told that the Straight Wharf Fish Market would be nightclub with a bar, dancing, and live music. However, when a review of the permits showed this was not the case, the Schwabs decided to not oppose" the project.
"We all look forward to enjoying a fresh clam roll and cold soft-serve twist cone on the harbor," he wrote.
Cohen said he also texted Frascalast month to let him know the Schwabs support his business endeavor.
"We all hope that you have a great 2023 season and many to come," he wrote.
Frasca said the Schwabs have been "incredibly gracious" and that he and Burleson "appreciate the faith that they have shown in us."
The owners have years of experience in the restaurant industry on the island. Plans call for 14 seats on a dock with a menu that will feature clam rolls, fish sandwiches, lobster rolls, and more modern offerings. They also hope to offer soft-serve ice cream in a nod to a former shop at the location.
Frasca said he was "a little surprised" when he found out about the lawsuit.
"That being said, given that the opposition of the few is continuing on many fronts, we should have assumed that they were likely to appeal this decision," he said. Frasca said he expects Johnson's lawsuit won't be the last legal challenge the restaurant will face, describing the opposition as "NIMBY'ism."
"Really I think Mr. Johnson just doesn't want to own property next to a clam shack," Frasca said. "And though I understand the sentiment, that isn't a good reason to prohibit a properly zoned business from opening."
Sarah Alger, a lawyer who represents the Old North Wharf Cooperative, said she believes its members are largely supportive of thelawsuit filed by Johnson.
The group has appealed the restaurant's building permit "because they didn't go through the major commercial development special permitting process through the planning board and we feel that they should have," she said.
A hearing before the zoning board is scheduled for June, she said.
"I know there's been kind of an effort to make this into kind of a David and Goliath story. I don't really see that as being all that accurate," Alger said. "You know, this whole folksy clam shack thing. It isn't a clam shack. It's a restaurant."
Despite the opposition, Frasca and Burleson remain optimistic they will be able to open this summer. They expect to make 80 percent of overall revenue in July and August, Frasca said.
"Obviously, missing even a single day of those sales has an outsized impact on our ability to earn a profit," Frasca said. "Given that most restaurants operate within a 10 percent profit margin (at best), it's pretty easy to see what the effect of missing any part of peak season would be."