The Boston Globe
Coyote chases woman and her dog in her Roxbury neighborhood: 'That's when I called 911'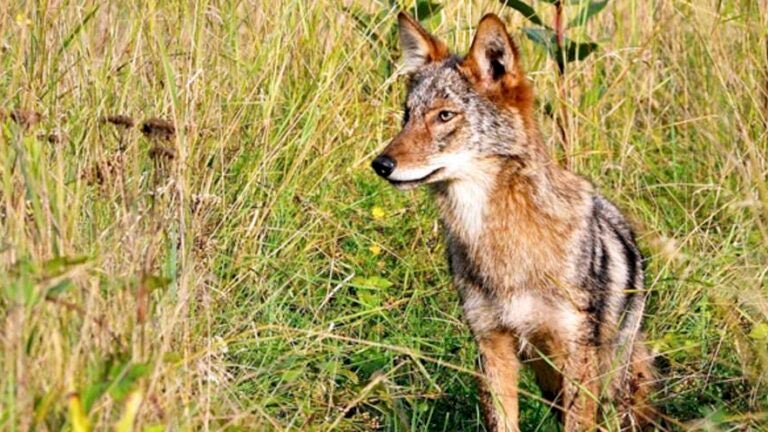 An early morning dog walk through Roxbury on Tuesday turned into an adrenaline-fueled run for a local woman after a coyote locked eyes with her and took off in pursuit.
The heart-pounding chase took place at about 5:30 a.m. and had Sue O'Connell, a political commentator for NBC 10 Boston and NECN, calling 911.
"I'm like the Road Runner," she said in a phone interview, describing her escape from her four-legged pursuer.
Following their usual schedule, O'Connell leashed up her dog, Maude, early Tuesday and set off along Marcella Street in the Fort Hill neighborhood, heading to the playground.
Peering over at the baseball field adjacent to the Marcella Playground, O'Connell caught sight of an animal stretched out on the grass. Thinking it was a sleeping dog, she went closer to take a picture. The animal stood up.
She snapped a photo and thought, "Nope — that's not a dog," O'Connell recalled. "That's a coyote."
The coyote immediately started coming toward them.
"I've seen a lot of coyotes and this was on the bigger side. It looked a little ratty," O'Connell said.
Despite the creature's determined look, O'Connell said she wasn't too concerned at first. Coyotes are regularly seen stalking the area. And she and Maude were still a fair distance from the animal.
But then it started picking up speed.
While O'Connell envisioned scenes from a horror movie, 30-pound Maude was happily wagging her tail and not at all afraid. Coyotes can frequently be heard howling outside her apartment at night, O'Connell said, with Maude often joining in by the window. She likened them to "carolers stopping by."
When the coyote was about 15 feet away, O'Connell began yelling as she backed up through a wrought iron gate encircling the playground and slammed it shut. The screeching sound seemed to startle the coyote, and O'Connell and Maude hurried into the street. They were nearly in the clear.
But then the animal leaped over the fence.
"That's when I called 911," O'Connell said.
It was only after a car passed that the coyote got spooked and took off.
Throughout the confrontation, everything seemed to happen in slow motion, O'Connell recalled. She normally carries a walking stick to fend off turkeys but was without it on Tuesday. No other neighbors were out walking.
"The good and bad thing about living in the city is you could be screaming your head off and no one really pays attention," she said. "I was thinking that I can't imagine even what the 911 call looks like."
Last summer, two coyote attacks on people were reported in Swampscott. In the fall, coyotes fatally mauled a dog in Cohassett and twice approached people and their pets in Hingham. In December, the Nahant Board of Selectmen voted to authorize an agreement with the US Department of Agriculture Wildlife Services to allow agency officials to shoot and kill coyotes.
When O'Connell got to work, she immediately told her colleagues, who used the alarming encounter for a news segment.
She later ended up speaking with MassWildlife. It turned out O'Connell did the right thing. She made a lot of noise and waved her arms. MassWildlife also recommends never deliberately feeding coyotes, closing off crawl spaces, keeping pets leashed at all times, and scaring coyotes with loud noises, bright lights, or water sprayed from a hose.
"It's a reminder that no matter how urban our environment is, we're sharing the space, and to be heads up when you're out, and be respectful of who we're sharing the space with and and know what you're supposed to do, especially this time of year when they've all got pups," she said. "Everybody's protective."
The coyote didn't scare O'Connell for too long. She and Maude were back at the playground that afternoon.