The Boston Globe
Meet Edward Blum, the man behind the Harvard affirmative action case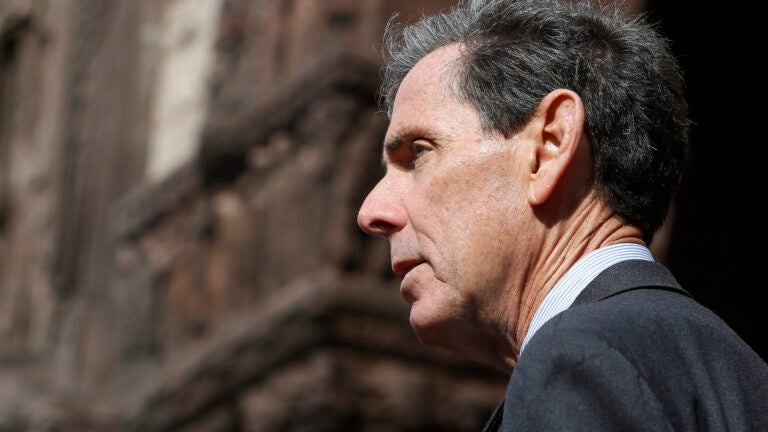 If you look behind the curtain of affirmative action litigation in recent decades, there you will find Edward Blum.
A former stockbroker, Blum has crafted a second-act career in multiple attempts to remove race as a factor from public policy, education, voting, and the private sector. Blum, who lives on the coast of Maine overlooking Penobscot Bay, believes race should neither help nor harm one's life endeavors.
Now, his biggest legal victory thus far could be just around the corner. The US Supreme Court next month is expected to end or limit the practice of considering applicants' race in college admissions, in two cases involving Harvard University and the University of North Carolina at Chapel Hill, brought by a nonprofit Blum heads.
And Blum has ambitions beyond academia, with litigation in the works to end race-based initiatives in other aspects of American life, including employment diversity programs, corporate board diversity quotas, and government contracting requirements.
"The nation cannot remedy past discrimination with new discrimination," Blum said in an interview. "There are ways in which individuals and groups who have been on the fringes of opportunity can be brought in, but raising the bar for certain races and lowering the bar for others cannot be the solution to equal opportunity."
Blum, 71, says most Americans agree with him and desire a color-blind society — and polls suggest he's right. But his critics fear his efforts will reverse decades of progress toward a more equal and inclusive society.
"[Blum and his team] have really opened Pandora's box," said Julie Park, an associate professor at the University of Maryland's College of Education, where she studies racial equity in higher education and affirmative action. "You might get what you wished for, and you're going to discover it's not that great." Park served as a consulting expert on behalf of Harvard in the Supreme Court case.
Blum, a self-proclaimed "amateur litigator," has spent two decades building legal teams and searching for like-minded plaintiffs who also believe that racial preferences violate the equal protection clause of the 14th Amendment. Along the way, he's found wealthy conservative backers to bankroll much of his efforts, including the Searle Freedom Trust foundation, the Sarah Scaife Foundation, and DonorsTrust.
Originally from Michigan, Blum's father was a shoe salesman. He said he was once a Democrat but moved to the right by the early 1980s. Before setting his sights on affirmative action, he focused on ensuring race-neutral policies in voting districts, or as he put it during a 2015 speech at a libertarian conference, the "sordid business of undivvying us up by race."
In 1989, Blum and his wife moved to Houston from the nearby suburbs after their daughter left for college. When he went to vote in his new neighborhood in 1990, he "realized the Republican Party had not fielded a candidate to run against the incumbent Democrat."
"That bothered me," Blum said in the speech. "Everyone should have a choice."
Blum then contacted the Republican Party of Houston and recalls being told that he lived in a majority-minority district and Republicans aren't going to win in a district like that. So, two years later, Blum won the Republican primary for the congressional district before losing the election to a Black incumbent.
While campaigning for that election, Blum learned neighborhoods in his district had been drawn to strengthen minority voting power. At that moment he set his sights on a new goal: Suing the state of Texas over its congressional redistricting.
Blum said he spent $8,000 a month to pull together a legal team to convince a three-judge panel that Texas was engaging in unconstitutional gerrymandering. The US Supreme Court ultimately found three districts were unconstitutional because the configuration leaned too heavily on race.
After that victory, Blum recruited plaintiffs in New York, Virginia, South Carolina, Louisiana, and Florida to file more lawsuits aiming to end the consideration of race in electoral redistricting.
"I took this winning legal team . . . and we took this show on the road," Blum said in the 2015 speech.
His focus on affirmative action in higher education began in 2003, when the University of Texas Austin, his alma mater, proposed including race and ethnicity as one of 15 factors in its admissions process, Blum said in the speech. UT Austin's announcement followed the 2003 Supreme Court's decision to uphold the University of Michigan's use of affirmative action.
Blum saw this moment as a window into how to challenge race-based consideration at the nation's best colleges.
The University of Texas said race-neutral policies had not produced "a critical mass of minority students at the classroom level." An internal study found that many classes in the fall of 2002 had just one or no Black or Hispanic students.
University officials felt, as most university officials across the country do, that affirmative action would lead to greater campus diversity, and an improved classroom experience that helped all students prepare for life after college.
"That was another aha moment to me," Blum said in the 2015 speech, in reference to the moment he learned about UT's proposal to include race. "I thought that was a way for us to get this issue once again before the [Supreme] Court, and I started looking for a plaintiff to challenge UT's admissions policies."
He found one in Abigail Fisher, a white applicant who had been denied admission. With Blum's legal resources and financial backing, Fisher argued the college's newly adopted race-conscious policy violated the equal protection clause.
Fisher and Blum felt the University of Texas's race-neutral recruitment tools, which included a program that promised admission to the state's public universities for every high school student who graduated in the top 10 percent of their class, were achieving enough campus diversity.
In deciding the Fisher case in 2013, the Supreme Court upheld its previous views that colleges had the right to pursue diversity as a compelling educational interest. Despite the ruling, Blum saw a glimmer of hope — the court said universities should first try race-neutral means of achieving diversity before implementing affirmative action.
"We didn't win a big buffet," Blum said. "It was like half a sushi roll."
In the meantime, Blum said, he "started laying the groundwork'' for what would become the latest admissions case before the court. He spread the word that he was looking for people who were denied admission to Harvard, UNC-Chapel Hill, and the University of Wisconsin Madison. Blum said he chose these universities as targets because "Harvard had been rumored to have an Asian quota for decades," allegations Harvard denies, and he took issue with UNC-Chapel Hill's reasoning for a holistic admissions model as opposed to a program that granted admission to students graduating in the top 10 percent of their high school class.
Blum set his sights on recruiting Asian American applicants in particular after his cases with white students alleging discrimination did not yield his desired results.
In late 2014, an organization Blum created called Students for Fair Admissions sued Harvard, alleging the university discriminates against Asian Americans with the goal of eradicating race as a consideration in the admissions process.
Park, the University of Maryland professor, said Blum has "exploited some of the fears and concerns within the Asian American community," including worrying that they have less of a chance of being accepted to selective colleges, at the same time that elite colleges and universities have become even more selective. About 500 academics who research Asian American studies and race submitted an amicus brief in support of Harvard's use of race-conscious admissions.
Those who study higher education say Blum's work has been detrimental to efforts to diversify college campuses, as well as for equality efforts more broadly.
"We know that education is a opportunity that [can] be a life changer," said Cedric Merlin Powell, a law professor at the University of Louisville. "Blum's efforts have devastated access to higher education. It's [led to] a lot of retrogression, retrenchment."
Blum, for his part, said in the interview that while past affirmative action cases in higher education he's worked on resulted in disheartening outcomes, he is optimistic things will be different this time as the conservative-leaning high court decides the college admissions case.
"I have been disappointed," he said. "The individuals that I have provided counsel to [have been] disappointed. I'm hopeful that the court will rule that race and ethnicity are no longer allowed to be factors in higher education admissions. I'm hopeful for them."