The Boston Globe
A post-pandemic LGBTQ+ 'renaissance' in Worcester, driven by young people
Some say the city is seeing a groundswell of inclusive nightlife and arts programming.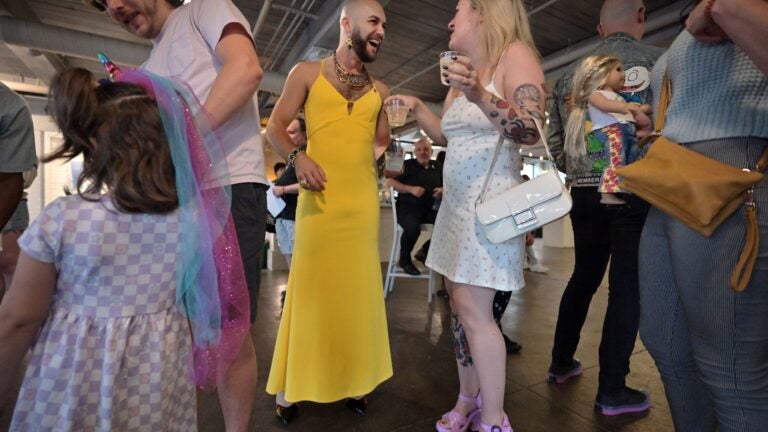 WORCESTER — Underneath strings of lights and a spinning disco ball, Allan Liburd was learning the finer points of strutting down a runway for his first appearance in a fashion show, with a veteran drag queen schooling him on proper foot placement — and sass.
"Yes! Male model!" the drag queen, Daisha Dore Famouz, 36, cried as Liburd added a hip swing. "Give them all the cookies! Leave no crumbs! Yes! Live in your moment!"
On this mid-June evening, Liburd and more than 50 others were preparing to promenade in a glitzy fashion show scheduled for September that organizers have dubbed "the Met Gala of Massachusetts." It is among many celebratory events that organizers said are redefining Worcester as a welcoming mecca for the LGBTQ+ community, with an explosion of new inclusive arts and nightlife driven by younger people.
"It's a renaissance!" said Danielle Spring, co-owner of Worcester's newly opened lesbian bar, Femme — one of fewer than 30 across the country. "A queer renaissance!" added her wife and business partner, Julie Toupin Spring.
This city of 205,000 observes Pride in September, when local college students are on campus, rather than in June, when other communities commemorate the June 1969 Stonewall Rebellion in New York City that ignited the gay rights movement.
The LGBTQ+ scene in Worcester flourishes year round, however, and includes several bars and restaurants, an active network of nonprofits, a busy schedule of community events, and a plethora of venues that embrace LGBTQ+ performers and patrons.
"There's a consensus amongst the next generation, the younger generation, to create Worcester into this mecca for queer nightlife and activities in New England," said Al Green, 33, community outreach director for Pride Worcester, the city's annual LGBTQ+ celebration, which will run from Sept. 1 to 15 this year. "It's a multiyear process and a multiyear goal of ours, but we're certainly on track to do that."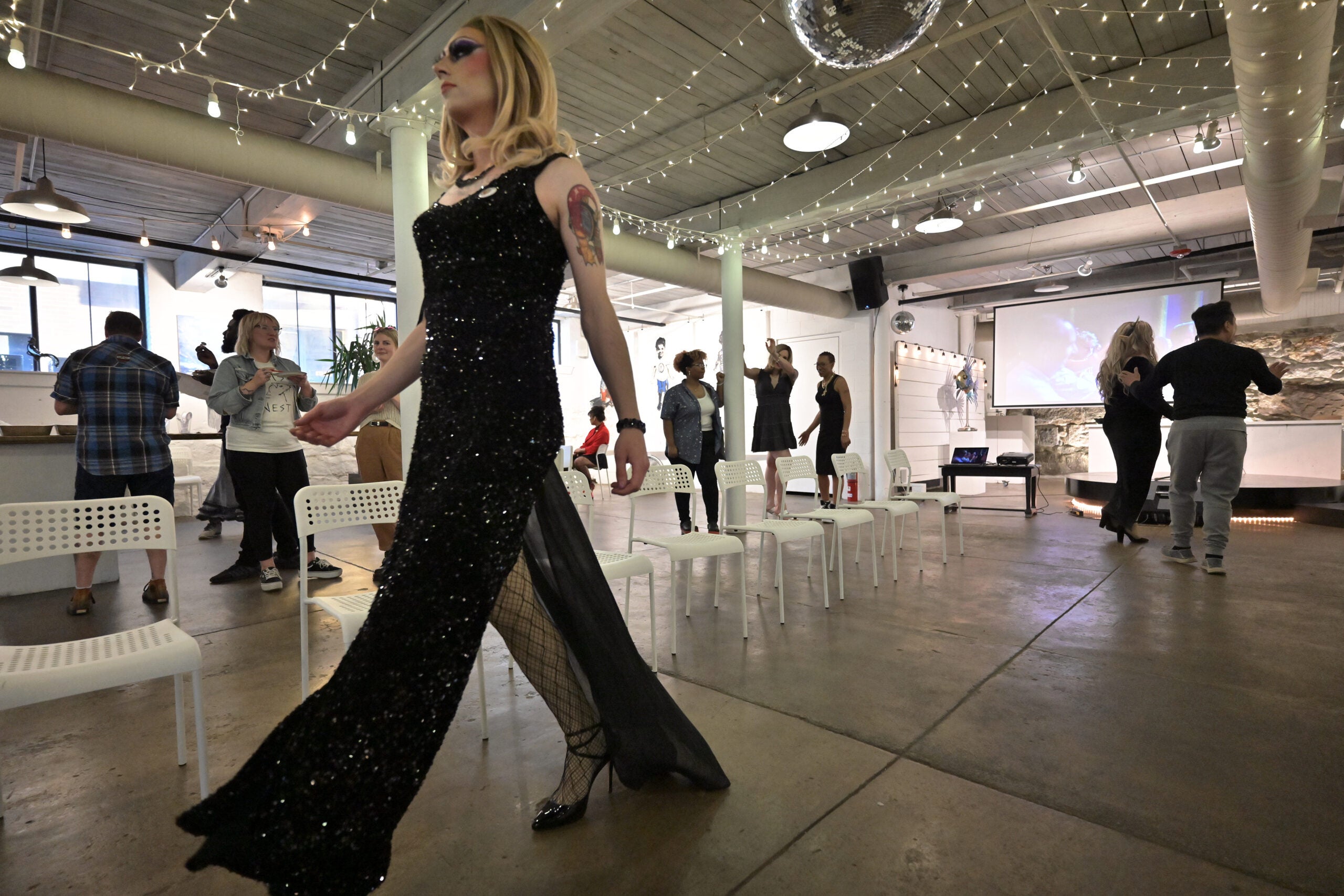 The second largest city in New England is home to City Councilor Thu Nguyen, whom the LGBTQ+ Victory Fund says is the state's first openly nonbinary elected official. Nguyen, along with other young officials, is working with the LGBTQ+ community to bring more events to Worcester, according to Green.
There is "a newer generation within . . . City Hall that is looking for ways to break the mold and to step forward and offer support to marginalized communities," said Green, a Jamaican immigrant who also leads Worcester's LGBT Asylum Task Force, which supports refugees who were persecuted in their native countries.
Auditions for models for the Sept. 8 fashion show, called Queer AF, were held in a renovated former mill building that still showed off its industrial charm. The 32-year-old Liburd said he volunteered to model after enjoying the event last year.
"It was an amazing show, so I just wanted to be part of it," said Liburd, who came to the United States from his native Haiti in 2004 and has lived in Worcester since 2017. "It was great to see the performances — from dancing, to drag, to seeing the designers designing for people of all body types, all backgrounds."
The crowd of about 150 at the auditions was mixed in age and nearly as racially diverse as Worcester's population, which is 24 percent Latino or Hispanic, 13 percent Black, 7 percent Asian, and 10 percent biracial or multiracial, according to the US Census Bureau.
The event was hosted by Joshua Croke, cofounder and president of the nonprofit Love Your Labels, which helps support LGBTQ+ youth through art and design and organizes the Queer AF fashion show.
"We celebrate all bodies, all identities, every experience that has brought every individual into the place in which you are now. We welcome you, we celebrate you — you are beautiful," Croke, 33, told the crowd. "This is what community looks like and how community is supposed to show up for each other."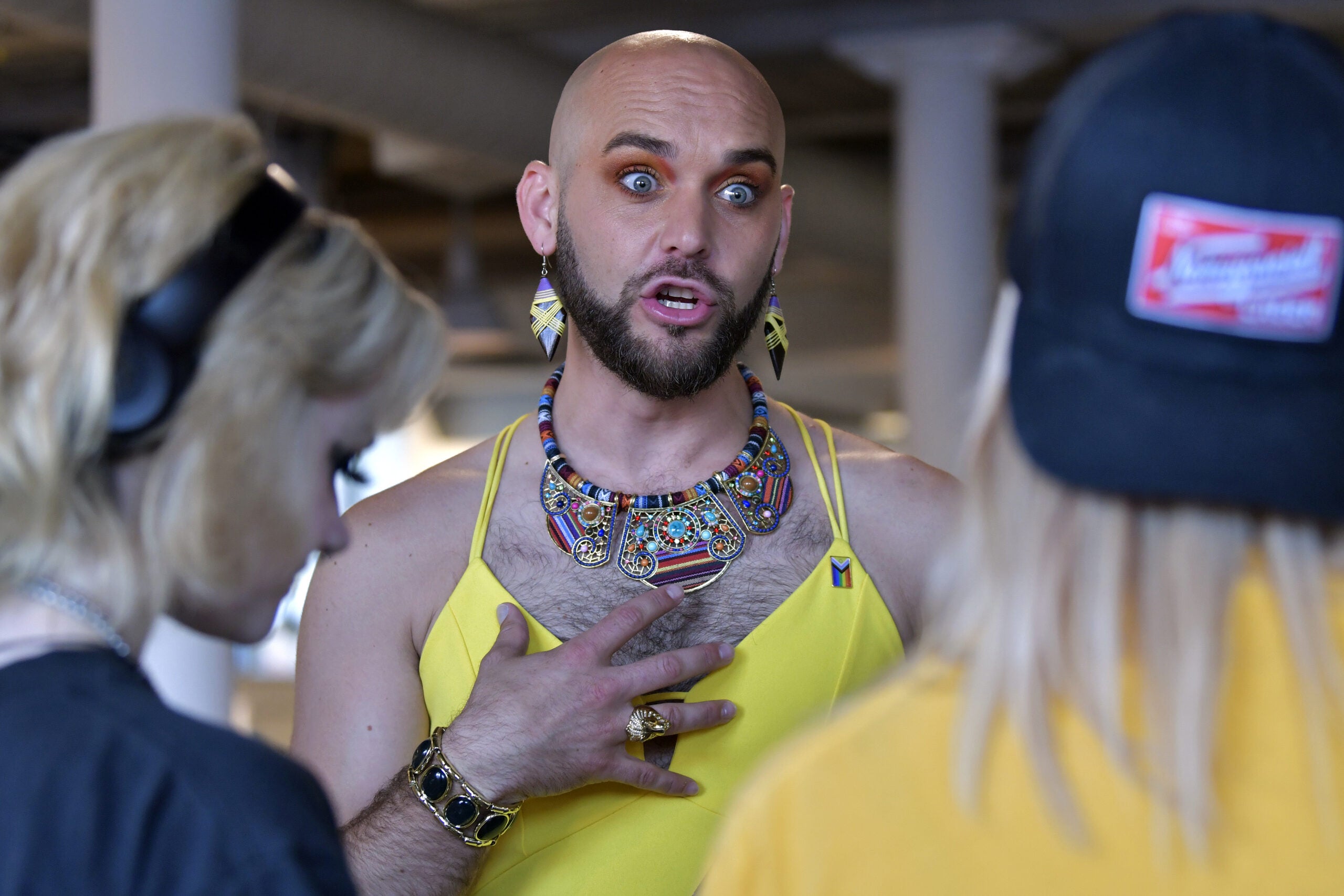 Worcester has several LGBTQ-owned or -friendly spots just in the Canal District south of Union Station, home of the MB Lounge, a cozy dive bar with a sign that boasts it was established in 1971. At times it has been the city's only gay bar.
Several blocks west is the new Femme Bar, a sleek, black-and-pink venue that is one of only 27 lesbian bars across the United States, down from about 200 in 1980, according to The Lesbian Bar Project, an initiative by two filmmakers to raise awareness about the loss of lesbian bars.
Spring, 42, and Toupin Spring, 32, opened Femme in March, determined to create a space for queer women. The bar hosts speed-dating meetups, a book club, and other events. It has been drawing crowds of women and femmes of all ages and races, along with a few men — gay, straight, and trans — and the owners believe their business prospects are safe in the hands of a younger community.
"I think that with this new generation, they're going to support" LGBTQ+ venues, Spring said. "I just think this new generation is very out and proud."
"And they want spaces to go to," Toupin Spring added.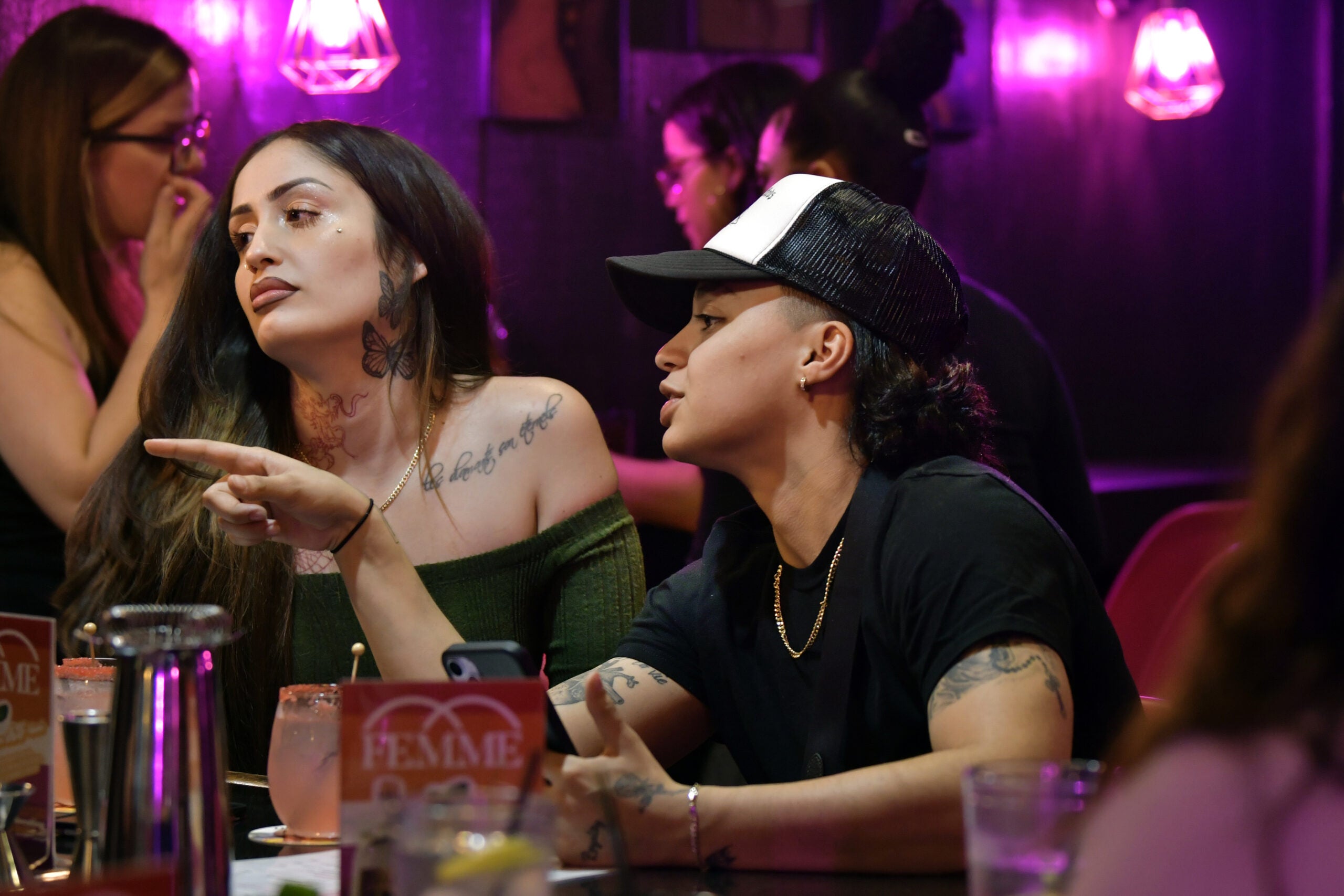 A couple blocks south of Femme Bar is the Bedlam Book Café, which has an LGBTQIA+ Studies section with titles by Jennifer Finney Boylan, Quentin Crisp, and Patricia Highsmith and has hosted readings by queer authors. Downstairs is The White Room, an art gallery and event space that hosted the model auditions and has held other LGBTQ+ events. Keep walking south through Kelley Square, and you'll find Electric Haze, an LGBTQ-owned hookah bar that has a weekly karaoke night hosted by drag queen Mal E. Fishn't.
But the neighborhood is changing, and its future unclear, with hundreds of new apartments under construction on Green Street in the wake of the opening two years ago of nearby Polar Park, home of the Worcester Red Sox, as well as the redevelopment of Kelley Square and construction of the adjacent Worcester Public Market.
"It's great to see such nice new things coming along, but it's not going to be great if it prices out all my creative friends," said Nicole DiCello, 48, owner of Bedlam Book Café.
"Gentrification has been a real thing, and it's been affecting my neighborhood, and I hate it," added local artist BrujaTheVillain, also 48, who organizes the monthly Poets Cauldron reading series, which features LGBTQ+ writers and musicians.
For now, the increased LGBTQ+ visibility means more performing opportunities for drag queens — and less harassment for people who are gender-nonconforming, according to Bootz Morales, a Worcester native of Puerto Rican descent who has been performing locally for about 15 years.
"When I first started, you had like a couple of safe spots that maybe you could go to and really feel comfortable," said Morales, 33. "Now, literally, at least in this city, every business is welcoming of any of us: gay, lesbian, bisexual, transgender, questioning, nonbinary — they're so respectful."
Victoria Obvious, 27, a Worcester native who has been a drag performer here for nearly a decade, said it's an exciting time to be part of the scene.
"Worcester's in a moment of — I say — the rise of art, and drag, and queer culture," she said. "Worcester is going to be the next thing to get on the map."