The Boston Globe
A million roads to Mass. and Cass 'and they're all horrible and scary'
"These people have stories that would break your heart."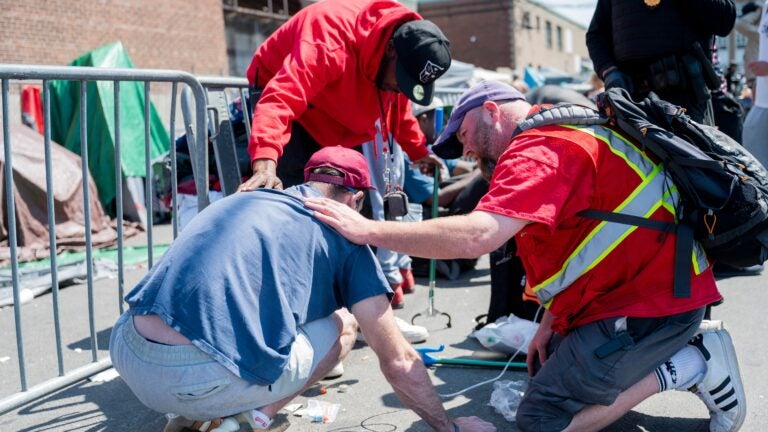 It can be a fine line, the difference between someone simply nodding off and a life-threatening overdose.
And on Atkinson Street, a short walk from Massachusetts Avenue and Melnea Cass Boulevard, the epicenter of the dueling opioid and homelessness crises, overdoses are a harsh day-to-day reality.
Just ask Gabe Parsons, a 39-year-old Dorchester resident and one of the city's outreach workers who patrol the area to provide aid and stop overdose deaths. In his four years on the job, he estimates he has administered 1,000 doses of Narcan, the life-saving medicine that rapidly reverses opioid overdoses.
"There's a million roads that lead to Atkinson Street," Parsons said on a recent Wednesday morning as he walked the area. "And they're all horrible and scary. These people have stories that would break your heart."
The scourge of the opioid crisis continues to ravage the state, and nowhere is it more visible than in the notorious open-air illicit drug market known as Mass. and Cass, where someone's having passed out could mean a diabetic coma, heart attack, stroke, or, yes, an overdose.
Outreach workers like Parsons are on the front line of this public health crisis. Boston has deployed such workers — officially called public health advocates, who are paid roughly $44,000 a year — since 2016. Currently, there are 14 walking the streets within a mile radius of Mass. and Cass. (A separate team does harm-reduction outreach and HIV counseling and testing in other parts of Boston, including Nubian Square, downtown, and North Station.)
At Mass. and Cass, the opioid epidemic is not an academic exercise but a hard, unyielding reality. There are no silver-bullet solutions to the complex array of problems on display on the street. The city continues to try to tackle the issues with low-threshold housing and supportive services, and Boston has yet to give up on a prospective recovery campus on Long Island. The state, meanwhile, recently announced a potential overhaul to Shattuck Hospital in Franklin Park that would provide hundreds more units of housing for low-income residents.
But for these Mass. and Cass outreach workers, their job is much more immediate. They stem the bleeding, oftentimes literally, and help the city's most vulnerable residents where they are: in the streets. Besides reversing overdoses, they dress wounds, hand out water, apply sunblock to those who can't reach their back, try to connect folks to services, including housing, and sometimes just talk to someone about their problems.
"We're nurses, we're therapists, we do all of it," said Clinton Watson, a 43-year-old Roxbury resident and outreach worker.
A good day out in the streets can mean no fights and no overdoses. It's not unusual for there to be a handful of overdoses daily, and one outreach worker recalls someone recently getting slashed with a knife.
One recent day, though, was a good day.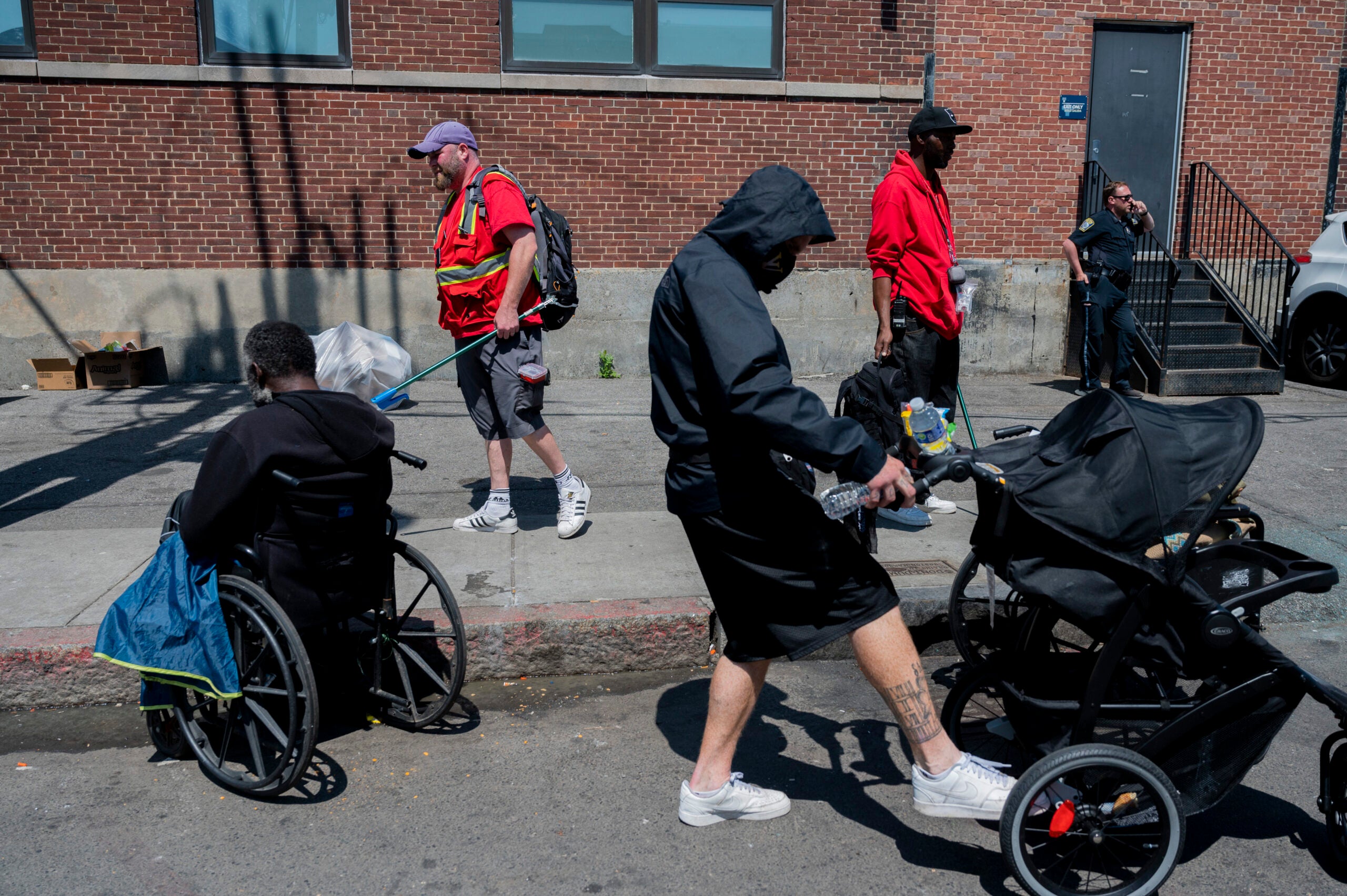 On that day, Parsons scanned for signs of overdosing, gauging people's responsiveness and checking to see if their lips were turning blue. He checked on one man who had passed out in a chair but determined he would be OK.
He carries with him various necessities of the job: a picker to pluck needles off the ground, a box attached to his hip to store them, a device to measure a person's vitals, a bag to help people breathe, and, of course, Narcan.
Narcan has been vital in preventing overdose deaths. Last year, Boston EMS administered 2,181 doses of the medicine. The Boston Public Health Commission, meanwhile, distributed 14,803 doses to those who use drugs, community organizations, and the broader public, according to city authorities.
Still, the number of overdose deaths continues to increase. In Massachusetts last year, more than 2,300 people died of opioid-related overdoses, the highest number ever recorded. And in Boston last year, 352 people died from opioid overdoses, a nearly 7 percent increase from the previous year, according to officials. Between 2019 to 2022, Boston experienced a 36 percent increase in opioid-related deaths, which is more than twice the statewide rate in the same time frame.
At Atkinson Street, overdosing is not the only worry.
Some outreach workers carry kits with packages of clean syringes, a tourniquet for tying off a limb, a small disc used to cook drugs, a swab of cotton to draw the drugs through, and alcohol wipes. The kits, workers say, help reduce disease that spreads through intravenous drug use, such as HIV or Hepatitis C.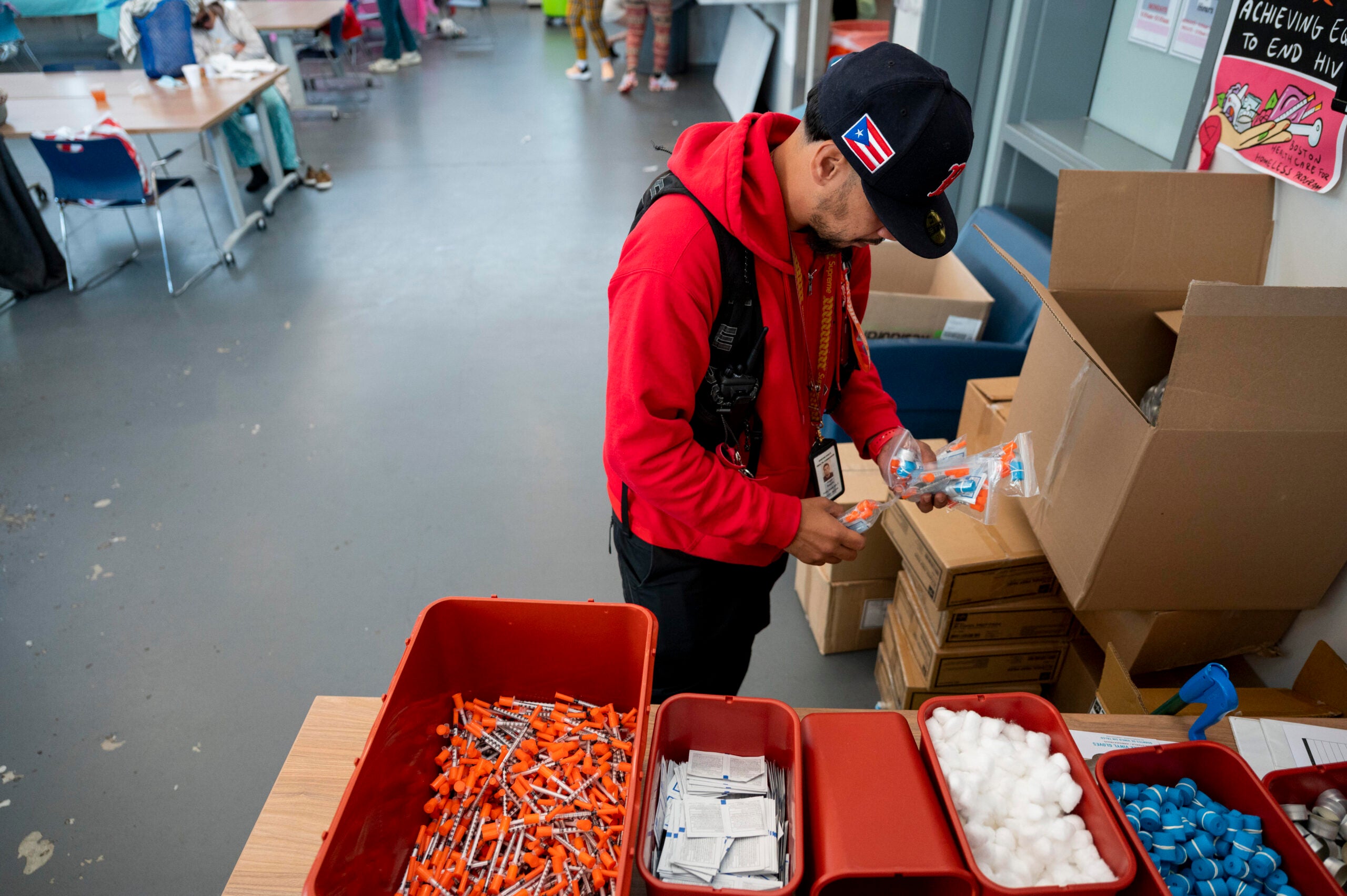 Officials estimate that there are about 140 people on the street today and about 35 structures — traditional camping tents, lean-tos made of tarps, and other ramshackle forms of shelter. Every morning, most of the structures and the people in them are shuffled away to Southampton Street so Atkinson Street can get cleaned. A short time later, they're all back.
It is a daily ritual there, one in which outreach workers are enmeshed.
In the middle of his shift, Parsons radioed for an ambulance for a man in a wheelchair who was having trouble talking. The man was barefoot and kept putting his feet in brown water that had collected near the curb of Atkinson.
"He's really high and been awake for a while," Parsons said.
Parsons has been attacked at least twice while working in the street; though, he's quick to add, never by anyone he has taken care of.
Skin on his face is still damaged from exposure to freezing temperatures during a brutal cold snap last winter when he worked to get people shelter, commandeering vans, findings spots indoors, and cajoling people to reconsider toughing it out in the streets.
"I felt awesome," he said. "It was amazing."
He likes his job. He is a well of empathy, he is there to help people, not judge. So, too, are the other outreach workers.
Angel Rosario, a 37-year-old who grew up in the Franklin Field area of Dorchester and now lives in the South End, estimates he has helped place about 90 people into housing. For Rosario, whose parents both struggled with addiction, the job is necessary.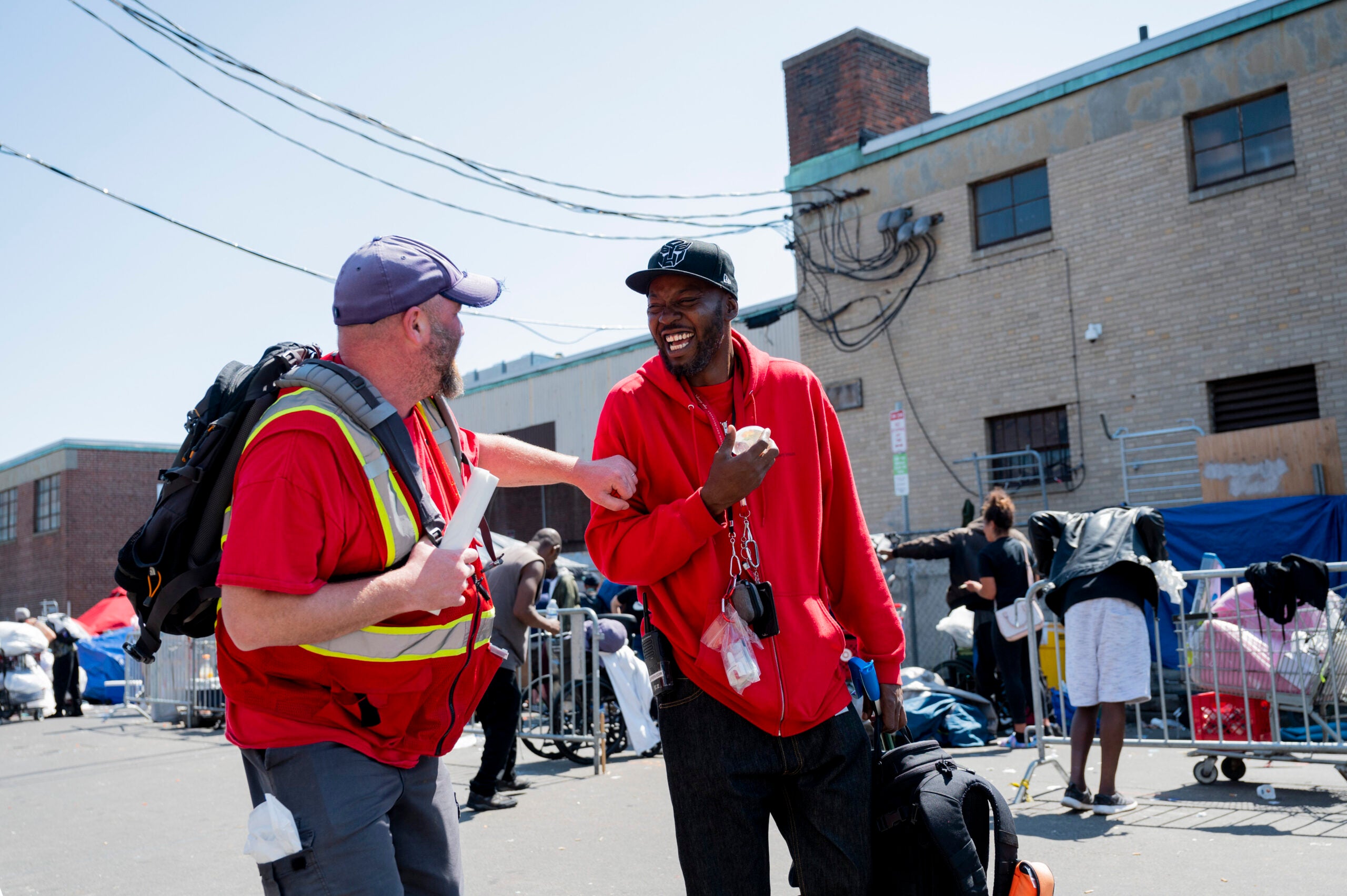 "Yesterday we had seven overdoses," he said. "What if we wasn't out here? That's seven deaths."
He focuses on small goals for people on Atkinson Street. For instance, if he chats with someone for 20 minutes, that's 20 minutes "where they're not using." Asked about burnout, he said that as a father of three, that's simply "not an option" for him.
About an hour before Parsons called it a day, a man overdosed.
"Get the Narcan ready!" someone yelled.
A man in a red hat and a blue T-shirt and shorts, was crouched down, his hands on the pavement, and his body shaking. His breaths came in short, rapid bursts.
Parsons told him to take deep breaths. He didn't Narcan him. Instead, someone wheeled over an oxygen tank to help the man breathe.
His ears, which were a bluish hue at one point, turned red. For Parsons, it was a sign the man would be OK. A few minutes later, the man was on his feet, staggering down the street.