The Boston Globe
Cambridge schools are divided over middle school algebra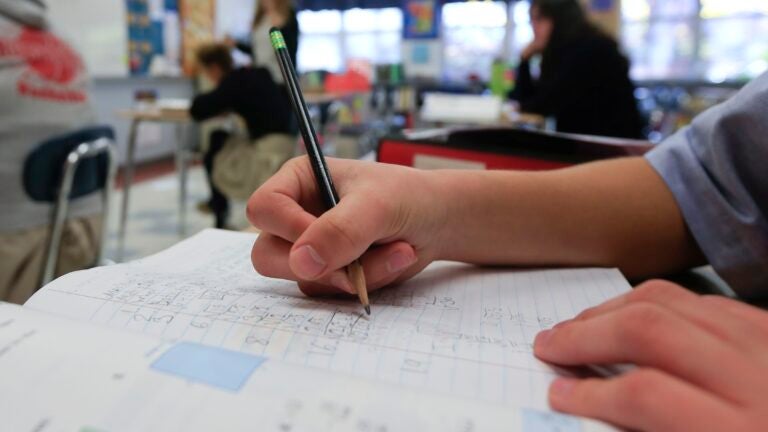 Martin Udengaard wants more for his son, and he doesn't think Cambridge schools can deliver.
Cambridge Public Schools no longer offers advanced math in middle school, something that could hinder his son Isaac from reaching more advanced classes, like calculus, in high school. So Udengaard is pulling his child, a rising sixth grader, out of the district, weighing whether to homeschool or send him to private school, where he can take algebra I in middle school.
Udengaard is one of dozens of families who recently have publicly voiced frustration by a years-old decision made by Cambridge to remove advanced math classes in grades six to eight. The district's aim was to reduce disparities between low-income children of color, who weren't often represented in such courses, and their more affluent peers. But some families and educators argue the decision has had the opposite effect, limiting advanced math to students whose parents can afford to take private lessons, like the popular after-school program Russian Math, or find other options for their kids, like Udengaard is doing.
"The students who are able to jump into a higher level math class are students from better-resourced backgrounds," said Jacob Barandes, another district parent and a Harvard physicist. "They're shortchanging a significant number of students, overwhelmingly students from less-resourced backgrounds, which is deeply inequitable."
Cambridge school leaders say they can't re-instate the advanced math classes in middle school: Many students continue to reel from pandemic-related learning losses and are not ready to take algebra I before high school, and offering it only for those who are prepared, they say, would only widen the persistent disparities of educational performance among subgroups.
"We have a huge focus on addressing both the academic achievement gaps and the opportunity gaps in our community," said Superintendent Victoria Greer. "One thing the district is not interested in doing is perpetuating those gaps."
Greer said she and other district leaders are working on plans to add more elements of advanced math to the current middle school curriculum. But families are impatient and have called for a clear path back to an eighth-grade class covering all of Algebra 1. The issue, they say, is that without taking algebra I in middle school, it's difficult for students to reach advanced classes later that would better prepare them for STEM college degrees and career paths — although not impossible because Cambridge high school students can "double-up" and take two semester-long honors math classes in a single year.
This is not the first time this debate has raged in Cambridge, and the same questions are being debated around the country. The California Board of Education, for example, is expected to pass a new state math framework that discourages eighth-grade algebra. Leaders there say the controversial measure is necessary because when the state pressured districts to offer eighth-grade algebra, many students were unprepared for the course and had to repeat it. In Dallas, on the other hand, a 2019 change that requires students to opt out of honors classes — rather than opt in — has led to 60 percent of 8th graders taking Algebra 1, triple the prior level. It was a move education leaders banked on to increase the number of historically marginalized students in advanced courses. Next door to Cambridge, Belmont also has an ongoing debate over math pathways, after the district reduced the number of options for middle school students in the 2019-2020 school year.
In Cambridge, district leaders — between 2017 and 2019 — gradually ended a policy of tracking middle schoolers into either "accelerated" or "grade-level" math, a change meant to improve outcomes for all. District leaders were alarmed by stark disparities in who was taking advanced math: those classes were overwhelmingly white and Asian, while the grade level math classes were full of Black and Latino students. Achievement gaps were stubbornly wide — and still are.
The implementation of the policy was immediately followed by the COVID-19 pandemic, making it hard to tell whether it was having an impact, as students across the country suffered academically. The pandemic also crowded the algebra debate out of the School Committee conversation for a time.
But the pandemic also prevented the new system from being fully implemented. While the middle schools stopped offering algebra for advanced students, as planned, they were unable to add aspects of the algebra curriculum to the now-universal grade eight curriculum.
Years later, officials disagree on how much algebra there was supposed to be. Some, like City Councilor Patricia Nolan, a former School Committee member, said the goal was to have all students take algebra 1, instead of none.
"We still have not approved removing algebra one in eighth grade," echoed School Committee member Rachel B. Weinstein at a recent roundtable.
District leaders, on the other hand, say the intention was to include aspects of the algebra 1 curriculum in eighth grade, but not the entire course. While the pandemic pushed even that out of reach, three of the seven units covered in Algebra 1 will be added to the eighth-grade curriculum next school year, said district math director Siobahn Mulligan, although students will still need to take the standalone course when they reach high school. The district is also offering a free online program over the summer that incoming ninth-grade students can use to place out of algebra 1.
There will be further expansion in the future, Greer said, but declined to share details on what that would look like.
Recently, tempers flared again after the district said in an email that middle school math staff would not "be recommending that any scholars place out of Algebra 1″ in ninth grade. At a hearing of the School Committee's curriculum subcommittee in May, a number of parents and residents argued for urgency. Critics say limiting advanced math has been counterproductive.
"Not providing access means that the only people who will have access are the people who have outside means," said Ross Benson, a math teacher who has taught advanced classes at Cambridge Rindge and Latin for 17 years, in an interview.
Critics of the district policy note that without taking algebra in eighth grade, students must compress their math classes in high school in order to reach advanced classes like calculus. That means taking a year's worth of math each semester.
But that isn't easy, said Bertha Pantoja, a parent in the district who had one son receive algebra 1 in eighth grade and a younger son reach high school without it.
"I have to get tutoring, like all the private school students, to help him," Pantoja said.
Tony Clark, cofounder and co-president of My Brother's Keeper Cambridge, which works to support young people of color, noted the 6,600-student district has incredible resources and not that many students.
"It's a very workable number who don't have [access] and really need it," Clark said. "It's kind of a put up or shut up moment."
In the background of all conversations about algebra in Cambridge is the Algebra Project, the math education program founded in the city by civil rights leader Bob Moses. Executive director Benjamin Moynihan was emphatic that with a combination of top-down policy and bottom-up support, Cambridge could teach all its students algebra in eighth grade.
"Even despite the pandemic, is it possible? The Algebra Project would say yes," Moynihan said. "It's never going to be the perfect opportunity."