The Boston Globe
Meet the T's very happiest passengers. (Hint: They're not on the subway.)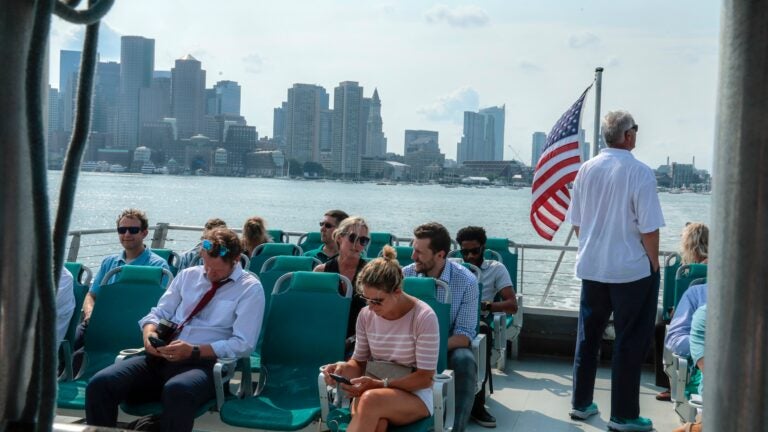 Trains are going more slowly than they used to, and sometimes catch fire; buses are coming less frequently than before; and cars, tens of thousands of them, clog arteries from parts north into downtown Boston slowing some traffic to a crawl.
But try telling that to one of the cheery faces on the T's ferry — running not just on time, but with expanded service this summer — a cool breeze that cuts through Boston's slow and stagnant transportation system.
The revived Lynn Ferry has been running since June 26 as part of a pilot program aimed to help mitigate congestion while the tunnel is closed. It is one of a handful of ferries offering reduced-cost service during the closure, including the East Boston Ferry, currently free, and the Winthrop Ferry, which is reduced to the standard subway fare.
System-wide, ferry service accounts for about half a percent of all MBTA ridership, or around 4,000 trips per weekday, according to the T's performance metrics. But that tiny minority may just be the T's happiest riders.
By the fourth week of Lynn service, dozens of would-be drivers had already settled into their new niche as ferry fanatics.
Among them, Debbie Weston, a paralegal who lives in Marblehead and works downtown. She camped out near the gate at the Blossom Street Pier in Lynn around 7:15 a.m. on a recent Tuesday morning, hoping to board quickly and secure a good seat on the 7:30 a.m. boat to Long Wharf.
"I don't care if the Sumner Tunnel was still working. I would still be doing this," Weston said. "It's a half an hour. I mean, that's like a no-brainer."
Weston said she took the Lynn Ferry when it was first piloted in 2017 and hoped then that service would become permanent, but it never took off. Picking up litter as she waited on the ferry dock, she said she hoped this time would be different.
"I'm hoping that the ridership will be better, or sustainable, so that we can have it all the way through from May to October," she said.
From July 11 to 13, as commuters returned to the office in full force after the July Fourth holiday, the Lynn Ferry saw more than 500 one-way trips in either direction per day, according to Joe Pesaturo, a spokesperson for the MBTA.
That same Tuesday morning, the 7:30 a.m. ferry from Lynn carried 144 passengers, just shy of its 150-person capacity, crewmembers said. Macayla, a senior deckhand who did not provide her last name, said that trip was typically the busiest.
"This one and our 5 o'clock back to Lynn from Boston both get pretty close [to capacity]," Macayla said.
On the main deck, riders typed away at emails, napped, and took in foggy views of the Harbor Islands. Some sipped coffee from the on-board bar. The motor's roar was muffled to a quiet hum, like the white noise of an airplane.
Above, on the partially-covered upper deck, Vern Connell stood leaning against a tall bin of lifejackets, reading a book on horseracing. His polo shirt sleeves ruffled as he spoke over the wind.
Before the ferry came around, Connell said he would take the Commuter Rail from Lynn or the Blue Line from Wonderland Station into downtown on his way to work. He said the drive down Route 1A to the train station was "just long enough."
"It's just stressful enough that I'd rather spend that time on the ferry," Connell said, "even though, I think, it nets out to like 10 minutes longer."
The Lynn resident added that he would be happy to pay the standard fare for continued service. "Honestly, I'd probably even pay a little bit more," if necessary to keep the ferries running, he said.
While the tunnel is closed, a one-way trip on the Lynn and Winthrop ferries costs $2.40 each — the standard fare for subway trips. But those rates are unusually low: a trip on the T's Charlestown Ferry costs $3.70, and the Hingham/Hull Ferry runs $9.75.
"On September 1, Winthrop and Lynn ferries will run at standard fare pricing for Zones 1 [$6.50] and 2 [$7], respectively," according to the MBTA's website. Lisa Battiston, a spokesperson for the MBTA, wrote in an email that the T's seasonal ferry services, including the Lynn pilot, "will run until mid-October."
Ferry service cost the T $3.41 per passenger-mile over the 2022 fiscal year, according to unpublished data submitted to the National Transit Database and provided to the Globe by an MBTA spokesman. That was more than double the cost of subway and Commuter Rail service, but only 34 cents more than bus service.
But ferry riders say they have something their car-, subway-, and bus-bound peers don't: Joy.
Riders of the long-running Hingham/Hull and Charlestown ferries have for years appreciated the service for its consistent timing, beautiful views, and the longer route's on-boat bar. Those ferries, unlike the Lynn, operate through the winter, weather permitting, making them a viable option year-round.
Despite costlier roundtrips than much of the system, some commuters, especially those coming from the South Shore, swear by water service.
In an emailed statement, MBTA General Manager Phil Eng said he was proud of T crews' work to offer the new ferry service "not only in advance of the Sumner Tunnel closure, but also allowing us to continue this service after the Tunnel reopens."
"A safe and reliable transportation network is paramount to the public we serve, and building water transportation as part of our network gives the traveling public new and viable alternatives for travel, in this case between the North Shore and Boston," Eng said.
Speaking to reporters after a speech earlier this week, Gina Fiandaca, secretary of the Department of Transportation, said the agency is currently working "to figure out what's the strategy with water transportation," but noted that "the Lynn Ferry has been really successful."
"We want to make it a real commuting option, that's the goal," Fiandaca said. "Testing this out with the Sumner Tunnel gave us an opportunity to gauge what's the demand? And what's the service level that we can provide?"
Even if it doesn't last, passengers seem to be enjoying the summer's service while they can.
As she disembarked the Lynn Ferry, just after 8:10 a.m., Marina Slootsky remarked that it felt like she "just got a cruise in," drawing laughter from a small crowd she had been chatting with.
When she boarded, Slootsky sat next to a handful of women — strangers, at first — just looking for a seat with a table, she said. But by the end of the journey, she had joined in on their conversation.
"Hopefully, we'll see you again," one of the women said to Slootsky as they wound toward the exit. They waved each other goodbye and stepped off the gangway.
"I can't believe I'm going into work right now," she said. "I'm walking into work with a smile on my face."