The Boston Globe
Supply shortages, insurance hiccups complicate vaccine rollout
Mass. residents report difficulty getting COVID boosters.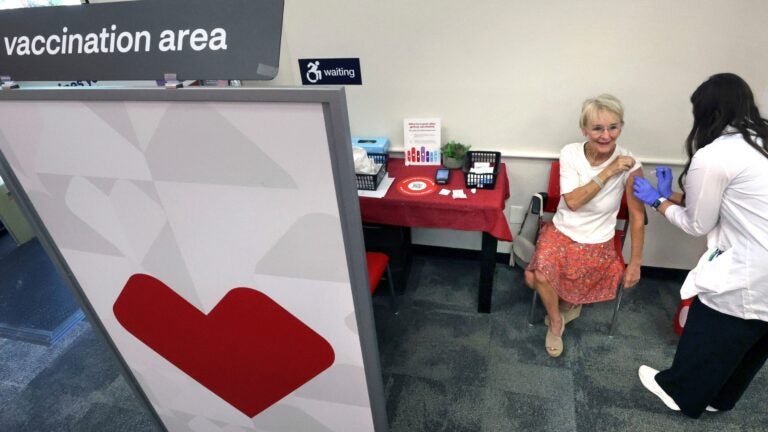 Mary Chitty, a 73-year-old Somerville resident, had hoped to get a triple-whammy COVID booster, flu shot, and RSV vaccine on Monday but settled for less because her local CVS ran out of COVID boosters.
When she asked to schedule a new COVID vaccination appointment, Chitty was told the next available appointment wasn't until next week at the earliest.
Chitty is one of many Americans seeking new and updated vaccines this fall and facing delays, canceled appointments, and headaches with insurance coverage. She had hoped to receive a vaccination before traveling to New Hampshire this weekend but was out of luck.
"I'm just trying to do the responsible thing," she said. "I'm sure I can get [a COVID booster] eventually, but it's a little frustrating."
Her main complaint is not the lack of boosters, but the lack of communication and clarity throughout the process — one that's reminiscent of the original COVID vaccine rollouts, she said.
"It seems like they haven't learned anything," Chitty said. "It's reminding me of the difficulty of getting vaccines three years ago."
Millions of the newly formulated COVID vaccines have shipped out since the Centers for Disease Control and Prevention signed off on them earlier this month for ages 6 months and up. Cases started rising again in late summer, and experts hope the new shots will help protect people during the fall's respiratory virus season.
But this is the first time the federal government is leaving purchasing to the private market since the pandemic began, according to CDC Director Dr. Mandy K. Cohen, who acknowledged the distribution problems.
"It's important to know that there is vaccine available," Cohen said in a video posted on social media last week. "You will be able to get one. And it should be free for you — whether or not you have insurance."
"It's great that people are excited to get the vaccine," Cohen added. "If you've had a problem finding the vaccine, stick with it. More vaccine is on the way."
Ann Shannon, 61, of Ipswich, was told by a pharmacist technician at a CVS in Newburyport that they did not have any boosters left in stock when she showed up to her scheduled appointment on Sept. 16.
Worse, the pharmacy wanted to charge her "a couple hundred dollars" for the RSV vaccine she had scheduled at the same time, Shannon said. She declined the shot and called her insurer, Tufts Health Plan, which attributed her experience to "coding issues on their end," Shannon said.
This fall is the first time that seniors are being offered the vaccine for RSV, which the Food and Drug Administration approved in May and the CDC recommends for adults 60 and older.
Under the Affordable Care Act, private health insurers must cover the cost of preventive care, including vaccines recommended by the CDC's Advisory Committee on Immunization Practices.
On Tuesday, Tufts reported still receiving complaints about RSV vaccine coverage through its call centers. "We are actively reaching out to the pharmacies, as the coding was resolved on Friday," said Kathleen Makela, director of public relations at Point32Health, Tufts' parent organization.
Tufts said its members on Medicare plans should call the member services phone number on their health plan identification cards to receive reimbursement. Tufts Health Plan members who have Medicaid plans will not have coverage for the RSV vaccine until Oct. 2, said Hemant Hora, senior medical director at Tufts Health Plan.
CVS has been receiving the updated vaccine on a "rolling basis," said corporate spokesperson Matt Blanchette. He said although the majority of its retail pharmacies have been able to honor scheduled appointments, delivery delays to select stores have forced the company to reschedule appointments. "We'll continue to offer additional appointments at those locations as supply is received," he told the Globe in an email.
Walgreens temporarily paused online appointment scheduling over the weekend and apologized for the inconvenience that canceled appointments had caused customers.
Ann Scales, a spokesperson from the Massachusetts Department of Public Health, said DPH can only track COVID vaccines that are ordered through federal contracts for the state vaccine program. DPH has no visibility into commercially purchased COVID vaccines, Scales said.
To avoid any insurance-related headaches, Cohen of the CDC advised those getting vaccinated at their local retail pharmacy to confirm their details before heading to an appointment, including whether their pharmacy is "in network" with their insurance plan.
Moderna and Pfizer representatives said they have enough supply. Spokespeople said that Pfizer isn't experiencing any shortages, that it has "shipped and delivered several million doses of its 2023-2024 COVID-19 vaccine" and that "100% of orders are being shipped within days of an order being placed."
Globe reporters visited a handful of CVS and Walgreens pharmacies in downtown Boston on Tuesday and found that three out of four had no boosters in stock. The fourth, a Walgreens, had a limited supply.
"I was surprised initially that there was a shortage of the COVID vaccine because there were so many announcements around it, saying that it would be available," Shannon said. "It appeared to be an easy process and then it really wasn't."
Alexa Gagosz of the Globe staff contributed reporting. Material from the Associated Press was used in this report.