Travel
Big changes are coming to Logan Airport. Officials say to expect 'major impacts' for the next 5 years.
Improvements include expanding Terminal E, upgrading Terminal C, adding parking spaces, and more.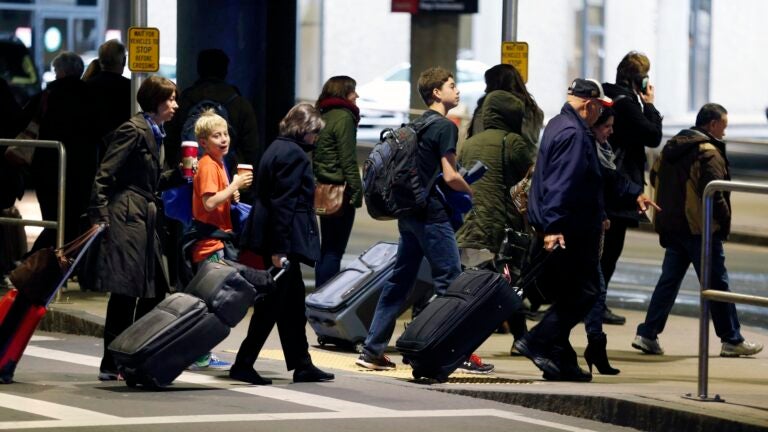 A series of significant upgrades are planned for Logan International Airport over the next five years, and Massachusetts Port Authority officials warn of traffic impacts starting this fall.
The improvements, which include expanding Terminal E, upgrading Terminal C, adding thousands of new parking spaces, and more, are estimated to cost $2 billion.
"Construction on a few of these projects has already begun and so far there has only been a handful of minor interruptions," Massport officials said in a news release. "Starting this fall, and throughout the next five years, there will be major impacts."
Massport recently unveiled a new website for the public to learn about the upcoming construction and to see what's currently happening. This fall, a new "text alert program" will go live, too, according to the agency.
Here's a breakdown of the projects and when they're planned to happen:
Terminal E will expand.
Terminal E serves international flights to and from Logan, including direct flights to 56 international destinations. 
The terminal, which was built in 1974, will expand by 400,000 square feet and get seven new aircraft gates, a bigger ticketing hall, and "local and internationally inspired food and retail options," according to Massport officials.
Passenger waiting areas, the TSA security checkpoint, the Customs and Border Protection Federal Inspection Services facility, and the baggage claim area will also be upgraded.
Timeframe: Summer 2019 to spring 2023
Cost: $680 million
Terminal C will get an upgrade, and Terminals B and C will be connected.
Renovations are in store for Terminal C, which 13 million passengers passed through in 2018, Massport said. Improvements include more food vendors, retail options, and amenities, plus refurbished areas for passengers before and after security. Four gates will be renovated, too.
The plans also include a new connection between Terminals B and C after security, which will be consolidated. 
Timeframe: Fall 2019 to fall 2021
Cost: $200 million
Terminal C will get a canopy.
A new canopy planned to go over Terminal C will have solar panels that will generate more energy than what's needed for the curb lighting on both floors of the terminal. Roomier elevators are also part of the plans.
Timeframe: Spring 2019 to fall 2021
Cost: $65 million
Roadways from Terminal B to C will flow better.
The roads between Terminals B and C will be rehabilitated in an effort "to eliminate backups and get passengers to and from the terminals faster," according to Massport.
Improvements include "dedicated roadways to eliminate traffic merging," plus new lighting and signage. Massport's goals are to have fewer traffic backups and to manage anticipated traffic due to the airport's projected growth. 
Timeframe: Fall 2018 to summer 2022
Cost: $190 million
Up to 5,000 parking spaces will be added.
Officials plan to add up to 5,000 new parking spaces by 2022. The project's first phase will add 2,000 spaces at Terminal E, and its second phase will add 3,000 spaces at the Economy Garage.
Timeframe (Phase 1 only): Spring 2020 to spring 2022
Cost (Phase 1 only): $120 million
Details have not been provided for Phase 2.
Uber and Lyft will get designated areas. 
Massport announced earlier this year that anyone using Uber or Lyft to get to the airport would soon have to use a designated area in the Central Garage instead of at the terminal door. Officials hope this will lead to decreased congestion.
Timeframe: Spring 2019 to fall 2019
Cost: $15 million to $20 million
Logan Express will expand.
Logan Express, a bus service to the airport with parking available at pickup locations, is being added to North Station. The project also increases parking at the Braintree and Framingham locations and adds more buses from Framingham. 
Timeframe: Spring 2019 to spring 2024
Cost: Over $100 million