Travel
Mistakenly-priced $28 Sam Adams beer at NYC airport spurs pricing audit
"This is a situation where someone simply input the wrong prices."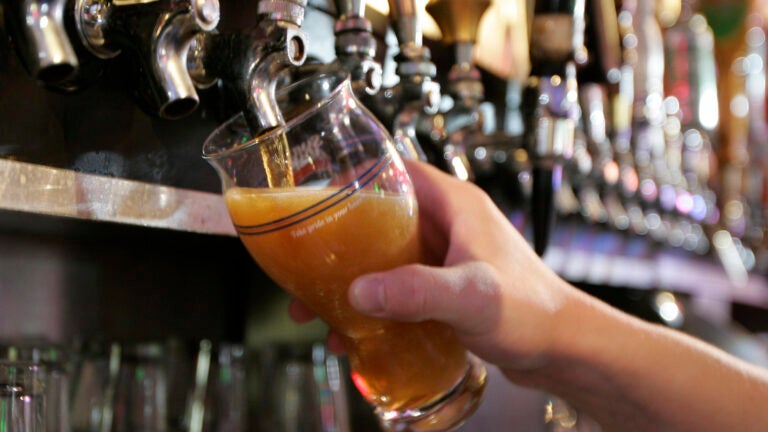 How much would you pay for a cold beer before a flight?
A traveler who stopped in at Biergarten, a restaurant inside LaGuardia Airport's Terminal C in New York City, last month discovered a Sam Adams Summer Ale on tap would set back a thirsty patron $27.85, according to the menu he posted on Twitter.
OTG Management, which owns restaurants in LaGuardia, JFK, and Newark airports, says, however, the price was part of a glitch the company caught and "immediately fixed," spokesperson Michael Marchese confirmed to Boston.com on Wednesday.
"This is a situation where someone simply input the wrong prices," Marchese said in an emailed statement. "Once we learned of it, we immediately took action to correct and began proactively auditing our entire system to ensure there were no other mistakes. OTG took this initiative on its own."
The Port Authority of New York and New Jersey, in a statement, said terminal operators and retail companies determine pricing based on "comparison locations within the greater New York City and Northern New Jersey Metropolitan Area."
The agency is committed to "enforcing that all terminal operators and concessionaires adhere to cost parity policies throughout our airports," the statement reads.
"We know this market is expensive enough already, so we're committed to everything we can do to ensure reasonable pricing for our customers," the Port Authority said. "At our request, OTG is conducting a full audit of their pricing, and we will be working with all of our terminal operators and concession partners to review pricing across restaurants and airports to ensure customers are being treated fairly."
As travelers likely know, prices at airports are usually higher than what customers can expect to pay at most other retailers.
Last year, the Port Authority approved a motion to allow concessionaires at airports to set prices as much as 10 percent higher than the previous "street pricing" standard, according to duty free and travel retail news website TR Business.
Newsletter Signup
Stay up to date on all the latest news from Boston.com