Travel
Here's what you need to know about the looming Sumner Tunnel closure
The Sumner Tunnel will be shut down for nearly two months, starting in July.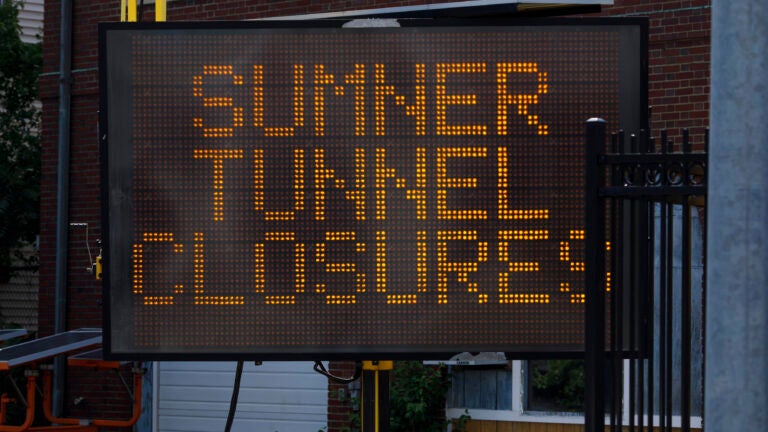 Boston driving isn't for the faint of heart, even on a good day. But with a lengthy Sumner Tunnel closure looming, traffic could get a whole lot worse.
A major artery in Greater Boston traffic, the Sumner Tunnel links East Boston and the North End, serving as an important route for drivers heading out of Logan Airport. After nearly a century in operation, the tunnel will shut down for about two months this summer while the Massachusetts Department of Transportation undertakes restoration work.
Here's what you need to know.
How long will the Sumner Tunnel be closed?
The Sumner Tunnel will be closed seven days a week from July 5 through Aug. 31.
What work will MassDOT be doing, and why?
The multimillion dollar restoration project began in the spring of 2022, launching a series of periodic tunnel closures. The work plan includes repairs and improvements to the walls, deck, and ceiling inside the tunnel.
During this summer's two-month closure, crews will paint interior walls and add fireproof boards, install new lights and utility conduits and cables, and restore the overhead arch and ceiling, according to MassDOT.
"Corrosion and wear-and-tear have deeply impacted wall panels and gutters. There's exposed rebar on the ceiling, and even after resurfacing, pavement conditions are poor — a fact that should be obvious to anyone who drives the length of the tunnel," the project website explains. "At this point, we're well beyond patches and repairs: the only way to keep the Sumner Tunnel in service is with a top-to-bottom restoration."
How will the Sumner Tunnel closure impact traffic?
The good news: Drivers heading into East Boston can continue using the Callahan Tunnel or the Ted Williams Tunnel, though MassDOT has recommended adding extra travel time.
Getting out of East Boston will be another story.
MassDOT is suggesting several detours, depending on where you're trying to go:
Heading north? Take MA-1A North to US-1 North. You can cross the Tobin Bridge and reach Interstate 93.
Heading south? Take I-90 West/Ted Williams Tunnel to I-93 South.
Heading west? Take the Ted Williams Tunnel and stay on the Massachusetts Turnpike.
Be prepared for traffic congestion, though.
"It is very clear that there will be traffic impacts regardless of what direction you're coming from," MassDOT Highway Administrator Jonathan Gulliver told reporters earlier this week, according to State House News Service. "Folks traveling from the North Shore and East Boston will be the hardest impacted, without a doubt. However, if you're coming from the west or you're coming from the south, you will also see additional congestion as a result of taking the Sumner Tunnel out of service for this entire period."
What are the other options for getting around?
From buses to trains — and a few ferries and bicycles in between — MassDOT has broken down alternative travel options by region to help avoid disruptions. (See options for North of Boston, West of Boston, South of Boston, and East Boston/Revere/Logan Airport.)
As MassDOT advises travelers to "leave your car at home" if possible, the MBTA is offering reduced fares and parking rates to help lessen traffic impacts. Among some of the highlights: The Blue Line will be free in both directions, the Newburyport/Rockport commuter rail line will have discounted fares, and the East Boston ferry will be free.
How will this affect airport travelers?
The Massachusetts Port Authority, which operates Logan Airport, is telling travelers to give themselves an extra two hours and to avoid driving themselves to the airport, according to NBC10 Boston.
Massport offers a list of options for getting to and from Logan, including the T, Logan Express, buses, bicycles, and ferries or water taxis.
"You've got to get in the zone, you got to get ready and prepare," Massport Director of Aviation Ed Freni told NBC10. "It'll make it a lot easier for everybody."
Newsletter Signup
Stay up to date on all the latest news from Boston.com