TV
SNL's most brutal political sketch wasn't about Trump. It was about the Democratic Party.
"The Dems are back."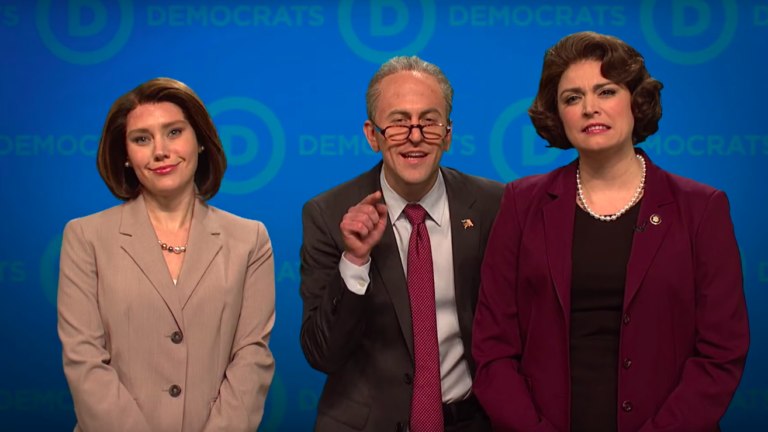 As usual, Saturday Night Live opened last night's show by mocking President Donald Trump's administration and the Republican Party. But the show saved its most derisive political critique for the opposing party.

Midway through the episode, SNL mocked Democratic leaders for over-celebrating their wins in last week's elections.

"You love us again! And we haven't felt this confident since the day before Trump won," said Alex Moffat as Senate Minority Leader Chuck Schumer.

eternally Spanish-speaking Sen. Tim Kaine, and Larry David making a cameo as Sen. Bernie Sanders (who, despite caucusing with Democrats, is an independent).

The group touted their "fresh new ideas delivered by fresh new faces" and "great new leaders" like "hot, young thing Elizabeth Warren," who is 68 years old.

"Together, we're going to end the spirit of divisiveness in this country by focusing on how we won the governor's races in two of the 10 states we care about," said Strong as the 84-year-old Feinstein, who is seeking reelection next year.

The bit also mocked Democratic leaders' newfound dilemma over how or if the party should try to appeal to the white working class.

"We learned our lesson from the last election: We can't just appeal to coastal elites," McKinnon said as Pelosi. "We need mouth-breathers from Wisconsin."

"And window-lickers from Ohio as well," Feinstein added.

Once again reprising his Sanders impression, David also took the opportunity to slyly address his poorly received SNL monologue last week.

"We're really going to lace into people if they don't say what's politically correct, like these comics out there who think it's OK to make jokes about concentration camps," he said. "That guy should rot in hell."

The bit also featured the return of McKinnon's take on Hillary Clinton, suggesting the two-time presidential candidate get one final chance.

"I thought she was dead," deadpanned Leslie Jones as former interim DNC chair Donna Brazile.