What Not to Say to a Boston Bombing Survivor
Adrianne Haslet-Davis lost part of her leg but kept dancing.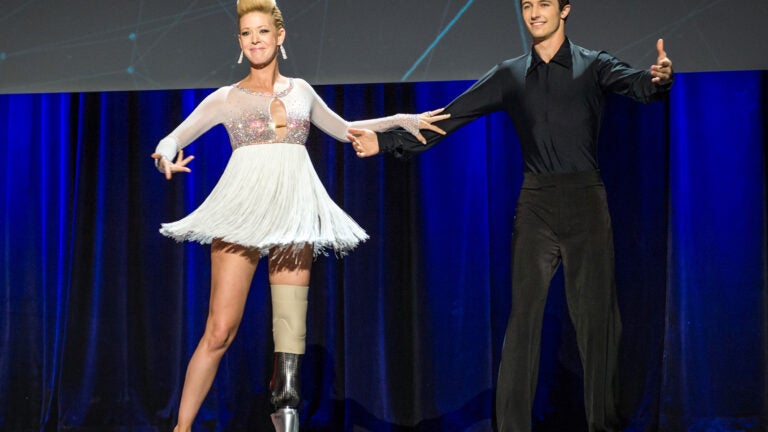 After Adrianne Haslet-Davis's leg was amputated following the Boston Marathon bombing, doctors told her she'd never dance again.
She proved them wrong.
On Wednesday, Haslet-Davis testified at the Tsarnaev trial about the devastating impact the bombing had on her life. But she told her story more fully at a TEDTalk in December, where she not only danced, but also told her audience what not to say to people who have undergone major tragedies.
[fragment number=0]
"I had visitors with mouths, and those mouths had opinions,'' she said about her time in the hospital during the TEDTalk. "And I learned something, that people say a lot of things when they don't know what to say.''
She went on to describe the awkward, and often insensitive things family and friends said to her during their visits. She said their comments turned her into the person who needed to make them feel better, instead of it being the other way around.
In the 15-minute talk, Haslet-Davis once again assumed the role of the "reassurer,'' as she confidently shared her story while describing how her relationships changed. She said everyone will go through a time when they need to comfort someone else.
"Words will stay with me forever, especially in vulnerable times that your friends and family will go through,'' she said.
Watch the full talk below:
[fragment number=1]
[fragment number=2]