They've been told to 'get over it' for 700 Sundays. They come anyway.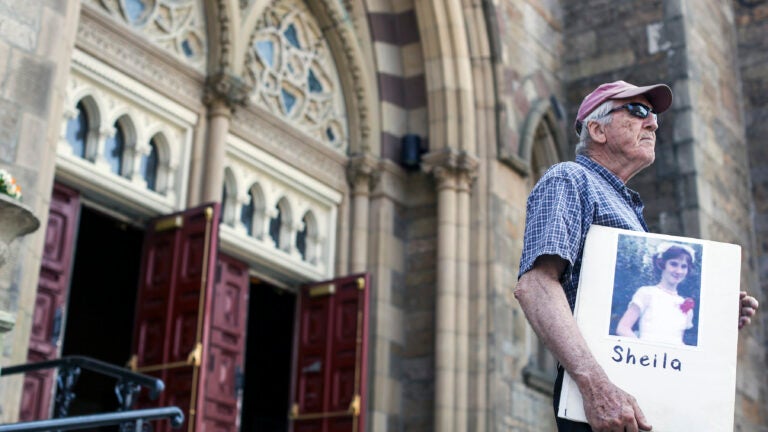 The Cathedral of the Holy Cross cast a shadow over his face, but Richard Orareo stood tall, with one hand holding his cane and the other holding a poster of a girl who was raped by a priest from kindergarten through the seventh grade.
The church bells began ringing just as Orareo began to speak to a crowd of 20 other survivors gathered in front of the church.
"It's my competition,'' Orareo said of the bells.
"But you can stand up to it,'' said Paul Kellen.
Orareo has stood up to the bells, and up to the Catholic Church, for more than 13 years.
After The Boston Globe released its investigation into sexual abuse by clergy members, he became one of the first survivors to take his place as a self-proclaimed sidewalk protester in front of the Cathedral of the Holy Cross.
For 700 Sundays, survivors of clergy sexual abuse have gathered in front of the church. That's every Sunday for more than thirteen-and-a-half years.
Orareo first showed up outside of the church to demand the resignation of Cardinal Bernard Law after The Globe released its investigation. Critics say Law, who gave mass at the Cathedral of the Holy Cross, kept the Rev. John Geoghan in the ministry for years despite allegations of child sexual abuse. Geoghan was accused of abusing more than 100 children.
"Nobody ever signed up to do this,'' said Kellen, who is the New England director of the National Survivors Advocates Coalition. "People just showed up because they felt like they had to do something. There's no formal meeting. We stand out here with the signs to get people to look before they go into the church.''
Kellen estimates there were hundreds of supporters lining the sidewalk in front of the church every Sunday, whether in rain, sleet or snow, before Law eventually resigned in December 2002. Now, there are Sundays when Kellen is the only one.
The battle is not over. In 2006, former Pope John Paul II appointed Law archpriest at St. Mary Major Basilica in Rome, where he is still serving.
The Catholic Church has yet to remove hundreds of accused clergy members from their posts, which the survivors say leaves more children vulnerable.
That's why, 700 Sundays later, the survivors, many of whom hadn't seen each other in years, stood in the same spots holding the same signs with the message they have been trying to get across for more than a decade: This has to stop.
A reunion
Kathy Dwyer didn't know how to thank the survivors who showed up, so she brought donuts. She only got a dozen. She didn't expect many people to come.
Anniversaries, she said, can be painful. Even though it's been decades since the abuse and many of the survivors now have gray hair and wrinkles, their pain is fresh. The 700th vigil, though a milestone, was also an indication that more than a decade later, the Catholic Church hadn't established a system to remove clergy members responsible for abuse.
Sunday was also Dwyer's 70th birthday. Robert Costello brought her flowers. Everyone signed a card. But she said the best gift was seeing other survivors whom she hadn't seen in months, like Susan Renehan.
Dwyer, along with Ann Hagan Webb and Renehan, were some of the first protestors to speak up on behalf of female survivors. Much of the initial attention Dwyer said, was given to males who were abused by clergy members.
"I am here today, on my 70th birthday, because I was heard, and believed, and accepted,'' Dwyer said. "But I might not be here that much anymore after this. I'm still healing, folks, and this is not my church.''
As the survivors greeted each other, they also picked up posters with faces of abused children. They gathered into a semi-circle and waited for Kellen to speak.
"You've all been here at some point or another,'' Kellen said. "And people will ask why. We're here to get justice for the people who have been harmed, and for protection of children of the future.''
Dwyer and the other survivors find strength in each other. And though each experienced abuse differently, they all understand what it means to lose faith. They all understand what it means to find hope.
A struggle to be recognized
"This is your parents fault,'' said a man heading into mass. He was speaking to Stan Doherty, a survivor who was holding a sign outside of the church. "You can't blame the priests for this.''
Doherty said the man, who declined to give his name, makes this comment most weeks before walking into the church. Doherty, like many survivors, is used to hearing taunts from passersby. He's used to being told to "get over it.''
He comes anyway.
Doherty said the survivors' presence makes church officials nervous, which he said means they're doing something right. Even though their protests were peaceful, Doherty believes church officials called the Boston police on them, and remembers the police being confused at the peaceful nature of the protests when they arrived at the church.
"I would say, 'you've seen our average age,''' he said. "We can't do anything.''
Terrence Donilon, communications secretary for the Boston Archdiocese, said the church knows the survivors gather outside the Cathedral of the Holy Cross each week.
"The Church continues to work to heal the wounds of clergy sexual abuse by remaining vigilant in its child protection programs and in providing pastoral support for survivors and families impacted,'' he said.
James Flynn, an adult altar server at the church, said he's seen the survivors every Sunday, but doesn't mind their presence.
"It was tragic that happened, but the church learned a valuable lesson,'' he said. "As an altar server, I go to classes to know that that's wrong, as does everyone else in the church. We are moving forward.''
Just yards away, Dwyer held a sign that read "You cannot move from a place you deny you are.''
See you next Sunday
This vigil, like all the others, was informal. The survivors who felt compelled to speak addressed the group. But the survivors also said it was important to remember those who couldn't be with them.
"I don't want to bring it here, but I have to,'' Dwyer said. "Sexual abuse tortures us. There are many who have gone to their graves never telling. There are many who have taken their own lives.''
The survivors carry their names on pieces of paper as they walk the perimeter of the church while also holding signs with the faces of the child victims. After they finished their march, the survivors stopped in front of the Cathedral of the Holy Cross sign to pose for a photo. They held up their posters and smiled, not because of where they were, but because they were together.
After the photo, some of the survivors said quiet goodbyes and left. When only a handful remained outside, a procession of the church's clergy members and parishoners began to approach on the sidewalk.
"Get the posters out,'' Doherty said. "We have a parade coming.''
A single-file line of parishioners from the church rounded the corner towards the survivors. They were led by altar boys wearing white robes and swinging gold censers with incense. The survivors looked the priests in the eyes. The priests looked down at their sheet music.
Some parents put their hands around their childrens' shoulders and held them close. The kids looked at the posters, at the black-and-white faces of children their age, before walking back into the church.
Those children, Kellen said, are the reason why the survivors will continue to stand in front of the church every week.
"We'll be here for the next 700,'' Kellen said as he gathered up the signs. "See you next week.''