It's 2015. Why do 40 Mass. high schools still have Native American mascots?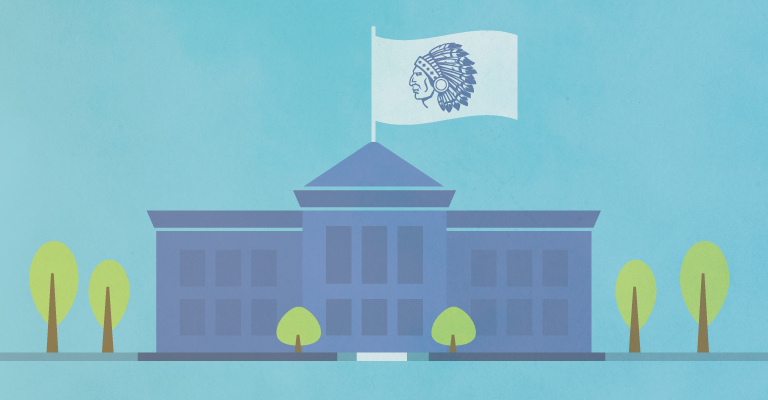 Before the Boston Redskins football team took the field for a game in 1933, every player smeared his face with red paint. The coach, William "Lone Star'' Dietz, paced the sidelines while his headdress flapped behind him. Even the half-time band wore feathered regalia.
This type of display didn't just happen in the past. In recent years, some Watertown High School students have painted their faces red and put on "war bonnets'' during football games.
The school "retired'' its "Red Raider'' mascot—a tomahawk-toting Native American man wearing a stripe of face paint, a headdress, and a scowl—about eight years ago, but is only choosing a new one this month.
The school is holding a contest for a new mascot that will not stereotype any "race, nation or group'' of people, and the winner will be announced at the end of this week.
But even after the high school changes its logo, there will still be about 40 high schools in Massachusetts that use "Indian'' mascots, nicknames and/or logos to represent their athletic teams.
History of American Indian logos
Mascots, nicknames, and symbols have been used to identify sports teams since the early 20th century, after football, basketball, and baseball became popular in the United States. Many teams then adopted American Indian logos and names in the 1930s, according to the New York Times.
It was during this time that President Franklin D. Roosevelt appointed a commissioner to help long-neglected American Indians by creating a bill of rights specifically for them, which increased their national profile, according to the book A Companion to the Anthropology of American Indians.
The focal point of the American Indian mascot debate is the Washington Redskins, who were born in Boston. First called the Boston Braves, their owner, George Preston Marshall, changed the name to Redskins after only a year.
He moved the Redskins to Washington in 1937 because of poor attendance at games. The name remained.
In 1968, the National Congress of American Indians began its campaign to stop stereotypes in sports and other media.
In 2001, the U.S. Commission on Civil Rights called for the end of Native American images and team names. But despite these calls to change, it's often up to the individual school, community, or team to change the logo.
In 2005, the American Psychological Association recommended all American Indian mascots be retired "immediately.'' In the same year, the NCAA banned universities from displaying racially offensive mascots or images at any of its postseason tournaments.
But the issue still persists.
Oneida Nation spokesman Joel Barkin said he could somewhat understand the Redskins wanting to keep their mascots because of the financial obligation to change it.
"With schools on the other hand, they don't have that financial incentive, and they're places of learning, so are these types of mascots conducive to their goals?'' he said. "It's a process to get people to understand and be a little selfless in this. People aren't always comfortable with change, that's the history of America.''
According to a national database of sports teams' mascots, there are more than 2,100 sports teams nationwide with American Indian logos.
What's wrong with American Indian logos?
Crying out war chants during sporting events might seem like harmless fun in the name of school spirit, but John Peters, an American Indian and executive director of the Massachusetts Commission on Indian Affairs, said these acts make American Indian students feel awkward at best.
"It's hard to be proud of your heritage when your peers are doing war whoops,'' Peters said. "And you can start a campaign against them, but many students are embarrassed to take on that battle.''
Wendy Quinton, an assistant professor of psychology at the University of Buffalo, has studied this issue, but she's also experiencing it right now. She lives in Lancaster, New York, a town where meetings to replace the high school's Redskins mascot were so heated that police came to mediate them.
"People will say, 'Why now, where were the Native Americans before?''' Quinton said. "But they've been protesting since the '60s. Professional groups have spoken out against the mascots for decades.''
Researcher Stephanie Fryburg and her colleagues said in a 2010 study published in the Journal of Basic and Applied Social Psychology that some American Indian students reported depressed self-esteem and community worth, and didn't imagine achievement-related possibilities for their futures.
A 2010 study from the Journal of Applied Social Psychology found that when non-Native-American people were shown an American Indian sports icon, such as Cleveland's Chief Wahoo, they were more likely to believe stereotypes about other minorities.
What's in a name change?
Supporters of Native American mascots often argue that they want to preserve a school's tradition. That didn't work in Natick.
The teams now known as the "Redhawks'' were once called the "Redmen.'' Before the transition to the "Redhawks,'' the school committee renamed the teams in 2007. They chose "the red and blue,'' which was the first name the teams were ever called.
Everyone hated it, said principal Rose Bertucci. It was difficult to cheer for a pigment, as opposed to an object. So, in 2012, she held a contest to find a new mascot.
Three years later, Bertucci said there's no debate over the mascot. A website petitioning to reinstate the Redmen still exists, but hasn't been updated since December 5, 2014.
"We're the Redhawks,'' she said. "That's it.''
Will other schools change?
Although the NCAA took a stance on logos a decade ago, the Massachusetts Interscholastic Athletic Association won't intervene. Nathan Bonneau, the association's spokesperson, said regulating mascots isn't in the group's jurisdiction, so it wouldn't be able to impose regulations even if it wanted to.
"We haven't received a lot of complaints, and it hasn't been a major topic from communities,'' he said. "The final decision rests with the superintendent or school.''
[fragment number=0]
Boston resident Pete Sanfaçon manages the New England Anti-Mascot Coalition, which advocates for the elimination of racial stereotypes in logos. Its website keeps track of every high school in New England with one of these logos. The site currently says there are 91 high schools with these symbols in the six New England states, but Boston.com found the number is closer to 80.
Sanfaçon said one way schools can change is by disassociating the mascot from the name, which several schools in Massachusetts have done. Dedham High changed its "Marauders'' mascot from a Native American face to that of a pirate. Nauset High School kept the name "Warriors'' but stopped using the Native American face.
Why change?
Watertown High School student Arshdeep Singh said he understands why people find the mascot offensive, but that no one is trying to mock American Indians.
"People tend to overreact to a situation that they don't understand,'' he said. "I think if a school is mimicking an Indian it's offensive, but to say that just because we have an Indian mascot, we must be abusing that image is a generalization within itself.''
Last week, the class officers posted four logo finalists—a horse, a rat, a skull and a bear—for the students to vote on. Each of the student designers anonymously explained why their logo would be the best. They didn't use their names to avoid making the mascot contest a student popularity contest.
The designers of the rat, bear and horse explained how their animals represented the word "Raider.''
The unnamed creator of the skull took a different approach. "I didn't want to offend anyone,'' the student said. "So I made my design race neutral.''