Mass. spellers haven't won the national bee since 1939. That could change this week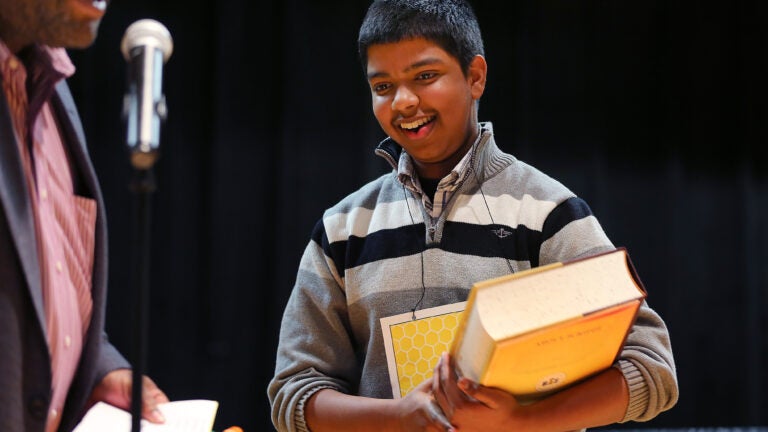 Christy Jestin knows that there hasn't been a Scripps Howard National Spelling Bee winner from Massachusetts since 1939 — and he plans to change that.
The 13-year-old from West Roxbury is one of three Massachusetts spellers competing in this year's bee. The preliminary round of the competition, which will be broadcast live on ESPN2, begins Wednesday. ESPN will show the finals in primetime on Thursday from 8-10 p.m.
The other spellers from the Bay State, Lela Festa and Mitchell Robson, are also 13-year-olds finishing up seventh grade. The fourth Massachusetts speller listed on the Scripps site, Spencer Pogue, from Edgartown, was unable to attend because of a family issue, his mom Kathleen told Boston.com.
This is Jestin's second year at the spelling bee in Washington D.C., and, after taking the preliminary test Tuesday morning, he said he felt as though this year's spellers were more advanced. Last year, he and Robson tied for 47th place.
"I'm not intimidated by them, though,'' Jestin said of the other spellers. "I don't have a reason to be.''
To qualify for the national bee, Jestin correctly spelled "schottische,'' a German word to describe a slow polka, at the Boston Centers for Youth & Families regional bee in Mattapan. He said he spends at least an hour each day studying.
Festa, who is attending for the first time, said she practiced by going over lists on the Scripps website and memorizing Latin and Greek roots with her teacher at Immaculate Heart of Mary School in Still River, who she said is "really into spelling stuff.''
Unlike Jestin, who said he isn't superstitious, Festa said that she had good luck after eating a meatball sub before she won her regional bee. She isn't sure she'll have a pre-bee sub this time because the competition starts at 8 a.m. Wednesday, but she said she isn't too worried.
"There are 11 million people who try to get to the Scripps Bee, and now there are 285 of us, so it's not that many when you think about it,'' she said. "I'm just happy to be able to be here.''
The contestants are there to spell, but there's a lot more to the week than the competition. After the preliminary test, Festa and her mom went to the Smithsonian National Zoo, and Robson swam with a fellow speller from Texas in his hotel's pool.
"It's a really friendly environment,'' said Robson, of Marblehead. "Last year I made some friends that I still stay in touch with. I Facetime with someone in New Jersey and a friend from American Samoa who moved to Arizona.''
Robson said he's hopeful that he'll do well, but knows no one will judge him if he doesn't turn out to be the next Elizabeth Rice, the Massachusetts champ who claimed the title at age 12 after correctly spelling "canonical.''
"I just try to think about how I've gotten far enough,'' he said. ''However well I do, it's still a good achievement.''
Festa didn't know there hasn't been a Massachusetts winner in 76 years, but said she doesn't feel pressured to take the spot either.
"I guess everybody hopes to win, but I'm not sure I'm gonna make it all the way,'' she said. "Other kids' parents make them study all day, and I'm not like that. I'll just do the best I can.''