Indian restaurant trapped with 'Entourage' poster for 5 years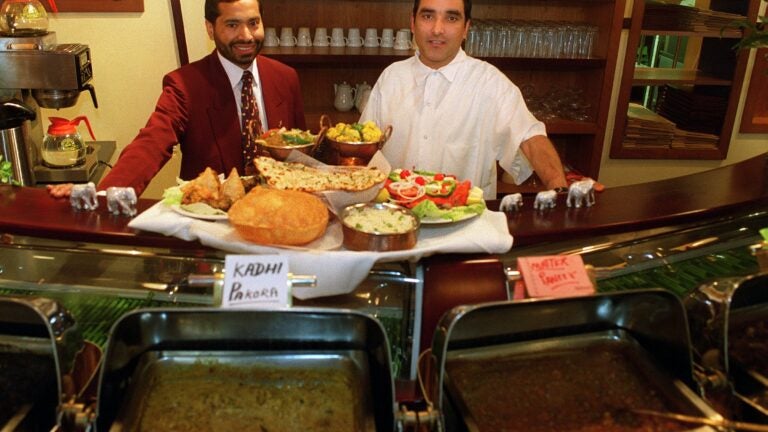 Loosely based on Mark Wahlberg's experiences in Hollywood, the HBO show Entourage lasted for eight seasons before people finally grew tired of the bromances, limp wisecracks and endless cameos of real-life stars playing satirical versions of themselves.
But the show lives on inside India Castle in Cambridge, only because the owner, Rabhbir Singh, physically cannot get rid of it.
Decorated with the kinds of intricate and colorful paintings you typically find in an Indian eatery, the restaurant has one piece of art that doesn't seem to belong — an old Entourage poster. The ad, which shows Vince Chase and his crew "bro-ing'' out over some drinks, is locked in a silver frame behind the host stand.
When questioned by a reporter about the poster's origins, Singh, who was standing behind the bar, denied having a poster in the restaurant. He said he had no idea what Entourage was.
He then walked around to the front of the restaurant to take a look, and put his hands on his hips.
"Oh this?'' he said. "This has been here forever.''
Singh said the poster has been locked in the frame, which is bolted to the wall, for years. He said a representative from a local TV station made him a deal — let us come change the poster in the box every two weeks, and we'll pay you. Singh said he can't remember how much he was supposed to be paid because the representative put the Entourage poster in and never came back.
A representative from TV38 said that no one at the station has any clue about the poster, who might have put it there, or how long it's been there.
It's been locked in the frame ever since. Singh doesn't have the key.
"The box used to light up and it doesn't anymore, but I can't get it out,'' he said. "I guess it's stuck.''
Singh has never watched an episode of the show and doesn't plan on seeing the movie, which came out Wednesday.
The rep seems to have forgotten about the poster. After the movie comes out, we can, too. But for Singh, Entourage will never go away, at least until he finds the key or smashes the glass.
Summer blockbuster movies rated by Rotten Tomatoes
[bdc-gallery id="316925″]
Correction: An earlier version of this story said India Castle has been trapped with this poster for 11 years. Further investigation has determined that the ordeal has in fact lasted 5 years. We regret this error.