MBTA
Why are old Green Line trolleys wasting away in rural Pennsylvania?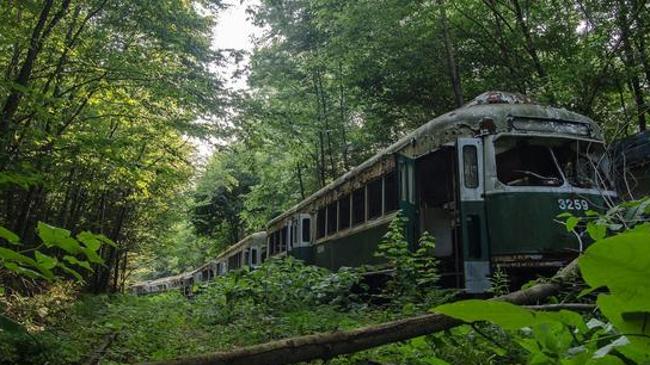 [bdc-gallery id="113410″]
In a rural town in western Pennsylvania, a set of vacant tracks leads to a cluster of trains, still and abandoned. Some are from Philadelphia and Cleveland, and others are shorter, green trolleys. Weather and time have covered them in rust, and trespassers have left their mark with spray paint, but if you look closely, you can still read their destination: North Station. They're the Green Line cars that once ran up and down Commonwealth and Huntington avenues. The old trains sit in rows with no place to go, their wheels still in line with the tracks, trapped.
Sites such as these have become less common, said Brad Clarke, president of the Boston Street Railway Association, a nonprofit that preserves present-day transportation and educates about the past.
"At one time, there were a lot of trolley graveyards around the country because there were a lot of trolley cars,'' he told Boston.com. "They began to be phased out in the '30s, '40s, and '50s, so once they phased out, the number of trolley graveyards declined.''
But Boston has kept its streetcars in service longer than other cities, so out-of-use Green Line trolleys aren't as hard to find. The MBTA used to burn its old cars, getting rid of the wood and then selling the metal as scrap, Clarke said. In the 1970s, however, they outsourced the process, making old cars available to those interested in purchasing them for a price based on weight.
The thought of someone wanting old Green Line cars, the very things most Boston commuters lament each morning and evening for their constant screeching and their habit of being reliably unreliable, may seem odd. And who would want the streetcars enough to go through the trouble of moving them 520 miles from Boston to the middle of a forest in Windber, Pennsylvania? And how would one even go about doing so?
Rumors about the trolley graveyard have circulated the Internet, including those from photographer Seph Lawless, whose book The Trolley Tragedy of 1957 focuses on the scene. He said that people thought the old cars were pushed along the tracks from their home cities to Windber. The tracks have been out of use for years, but he said they had once connected the coal mining and lumbering town to the other cities at one time. The title of the book, Lawless says, comes from local folklore he picked up from some of the town's residents, and the idea that the absence of streetcars in many cities represents the end of an era, with only these abandoned cars and nostalgic feelings remaining.
"It looks like this apocalyptic train wreck,'' Lawless said.
Rumors and nostalgia aside, the trains aren't actually leftovers of some apocalyptic accident. Instead, Ed Metka, a retired civil engineer who spent his career with the Army Corp of Engineers, bought them in the 1992 and had them moved from Boston to storage tracks in Windber he purchased a few years prior.
"There weren't too many cities left that had this model of car,'' the 77-year-old, Metka, said. The MBTA had a surplus at the time and was selling them for scrap metal. Metka saved 14 T cars from the scrap yard, paying between $500 and $1,000 for each. To transport the cars, which weigh nearly 20 tons a piece, he had them put on long trailers and driven from Boston to Windber. He had to pick roads without low overpasses, taking roundabout routes to bring the trolleys home.
"Either get them then or forget them forever,'' he said.
Forgetting wasn't something Metka was willing to do. He's been interested in streetcars and trains since he was a kid in Chicago during the 1940s—the same time Metka said these cars were built. Before his mother could even take her seat, he'd be up by the driver, watching over his shoulder as he manipulated the controls.
He never grew out of that interest. When Metka was a teenager, he heard about other people who were interested in streetcars and ran museums. He saw their pictures, then started taking his own and networking, eventually pursuing his interest and studying civil engineering in college.
In the 1980s, he realized that the streetcars he knew from his childhood were disappearing and being replaced by newer ones that lacked the Art Deco design he loved and instead looked more modern and spaceship-like. He retired, moved from Maryland to Pennsylvania, and bought land from an old coal company that had a railcar repair shop. Then, he started buying up streetcars with the intention of reselling them to cities for tourism purposes.
Even though they're dwindling, trolley graveyards like Metka's aren't all that uncommon, Gil Propp, creator of the documentary film Streetcar Tracks, said. There's an interest in vintage streetcars, evident by the old Green Line trolley on a beach in Red Hook, New York that was redesigned to look like Brooklyn's old streetcars, and San Francisco's repurposed old cars from around the country that are a permanent fixture on Bay Area streets. Sometimes, however, these projects go awry when funding is lacking, leaving their leaders with no choice but to let the trains rust, hidden in overgrown, abandoned areas, Propp said.
Clearly, Metka's trains aren't ready to take tourists for rides or to carry passengers through city streets. Their windows are shattered and their bodies are cracked, with leaves and branches filling the aisles and covering the empty seats.
When Metka bought the cars, he met Richard Dunbrack, the maintenance supervisor for the Green Line. The two became friends and had plans to revamp the cars and sell them to other cities, but Dunbrack died unexpectedly. Metka has continued to explore other options. He estimates that it would cost $1.5 million to renovate each of the cars currently sitting on his property.
Metka said there's a demand for streetcars, and that he's been talking to a handful of communities on the East Coast who are interested in purchasing them. He said that they bring people and business into under-used urban areas, creating a gentrifying effect on the community.
"Streetcars nowadays are looked upon as a catalyst for economic development,'' he said. "That represents a long-term commitment that you're going to have a streetcar line running there. If you're servicing that with a bus, they could change that in a week.''
In the meantime, Metka wants to share his little piece of history. He partners with an organization that gives photo tours of the trolleys, taking people on supervised excursions to see the site—on which trespassing has been a problem in the past.
"The millenial generation, most of them have never had the opportunity to ride a streetcar,'' he said. "In addition to an enjoyable experience, it's kind of educational.''
Photos courtesy Pablo Maurer and DCist. See more here.