Car crash caught on trooper's dashcam
This is why there is a "Move Over'' law, police said.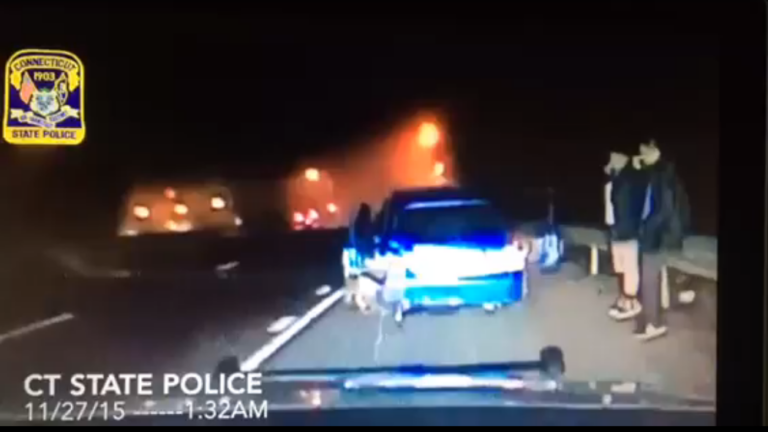 Connecticut State Police said it was lucky no one was seriously injured in a "hair-raising'' crash captured on a dashcam early Friday morning.
According to police, a state trooper responded to a two-car accident on southbound I-95 around 1 a.m. Friday in Fairfield, parking behind the two cars involved in the crash on the right shoulder.
A second trooper said he was arriving on the scene to help when a Nissan Maxima speeding in the left lane in front of him veered right, missing the parked police car and slamming into one of the cars involved in the original accident.
Police said the driver of the Nissan Maxima, Yoni Rojas, 21, of Bridgeport suffered minor injuries. The troopers and other drivers were uninjured.
Police arrested Rojas, who was charged with reckless endangerment, reckless driving, misuse of plates, failure to meet minimum insurance coverage, and failure to maintain a lane. He was held on $2,500 bond and scheduled to appear in Bridgeport Superior Court on Friday.
No attorney information for Rojas was immediately available.
State police said that while the crash wasn't not a violation of the Move Over Law, it "stressed the dangers'' of being stopped on the highway and the reasons why drivers are required to move over when they see stopped emergency vehicles.
Connecticut State Police posted the video of the crash to their Facebook page, asking followers to check it out if they ever wondered why drivers are asked to "move over'':
This is also why we ask you to stay in your vehicle. If the State Police cruiser was not there, the two people in the shoulder could have been struck and this message would be about a double fatality. Your vehicle getting hit with you sitting in it or your body getting hit by a vehicle traveling at highway speed (in this case 85mph +); shouldn't be a hard decision.

The highway is our office, the shoulder is the place where we, often times, investigate crashes or wait with broken down vehicles. There are times when we have to sit in the shoulder while we wait for an ambulance or tow truck.