Arlington police won't arrest suspect who vandalized church's 'Black Lives Matter' banner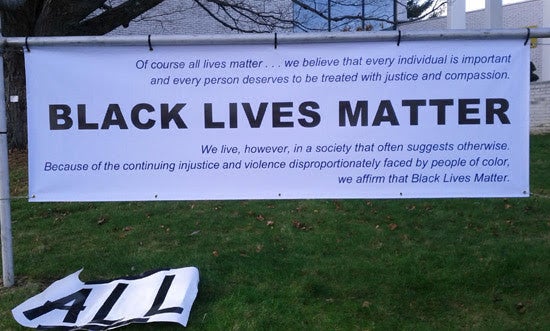 Arlington police have identified a man they believe is responsible for defacing a "Black Lives Matter'' sign at a local church last week.
But police said in a statement Thursday the man has not been arrested and will not be charged if he meets agreed-upon requirements for restorative justice.
Police said they were led to the suspect after a witness saw a man get out of a pickup truck on November 25 and walk up to the sign at First Parish Unitarian Church in the center of town. It was later discovered that the word "All'' was placed over the word "Black'' in the banner.
The witness was able to provide a complete license plate number from the truck to police, which lead them to the 23-year-old from Arlington, who police said admitted to changing the banner.
Instead of arresting and charging the man with destruction of a place of worship, the department decided to pursue a "community-based restorative justice solution'' after speaking with the church's leaders and Communities for Restorative Justice.
The man, who police have not identified by name, will have to make restitution to the church and perform community service to avoid the criminal charge.
"These kinds of misguided acts call for conversation and learning, not punishment,'' Lori Kenschaft, clerk of the First Parish, said in a statement. "We look forward to talking with this individual, understanding why he did what he did, and being part of the restorative process.''