Here's what was supposed to happen with the runaway Red Line train
Aside from the obvious, of having an operator.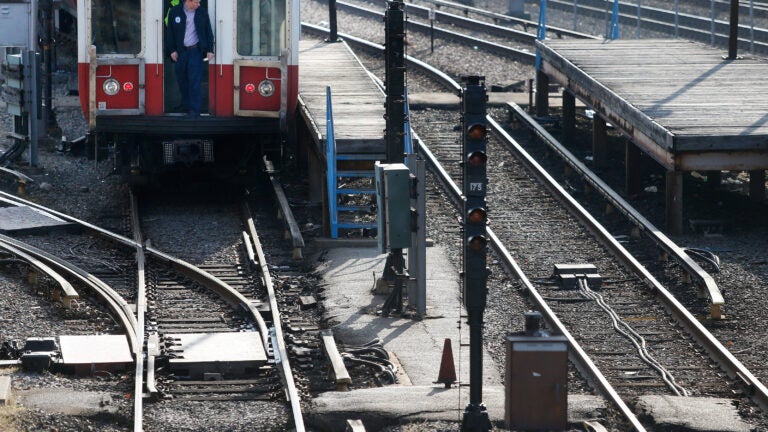 The circumstances that ultimately led to a runaway train carrying dozens of passengers across a long stretch of the Red Line Thursday morning are fairly common, state Secretary of Transportation Stephanie Pollack said.
"It is a procedure that is used regularly, and it is a procedure that is used safely if proper procedures are followed,'' Pollack said at a Thursday afternoon press conference.
The procedure in question is what's called a bypass. When a signal to leave a station is not working, operators can request that the T's operations center allow the train to enter into bypass mode. This allows the train to travel at a maximum speed of 25 mph despite the signal issue, Pollack said.
In order to put the train into bypass mode, the operator must leave the train to flip a "toggle switch'' on the front of the vehicle, said MBTA Chief Operating Officer Jeff Gonneville. Before doing so, the operator should also put into place two separate brakes inside the train, he said.
"A device that is the master control of the train is a large lever that is on essentially the dash of the train,'' Gonneville said. "That lever is put in full-service brake. And then the motor person is then required to walk off to the side, about three feet from the operator's console, and there is another large lever. … That deploys the handbrake of the train.''
According to a transit safety expert who spoke to WCVB, the train is not supposed to move if an operator is not applying pressure to the main lever.
On Thursday, the train ran anyway.
The signal problem Thursday happened at Braintree, and the operator requested and received permission to bypass it. The train started moving after the operator exited.
Pollack and Gonneville declined to say whether that meant the brakes had not been put in place, citing the ongoing investigation into the incident. Pollack also declined to say whether some sort of cord had been wrapped around the lever.
"Part of the investigation will be to understand whether that occurred,'' she said. "It would be a prohibited act if in fact there was any type of cord that was wrapped in that manner.''
Gov. Charlie Baker said earlier in the day that the train's controls appeared to have been "tampered with.''
The investigation is focused on an operator error. Pollack said the operator, a 28-year veteran of the T who has not been identified, has been put on administrative leave.
The MBTA stopped the train north of North Quincy Station after depowering the third rail. Operators then boarded the train and brought it to JFK/UMass, where passengers were ushered off.