Man who lost hand in Vermont explosion explains his actions in YouTube video
"It almost killed me, and it almost killed my wife, and it almost killed my unborn child,'' Mark McCloud said.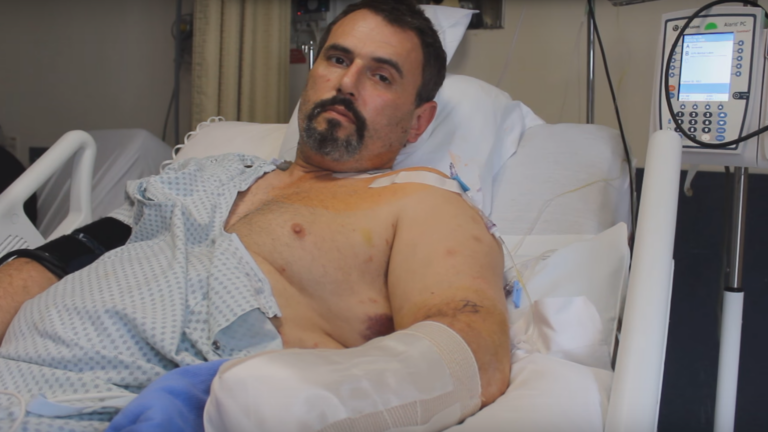 Lying in a hospital bed, his left arm bandaged, Mark McCloud said in a YouTube video that he thought the device he set off outside his home in Northfield, Vermont — injuring four people including himself on December 9 — was a firework.
The U.S. District Attorney's office filed a criminal complaint against McCloud on Monday. He has been charged with unlawfully possessing explosive devices and unlawfully transferring an explosive device. Authorities say McCloud lit an explosive device — made of copper tubing and explosive powder — while holding it in his hand outside his home.
Washington County State's Attorney Scott Williams confirmed the man in the video is McCloud, according to the Burlington Free Press.
"Mark McCloud stated he did not intend to harm anyone with the explosive device and viewed it more as a 'firecracker' than a 'pipe bomb' at the time,'' an affidavit filed with the court, published by the Free Press, states. "Mark McCloud stated he had intended to set off the fuse of the explosive device and throw it into an open area in the yard expecting the copper pipe to 'spin' around.''
McCloud said in his video, posted on December 13, that he came across the box of "fireworks'' when he was cleaning out the house of his mother's friend, who he described as a "hoarder,'' "glass blower,'' and "professional pyrotechnics person.''
[fragment number=0]
McCloud said he handed out the explosives "like candy'' to people, but saved the largest one for himself.
"I wanted to light it off to show off to a couple of my friends the other night, and I held it in my left hand like I had done with every other firework,'' he said in the video.
Standing outside, McCloud said the second the lighter touched the fuse, he lost his left hand. His pregnant wife and two others were injured in the explosion.
McCloud emphasized in the video that "nobody'' manufactured the devices and "nothing was done on purpose.'' He apologized for the explosion, saying he'd pay for it for the rest of his life.
"It was just one, and I paid a big price for it,'' he said. "I'm sorry for anybody else I might have hurt, and I hope that other people learn from this experience that just because you find something that you think is safe or a box of fireworks that you think is fun to play with, that you really don't know what you're touching, and you don't understand it, and it really can get you killed. It almost killed me, and it almost killed my wife, and it almost killed my unborn child.''
McCloud is scheduled to appear in court on December 21.
The incident is being investigated by the Bureau of Alcohol, Tobacco, Firearms, and Explosives, Vermont State Police, and the Northfield Police Department.