Four-legged members of law enforcement had a busy day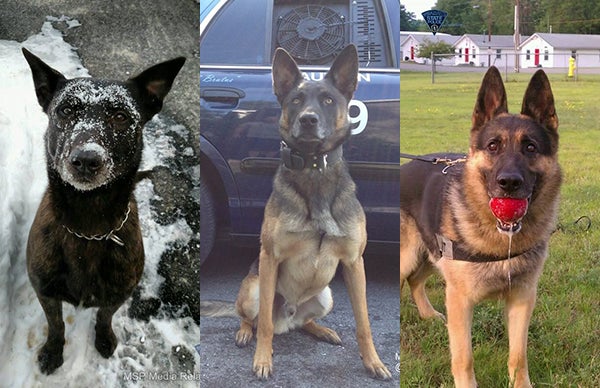 The four-legged members of the Massachusetts State Police were hard at work on Monday.
Early in the day, Trooper Daniel Purtell responded with his partner K-9 Neko to help North Andover police locate the driver of a stolen car who'd fled on foot into a neighborhood, according to state police.
After maintaining a perimeter with other officers and troopers, Purtell and Neko began checking yards for the suspect. Police said Neko picked up a scent near a fence, attempted to jump it, and then once on the other side of the fence, tracked the scent to a shed, which the suspect was hiding behind.
The same morning Trooper Matthew Donah and his partner Brutus responded to Northampton to help search a vehicle that had been stopped. Thanks to Brutus, police said 250 packets of "suspected'' cocaine and heroin were found.
Last Sunday, police said another member of the K-9 squad assisted Maynard police in locating a knife used in a stabbing. K-9 Maximus responded to the request with Trooper Brian Bonia and was able to track and find the knife described by police.