Freed by Iran, Trevithick quietly readjusts back home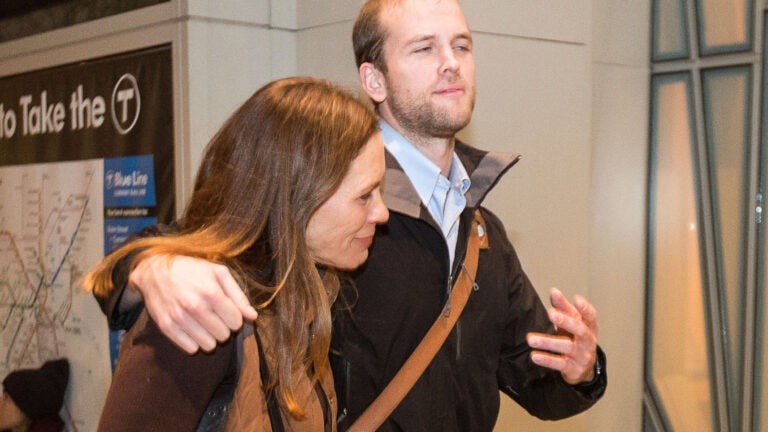 HINGHAM, Mass. — The mother and stepfather of Matthew Trevithick, the U.S. researcher who was held for 40 days in Iran before he was freed over the weekend, said Monday that Trevithick was decompressing after returning to Massachusetts on Sunday night.
"He's doing pretty well,'' said Scott Armstrong, the stepfather, adding that Trevithick was not ready to speak with reporters. "He needs some time.''
The mother, Amelia Newcomb, foreign editor for The Christian Science Monitor, said her son was "much better than expected.'' But, she added, "he just looks very slim.''
The couple spoke, over the sharp whistle of a cold winter wind, from the front door of their neat house with delicate trim and striped awnings, which overlooks the bay in the seaside town of Hingham. Trevithick, 30, was not there, but they said they expected he would make it his "home base'' for at least some time.
After he arrived in Massachusetts on Sunday night, Armstrong said, Trevithick went out for a burger.
"He walked in, and the guy recognized him,'' Armstrong said. "He said, 'Oh, I haven't seen you in a while.'''
Armstrong said his stepson had gone to Iran to study Persian.
"He had applied for a visa for about three years, and it didn't come through until after the nuclear deal,'' he said.
The couple asked Trevithick to check in with them, even if it was just a text message, every day. But one day in December, "24 hours went by and he hadn't checked in,'' Armstrong said.
Newcomb said they had been told a couple of days later that Trevithick was being held by the Iranian authorities.
"We kept it very, very quiet because that's how we could best ensure a positive outcome,'' Newcomb said.
The couple said they did not know why Trevithick had been detained.
"They grab people and you don't really know why,'' Armstrong said. "He was very careful.''