Red Line commuters' tweets about this morning's severe delays are spot-on, hilarious
Riders stuck in Monday's heavy T traffic were not pleased.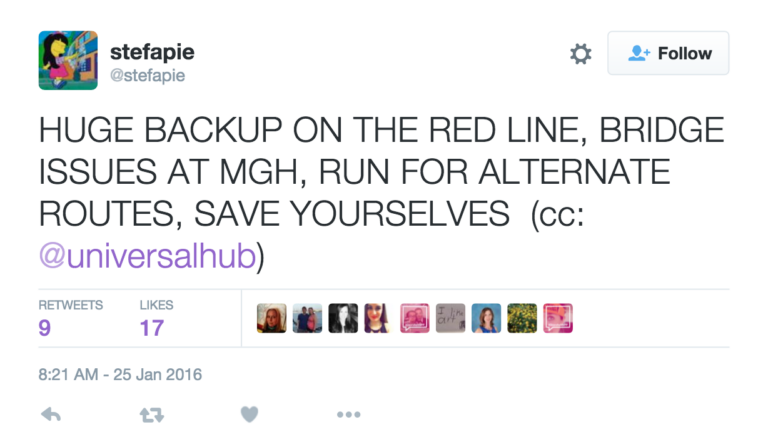 The Red Line faced severe delays this morning in the wake of last weekend's construction on the Longfellow Bridge. The reason for the delay: when the MBTA installs new rails, trains have to go more slowly than usual on said rails while they "settle.''
Powerless in the face of major delays, commuters aired their frustrations on Twitter.
[fragment number=0]
[fragment number=1]
[fragment number=2]
Their tweets summed up an ongoing frustration with the T.
[fragment number=3]
[fragment number=4]
[fragment number=5]
The holdup comes a few days after Winter Storm Jonas blew through Boston, bringing an unexpected (albeit moderate) amount of snow to the city. And on the heels of the Patriots' loss to the Broncos, no less.
[fragment number=6]
[fragment number=7]
(Too soon?)
Earlier today, MBTA spokesperson Joe Pesaturo told Boston.com that the construction-related delays should clear up "in a day or two.''
This is the third consecutive day that the Longfellow Rehabilitation Project has interfered with the operation of the Red Line; this past weekend, shuttle buses replaced train service from Park Street station to Kendall/MIT station from start to end of service.
[fragment number=8]