When her mom told her she'd be seeing Trump, this Maine 9-year-old girl cried for joy
Just 12 more years until there's an election she can actually vote in.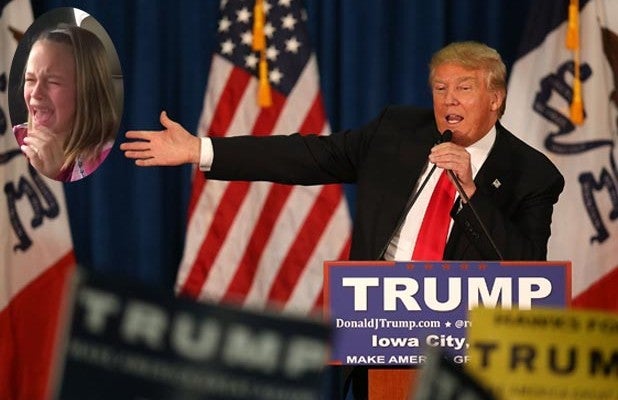 No one tell Ava Lovley that she still has another decade or so before she can vote. She might start crying again.
Donald Trump appeared at an event in New Hampshire on Monday, and when 9-year-old Ava from Newport, Maine found out she was going, there were tears. Lots and lots of (joyous) tears.
In a video posted to Facebook Saturday, January 23, Kim Lovley told her daughter, Ava, that they'd be going to see Trump speak.
[fragment number=0]
"When I put [the video] on Facebook, basically it was just for our friends and family to see how happy she was,'' Kim Lovley told the Washington Post. "It wasn't for any political agenda. We're Republicans but we're not political people at all.''
The video has since accrued over 4,500 views. Supporting Trump's campaign since he first announced his candidacy, Ava's mother explains that her daughter loves Trump's "hair and that he speaks his mind.''
Ava not only got to see Trump "speak his mind,'' she walked away from the Farmington campaign stop with an autograph and "a ton'' of new friends.
[fragment number=1]