That beautiful photo of a couple getting engaged at the Ted Cruz rally? It was a joke.
Two Emerson students staged a bit of 'performance art' at a Cruz event Sunday.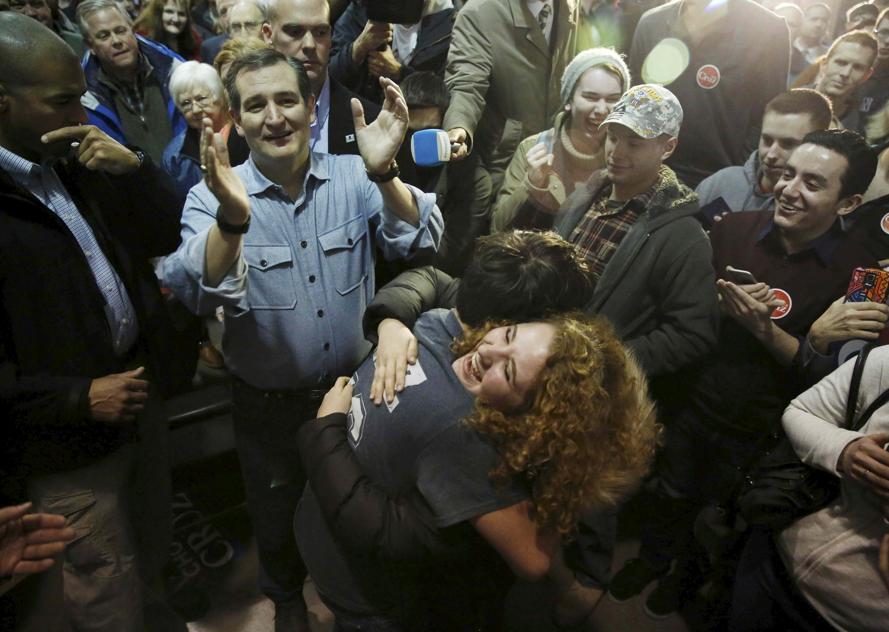 A lovely moment occurred at the Ted Cruz rally in Des Moines, Iowa Sunday night. As the Republican presidential candidate worked his way through the crowd to greet supporters and take photos, a young man wearing a "Ted Cruz for President'' T-shirt got down on one knee and asked a female companion to marry him. As cameras flashed, Cruz congratulated the couple and gave them a hug.
But it turns out that the entire proposal was a practical joke by two Emerson College students.
Arden Jurskis and Kenzy Peach are currently on an Emerson school trip to the Iowa Caucus along with 17 other students and three professors. As a result, Jurskis and Peach have been up close and personal with several candidates, appearing in the front row at rallies and on interviews with several news programs, including with Brian Kilmeade of Fox & Friends.
[fragment number=0]
"My goal was to get selfies with as many Republican candidates as possible,'' Jurskis said. "And I think I succeeded.''
[fragment number=1]
[fragment number=2]
But none of this compared to the faux proposal at the Cruz rally.
[fragment number=3]
[fragment number=4]
[fragment number=5]
Yahoo! News reported the proposal as real, citing a Reuters photo. (They have since removed the photo.)
The Guardian also published the Reuters photo. As of press time, it was still live on their site.
The proposal idea, hatched by Peach, was a result of Cruz's accessibility at the rally.
"The way he was taking pictures allowed for a lot of space, and we had a lot of press behind us,'' Peach said. "I went to a couple other rallies — Bernie Sanders was taking pictures over a railing, which was what we expected. But Ted was just walking around in the crowd. So we decided to do something ridiculous.''
[fragment number=6]
For Peach, who is seeking a double major in acting and political communication, and Jurskis, who is studying writing for film and television with a focus on comedy, the opportunity for real-time political satire was too good to pass up.
"My dream job is to be a staff writer on [The Late Show with Stephen] Colbert,'' Jurskis said.
"And my dream job is to be Colbert,'' Peach said.
As for Cruz's reaction? The duo says the presidential candidate was excited for their engagement.
"He was the nicest guy,'' Jurskis said. "I feel kind of bad.''
"Part of me feels bad for Ted Cruz when he finds out because he was so excited,'' Peach said. "But then I remember his policies.'' (Jurskis and Peach said they are both supporting Bernie Sanders.)
The Cruz campaign did not immediately respond to a request for comment.
[fragment number=7]
Not every Emerson student was a fan of the duo's actions, however. Connor Dane, a political communications student also on the trip, criticized Jurskis and Peach for making a mockery of what Dane said should be an educational experience.
"I was ashamed and embarrassed at the 'performance art' piece done by some of the most unprofessional students I have ever seen during my time at Emerson College,'' Dane said in an email. "Unlike them, many of us came to the caucus in a professional capacity, seeking future job opportunities or a chance to network with industry professionals. But instead, these select few students have used it for jokes.''
Dane also said he was concerned that Jurskis and Peach's actions could jeopardize future trips to the Iowa Caucus for Emerson students.
"I hope that Emerson understands that the majority of students here are very thankful that we are able to experience the Iowa Caucus firsthand,'' Dane wrote. "Many of us know this opportunity is both a meaningful and large part of our country's democratic process.''
As for Jurskis and Peach, when Boston.com spoke to them, they were on their way to a Donald Trump rally — but weren't sure they'd pull off a similar stunt.
"I'd be too worried to do something at the Trump rally,'' Peach said. "People would bring out their guns and go after us. I'm probably just going to observe.''