Baker: Commute home will be 'especially messy' due to the Friday snowstorm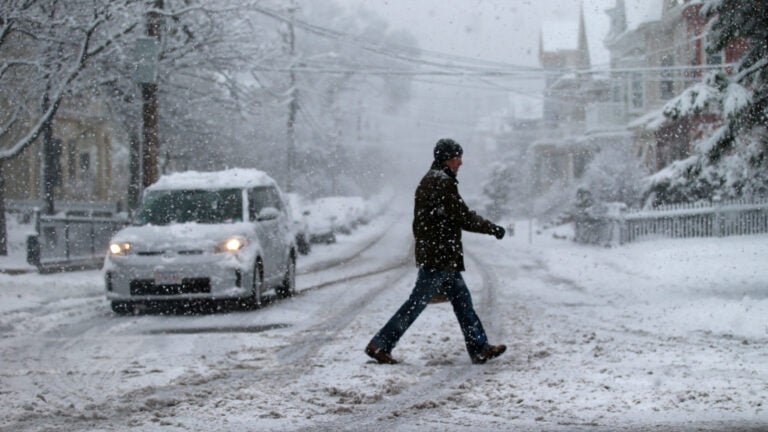 With the heavy, wet snowfall expected to taper off during the afternoon, Governor Charlie Baker warned commuters to expect an "especially messy' trip home Friday.
"We expect the big issue with the evening commute is just going to be how long it's going to take,'' he said during a press conference Friday afternoon.
Baker said there are an extra 110 state troopers patrolling the roads and they have responded to a number of spinouts and minor accidents due to the weather.
The Massachusetts Department of Transportation instituted a speed restriction of 40 miles per hour for the entire length of the Mass. Pike from Boston to the New York border early Friday. The HOV lane was also closed for the afternoon commute along I-93.
All weather-related restrictions were lifted by 6:30 p.m., according to state police.
The transportation department has over 3,200 pieces of equipment out plowing and treating state roads, but the agency cautioned drivers to avoid traveling during the afternoon if possible.
Police departments in the region, including East Bridgewater and Wellesley, cautioned drivers to be aware of downed wires, trees, and branches. More than 87,000 customers reported power outages by 2:30 p.m., acccording to the Massachusetts Emergency Management Agency.
Baker praised the MBTA's operations despite the snow.
"The T actually had a pretty good morning,'' he said.
Baker said issues that did arise Friday morning were "for the most part'' addressed.
"They are currently preparing to have another uneventful ride home for folks at the end of the day,'' he said.
Just before Baker's press conference began, buses replaced some service on the Red and Green lines.
You can follow traffic updates here.
[fragment number=0]