State police save dog wandering on I-495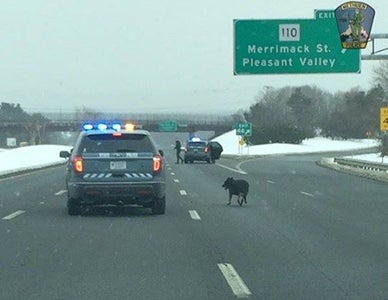 Thanks to state police, a Methuen family has been reunited with the four-legged member of their family.
State police responded to reports of a German Shepherd wandering in and out of traffic on the southbound side of I-495 in Methuen Wedneday afternoon.
When Troopers Malachy Higgins and Dana Atkinson responded, they tried to escort the pup off the highway toward an off-ramp, police said.
But apparently, the dog would have none of it and ran back into traffic.
With help from with the state Department of Transportation and the Methuen and Lawrence police departments, all lanes of traffic were shut down while Trooper Higgins "lured'' the canine into his cruiser with a granola bar. Police said the dog jumped up into the driver's seat, moving over when Higgins climbed in.
One she was in "custody,'' police handed the lost pup over to Lawrence Animal Control, which brought Lexi home.