Local bookstores add mystery to reading with 'Blind Date with a Book'
You can surprise yourself, or someone special, with a specially-wrapped Valentine's Day gift.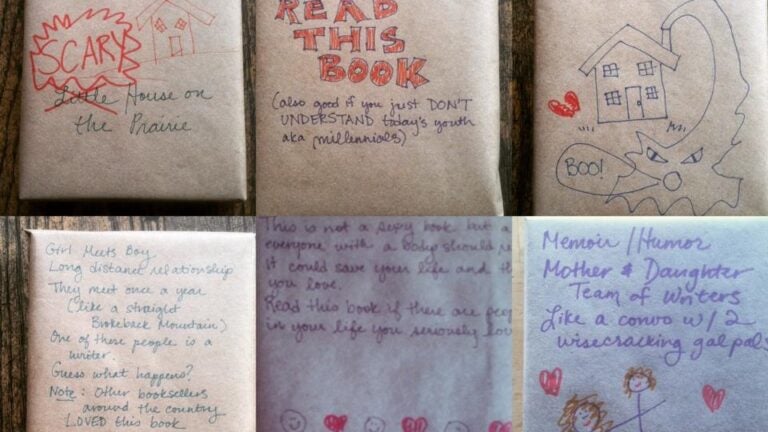 With Valentine's Day approaching, local bookstores are giving readers a chance to have a blind date with someone — or something — special.
Harvard Book Store, Brookline Booksmith, and On the Dot Books are each displaying books that have been selected by staff members and wrapped up so the covers are hidden. Clues, or blurbs, are then written on the book's new outerwear to give readers a hint of what might be contained within the pages.
Katherine Fergason, a bookseller at Harvard Book Store in Cambridge, said she's seen the event — Blind Date with a Book — done by many libraries and indie bookstores.
"[It's] something that actually has been growing in popularity between indie bookstores and libraries,'' she told Boston.com.
She said she applied the idea to selections from the store's used youth department books for the Valentine's Day weekend. She said she knew Brookline Booksmith was another local store that had done the campaign.
[fragment number=0]
Covering the book's prevents readers from prejudging the work by its cover, the author, the genre.
It's the second year Brookline Booksmith has put out the displays, according to bookseller Lydia McOscar. She said the sale will run through the holiday weekend, offering mysteriously decorated new and used books in three categories — adult, young adult, and kids.
[fragment number=1]
Rick Amanti, another bookseller at Brookline Booksmith, said the store's booksellers put a lot of effort into the display. The store started the event just with kids and young adult books last year.
"Customers like it a lot, it's fun,'' he said.
[fragment number=2]
Yooree Losordo, owner of On the Dot Books in Dorchester, said she heard about "Blind Date with a Book'' at a booksellers conference in Denver, Colorado and is hosting the event at her store for the first time on Saturday, using mostly adult books.
The proceeds from her event, which will take place between 4 p.m. and 6 p.m. at the store on Dorchester Avenue, will go to the middle grade book club the store has with the Boys and Girls Clubs of Dorchester. Each specially-wrapped book will be $5.
The book club began in December, and is mostly comprised of sixth-graders, she said. Dot2Dot Cafe, which houses the bookstore, provides snacks to the kids. The kids also get to keep the books they read, which so far have been The Unlikely Adventures of Mabel Jones and The Forbidden Library.
"We're trying very hard to provide a new experience,'' Losordo said of why she thinks the campaign has taken-off with readers independant bookstores and libraries.
Her hope is that people who haven't read a book in a while will be intrigued by the prospect of purchasing a book that could surprise them, knowing that it's for a good cause.
"It's like a mystery date, but with a book,'' she said.
Losordo said she'd like to hold the the event again, possibly around another holiday that is centered on fun, surprise, and mystery — Halloween.