Maine-based Coast Guard cutter seizes $80 million worth of cocaine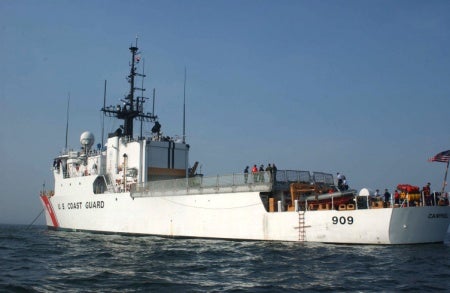 A Maine-based Coast Guard cutter has seized more than $80 million of cocaine during a 61-day patrol of the Caribbean Sea and Eastern Pacific Ocean, according to the U.S. Coast Guard.
During the narcotics patrol the Cutter Campbell, which is docked at Portsmouth Naval Shipyard in Kittery, confiscated an estimated 4,800 pounds of cocaine, authorities said. In one month, the cutter seized or disrupted seven vessels carrying drugs from South America to the United States. The Coast Guard said the cutter also rescued eight Cuban migrants in an "unseaworthy vessel'' trying to sail from Cuba to the United States.
The cutter operates as part of an international effort to counter drug trafficking. The crew works with the departments of Defense and Homeland Security and other partner agencies to disrupt drug sales.
"The patrol was extremely busy and the crew spent the holidays away from their families,'' Commander Michael Nasitka said in a statement. "Despite this, the crew rose to every challenge in order to achieve success at thwarting transnational crime in the Western Hemisphere.''