New report says runaway Red Line operator had prior safety violations on his record
"It was operator error, my fault,'' David Vazquez wrote.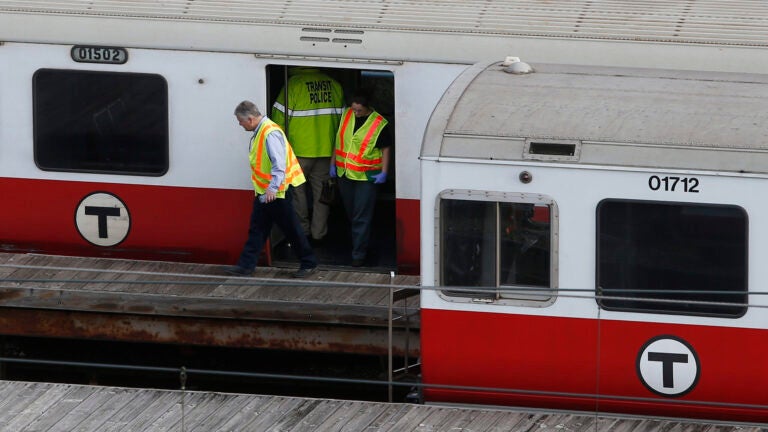 The operator assigned to a Red Line train that took off unmanned in December had five previous safety violations on his record, according to an internal state safety report on the incident.
David Vazquez had previously been cited for derailing a train in a T maintenance yard in 1995, according to the report. The report says he had also been cited for proceeding through work sites without following the proper procedures three times between 2006 and 2013, and in 1997, for proceeding through a faulty signal without first receiving permission.
Additionally, Vazquez had eight other violations on his record related to "attendance, courtesy, and failure to make PA announcements,'' the report says.
Vazquez lost his job with the T in mid-December, less than a week after a train left Braintree station on December 10 and traveled more than five miles without a driver while carrying 50 riders. The northbound train was stopped remotely by dispatchers between North Quincy and JFK/UMass stations. T officials then brought the train to JFK/UMass before unloading the passengers, none of whom were injured.
According to the report, shortly after 6 a.m. that morning, Vazquez received permission from a dispatcher to bypass a signal problem just north of Braintree station. Entering "bypass mode'' requires leaving the train to flip a switch.
However, the report says, Vazquez had failed to set the train's hand brake prior to leaving it. He also had manipulated the cord of the train's microphone around its throttle (called a cineston), negating a safety feature that keeps the train at a standstill if pressure is not applied to the throttle. As a result, when he flipped the bypass switch, the train began to move.
That sequence had previously been described by a source close to the investigation as a breach of MBTA protocol.
The new report includes a written statement from Vazquez, dated December 10, saying he "wedged'' the cineston because he was "putting on my gloves.''
"It was operator error, my fault,'' he wrote. "The light was off in the cab I could not see the situation at hand. I forgot and misplaced what I had done after talking to the dispatcher.''
Photos of the cineston and microphone cord were attached to the report.
The investigation found that the train's cineston, hand brake, and bypass systems all worked as intended. It said Vazquez did not work overtime and had worked a "regular schedule,'' dismissing fatigue as a possible cause of the error.
The report noted that the faulty signal did not "directly affect or contribute to the near miss.'' But it said signal issues—a regular problem for the T—''do present an undesirable condition as they introduce abnormal operating conditions which may increase operational safety risks.''
In a statement Tuesday, T General Manager Frank DePaola said that in the aftermath, "the MBTA took immediate steps to prevent such an incident from ever happening again.'' Those steps include requiring a supervisor be present when trains enter bypass mode, and dispatchers must now talk operators through the steps of the process.
Vazquez's attorney did not immediately respond to a request for comment. Vazquez had worked with the T for more than two decades prior to his firing.
The full report, dated February 26, is embedded below.
[fragment number=0]