Green Line extension cutbacks previewed at Somerville meeting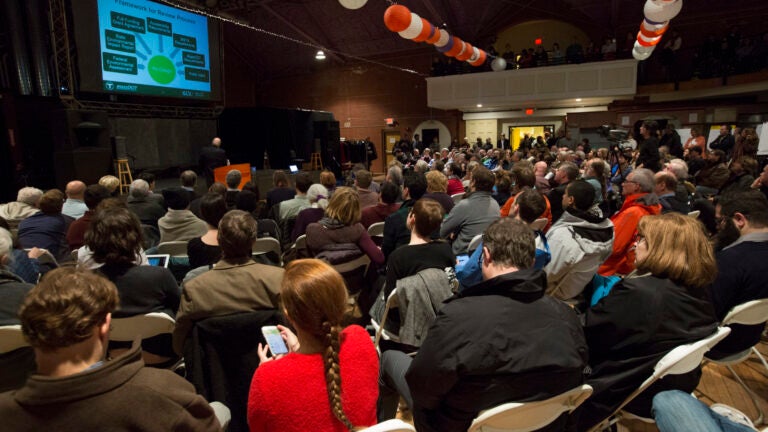 Hundreds turned out to a meeting Wednesday night to hear about the future of, and voice their support for, the MBTA's Green Line extension into Somerville and Medford. The long-heralded and long-delayed rail project's fate remains in question after officials last summer forecasted a budget overrun of up to a billion dollars.
Speaking at Somerville's Arts at the Armory event space, interim project manager Jack Wright presented some of the changes under consideration to rein in the budget.
Wright, who had previously been told the cutbacks "need to be on the side of brutal'' by the chairman of the T's board, said that if the project moves forward, its seven new stations would be far simpler than previously planned.
Comparing the stations to the Green Line stops on the B and C branches, he said they could be "open air,'' largely exposed to the elements, their minimal structures primarily used to house electrical equipment. The previous plans called for the stations to have full entrance structures and other amenities that now seem unlikely.
Slides from Wright's presentation said the three priorities in station redesign are minimizing costs while maintaining core functionality and accessibility.
Wright also noted potential design changes to the community bike and walking path planned to run adjacent to the rail line, and said a vehicle maintenance facility could be downsized significantly.
Describing the overall approach to the project's redesign, Wright said "everything's on the table until we find a fatal flaw.''
He said that cost estimates are not final, but that the simpler stations and maintenance facility changes could represent $280 million in savings.
"There's reason for optimism, there's hope,'' Wright said. "But there's a long way to go.''
Following the presentation, Somerville elected officials and residents spoke unequivocally in favor of the continuation of the project.
"Your presence here says it all,'' state Sen. Pat Jehlen said to the capacity crowd of at least 300. "Somerville is united. People here have spent hundreds of thousands of hours collectively supporting this project. It needs to happen.''
"Tonight you don't have torches and pitch forks, but I can't guarantee what might happen'' at future meetings, said Somerville Board of Aldermen President Bill White. White said Somerville is "owed'' the extension to mitigate the effects of the Big Dig highway project. "Any community in eastern Mass. will benefit from the Green Line extension, because they benefit from the Big Dig and Route 93. This is all tied in,'' he said.
Some who spoke said they were willing to accept cutbacks in project design as long as it still functioned as intended.
"I'm very encouraged by what I've heard tonight,'' said Rafael Mares, a vice president at the Conservation Law Foundation, which has advocated for the project for years. "It's really important as you go through the [possible savings], that you prioritize them by the least impact on service.''
Residents and officials called on the T to ensure aspects of the project stay in place—such as the rail spur to Somerville's Union Square, which agency consultants had previously mulled replacing with shuttle or commuter rail service, and the community path.
Wright, however, declined to promise anything.
"What we showed tonight is what we're using to make estimates,'' he said. "What we showed tonight is not a commitment.''
The proposed cutbacks dismayed some at the meeting.
"I think that one thing that needs to be added to the project budget is a huge amount of antidepressants,'' said Elisabeth Bayle, a Medford resident and longtime Green Line extension supporter. "It's just heartbreaking the amount of waste that's gone on, scrapping years of design and environmental control meetings. … You've got $750 million in sunk costs already, and why all of that has to get scrapped for something that's so—minimal is such a gracious word to use for it. It's hard to understand. We need an explanation. We actually need it not to happen this way.''
"I'm a little stunned by the austerity in some of these proposals,'' said state Rep. Denise Provost. "But I like the underlying supposition that the project is moving forward, and we will hold you to it.''
The T has said state transportation officials will decide in May whether to move forward with the extension based on new plans, and has not ruled out canceling the project.