Local News
Gun-friendly statehouses—like New Hampshire's—see occasional reckless conduct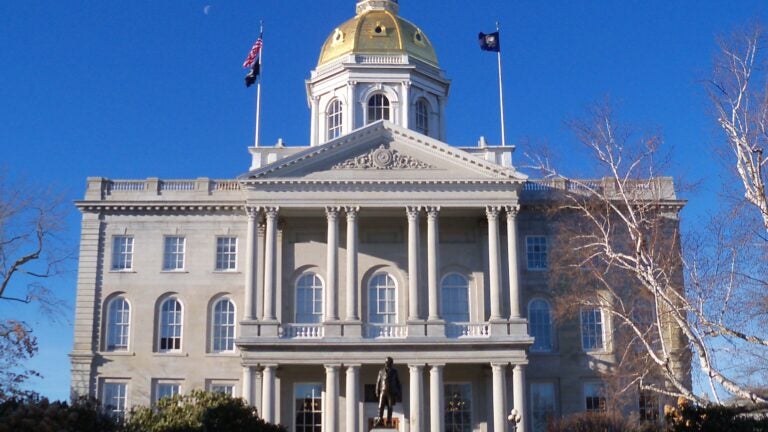 CONCORD, N.H. (AP) — Gun-friendly New Hampshire is back in the spotlight after a lawmaker dropped a loaded firearm this week in a House hearing on a kindergarten bill.
But lawmakers packing guns on statehouse grounds — and occasionally handling them recklessly — isn't unique to the "Live Free or Die" state. At least 19 states, from Kansas to Texas to Idaho, allow legislators to carry guns in parts of or the entire capitol. In a handful of others that prohibit it, such as Oklahoma, lawmakers sometimes bypass security measures in order to carry concealed firearms.
"I've testified in a number of states where I've had legislators show me they were carrying even though they weren't allowed to do so," said John Lott, president of the Crime Prevention Resource Center, which has gathered info on guns in statehouses.
No violent incidents of lawmakers carrying guns at statehouses have been recorded in recent memory. Carelessness is another matter.
In 2014, Democratic Kentucky Rep. Leslie Combs shot a hole through the floorboards while cleaning her gun in her capitol office. Another lawmaker was present but unhurt.
That same year, Colorado Rep. Jared Wright left his loaded handgun unattended in a bag under a table in a House committee room — right after a hearing on concealed weapons. Wright, a former law enforcement official, said he would stop carrying his gun inside the building after admonishment from the governor.
In Idaho, House Assistant Majority Leader Brent Crane, a Republican, walked into the press room last year and asked reporters if he'd left his gun there following a meeting. Ten minutes later, he'd found it in a desk drawer.
And it's not just lawmakers who have acted recklessly. In 2013, a staffer in the Missouri State Senate resigned after leaving a gun in a capitol bathroom.
None of the incidents prompted the states to change their policies or bar lawmakers from carrying guns. But legislators have had fiery debates over statehouse security and who should be able to carry and where. In New Hampshire, the Republican-led House voted in 2011 to allow lawmakers to carry guns on the chamber floor during sessions, reversing a policy that required lawmakers to check their guns outside the chambers. Democrats reversed the policy in 2012, but Republicans reinstated it two years later.
"I wanted the House chamber to be safe, and gun-free zones by their nature tend to be unsafe," said Bill O'Brien, a former Republican representative who was House speaker in 2011.
New Hampshire is one of the statehouses that doesn't have metal detectors, and its security guards only started carrying guns last year.
In plenty more states, lawmakers have rejected allowing guns on statehouse grounds. When the GOP-controlled Tennessee legislature tried to allow the public to carry weapons at the capitol last year, it was Republican Gov. Bill Haslam who blocked it.
"We don't think that people should be able to bring weapons in here," he said at the time. "This is a secure building. We've got metal detectors; we've got troopers with guns."