Weather
Thundersnow has been reported in Massachusetts and Rhode Island, and people are psyched
It's back.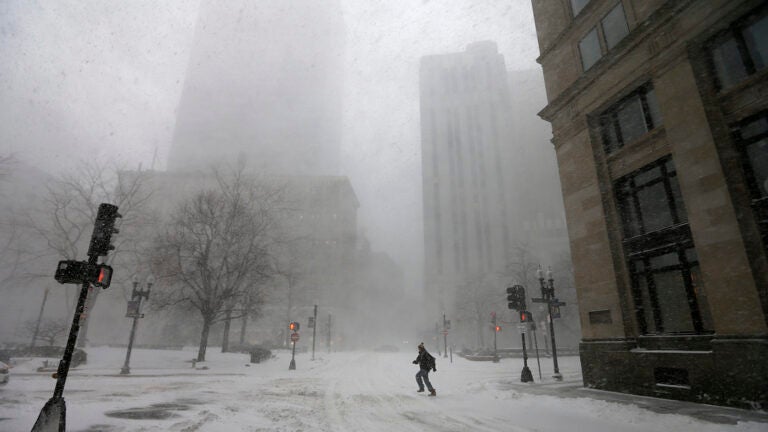 As the storm raced up the New England coast and intensified Thursday, some residents witnessed an event beloved by weather fanatics. Can you hear it?
Yes, it appears we have our first thundersnow of 2018. The rare winter phenomenon was reported Thursday morning across southeastern New England, including in the suburbs of Boston, according to the National Weather Service.
Getting more reports of #thundersnow across SE New England; 2-3"/hr snowfall rates, gathering storm total snowfall totals already closing in on 8" pic.twitter.com/M0dttL0rjd

— NWS Boston (@NWSBoston) January 4, 2018
Thundersnow reported in Newton/Needham, MA area. Westerly, RI: 7.5″ snow, West Greenwich, RI: 7.0″ of snow #mawx #riwx

— NWS Taunton Skywarn (@WX1BOX) January 4, 2018
"It's kind of like two seasons coming together," Weather Channel meteorologist and thundersnow enthusiast Jim Cantore told Boston.com in 2015.
"When you think about thunderstorms, you don't think about winter," he said. "When its snowing horizontal and its frigid – and it's like 'how in the heck is this happening?'"
Cantore, reporting this week from storm-battered Rockport, Rhode Island, continued to share updates on the weather wonder on Thursday.
THUNDERSNOW:
Bristol, RI,
Block Island, RI,
West Warwick, RI via @WX1BOX

— Jim Cantore (@JimCantore) January 4, 2018
And here it is on radar: pic.twitter.com/knpykUJML7

— Jim Cantore (@JimCantore) January 4, 2018
Just as it did during a nor'easter last February, Thursday's thundersnow captivated other reporters and local residents alike, many of whom reacted and posted videos on social media.
.@CarolineGoggin Very Happy to hear #thundersnow #WinterStorm #SevereWeater #WPRIWeather @wpri12 @FOXProvidence pic.twitter.com/BaBEQYVgs5

— James Hughes (@HewesNews) January 4, 2018
Tail-end of a big lightening #thundersnow moment…lots of energy all around in Boston 'burbs in #blizzard2018 pic.twitter.com/Pn8q8SpnQu

— Suzanne W. Bossert (@revsuzanne) January 4, 2018
Thundersnow in RI just now, @ericfisher!

— Jim Armstrong (@JimArmstronger) January 4, 2018
THUNDERSNOW!

— Only In Boston (@OnlyInBOS) January 4, 2018
That time that @jreineron7 wandered outside in search of #ThunderSnow in the middle of blizzard-like conditions without a jacket! pic.twitter.com/pNvxunGv53

— Kris Anderson (@KrisAndersonTV) January 4, 2018
Lightning strike around Needham… widespread thundersnow being reported. pic.twitter.com/RXFrLZyK1c

— Chris Lambert (@clamberton7) January 4, 2018
Officially reporting thunder & lightning snow in Dedham!!!!!! Ripping snow as well, easily 2″ /hr @JimCantore @ericfisher

— Cam MacDougall (@WeatherManCam14) January 4, 2018
THUNDERSNOW just southwest of Boston pic.twitter.com/a9lv6mLIju

— NortheastWeatherWx (@NEWeatherWx) January 4, 2018
https://twitter.com/FulSpeed/status/948965636981645312