Weather
WCVB Chief Meteorologist Harvey Leonard describes covering the Blizzard of '78
The longtime Boston television forecaster was 29 years old when the storm hit on Feb. 6, 1978.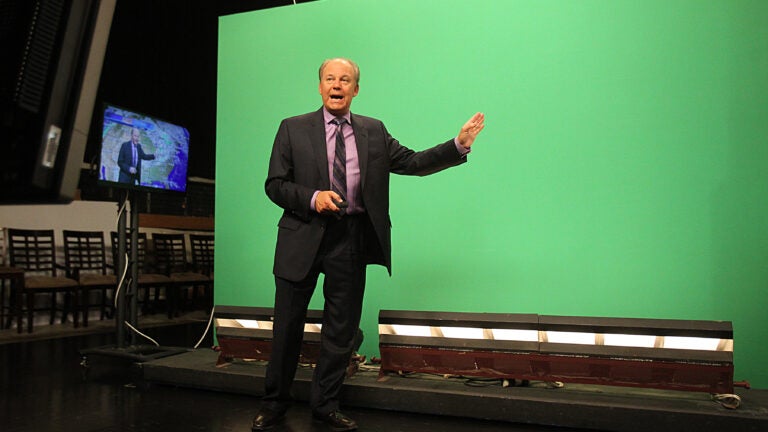 The winter of 1978 was Harvey Leonard's first in Boston, and with it came a storm that would have a lasting impact on both the meteorologist and the region: the Blizzard of '78.
The deadly storm dropped a record 27.1 inches on Boston over the course of 32 hours and 40 minutes, with a sudden burst of snow that hit the city during the afternoon commute on Monday, Feb. 6. About 4,000 vehicles were stranded on roads across the state that day, according to The Boston Globe. Fourteen people died when their cars were stuck on Route 128. Across New England, 54 people died in the storm, 29 of them in Massachusetts.
"'78 still stands as the most powerful and wide-reaching storm that I've ever been involved in forecasting and experiencing," Leonard told Boston.com in 2018, ahead of the 40th anniversary of the storm that caused more than $1 billion in property damage.
He was 29 years old at the time, having just moved to Boston to work at Channel 7 after a three-year stint at WPRI in Providence, Rhode Island. Leonard was responsible for the weekday noontime forecasts, as well as the early and late evening newscasts on Friday and Saturday nights.
Leonard said he happened to be filling in for a colleague four days before the blizzard hit when he first starting talking on air about a "big potential" for a large snowstorm early in the week.
"I kind of caught myself getting pretty excited about what this could be," the meteorologist recalled. "And I said, 'But one mustn't go out too far on a limb or one could fall off.' Especially in those days, talking about something four days ahead of time was pretty rare. Very rare. Close to unheard of."
Leonard said he saw something coming together in the atmosphere and couldn't help talking about it that Thursday night, Feb. 2.
"As a person — not only a meteorologist, but somebody who really loves weather and is fascinated by storms, particularly winter storms — it was pretty amazing to see what was unfolding," he said.
These days, he said forecasting the blizzard would be a very different situation, given how much computer models have improved since 1978.
"As a meteorologist and a forecaster then, you had to make great leaps of faith at times from what you were literally seeing to trying to determine what was actually going to take place," Leonard said. "So that's what I was able to determine."
By Saturday, two days before the storm hit, he said he was "sold" on its potential. He told viewers it was going to be one of the biggest storms of the season.
Leonard recalled that Bob Copeland, then a meteorologist at Channel 5, was also talking about the storm's big potential several days beforehand.
"To be quite honest with you, Channel 7 didn't have the highest ratings in the world back then," he said. "There were three big stations at the time, 4, 5, and 7, but 7 was the lowest rated. So what I was saying was being seen and heard, but not by the majority of local news viewers. But I can't control that. There's nothing I could do about that, just do the best I could do."
Anticipating the severity of the storm, Leonard went into work Sunday night even though he didn't have to be on air until the next morning.
"My wife was six months pregnant at the time with our first child," he said. "I went in to work on my own to get there well ahead of the storm, and I just said to her, 'Honey, you're not going to see me for a while.'"
He was right. She didn't see him again until early Saturday morning, when he came home after spending the entire week covering the blizzard for Channel 7.
Leonard suggested the Blizzard of 1978 was likely the first storm to result in continuous broadcast coverage.
"You didn't do that in those days, not like now," he said.
Deceivingly light snow began falling late morning Monday, but it became significantly heavier as the day went on, he recalled.
Leonard said the blizzard ended up hitting the region with the "upper end of the scale for everything" — snow amount, wind, and coastal destruction.
Snow piled up quickly, and hurricane force winds created "tremendous" drifts. The storm also coincided with a new moon, pulling the ocean tides even higher than normal.
"I remember thinking, 'Wow, maybe I'm not going to live to see my 30th birthday, because the good Lord just gave me the world series of weather to deal with," Leonard said. "'This is like everything put into one. Where do you go from here?'"
Making matters worse, the storm stalled over the region and didn't pass until early Wednesday.
Typically, Leonard said, nor'easters and coastal storms pass through within 12 to 18 hours. The Blizzard of 1978 lasted more than 30 hours, meaning four successive high tides occurred while the snow and winds continued to paralyze the state.
"All the devastation and destruction on the coastline was definitely significantly worse than we could have anticipated," Leonard said. "We knew there'd be coastal flooding, but this was seawall shattering, homes seriously damaged and destroyed."
For all the devastation and tragic loss that occurred, Leonard also remembered the resilience and solidarity displayed by residents across the region.
"People got right into their mode of, 'We're all going through a common unusual experience,'" he said. "People were very nice to each other, they were very friendly."
Leonard said he thinks the trauma of the shared experience is also responsible for the now-ubiquitous tradition of rushing to the grocery store for eggs, milk, and bread before a snowstorm.
The meteorologist said he hasn't covered an individual storm the likes of the '78 storm since, though the four major nor'easters that hit Boston during the first months of 2015 came close as some of the most intense winter storms he'd ever witnessed.
Something else those storms have in common with the Blizzard of 1978? Snow piles lasted well into the summer months.
Leonard said it was the same in 1978. On May 9, 1978, he gave his weather report from a secluded area of Government Center.
"I did that report standing on a snowpile that was still left from the Blizzard of '78," he said.