Weather
Here's where you can track power outages being reported in Massachusetts
Strong winds and heavy snow from the nor'easter have brought down trees and power lines in the state, knocking out power to thousands of homes and businesses.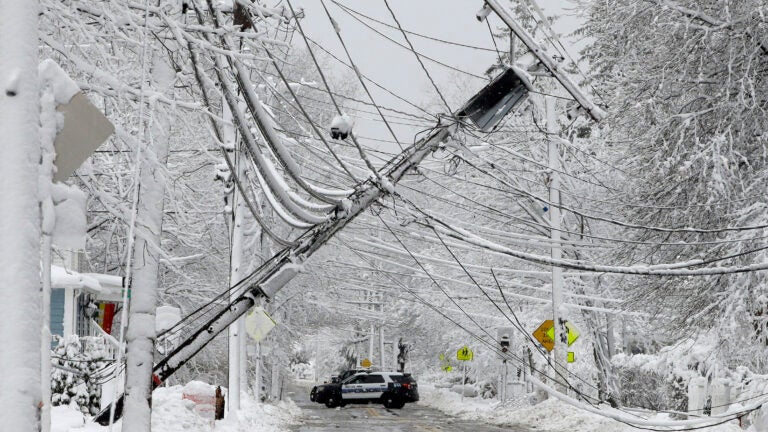 The nor'easter that has covered most of Massachusetts in heavy snow may be making its way out of the region, but officials are still warning residents to be on guard against the fallen tree branches and power lines left behind.
"Significant heavy, wet snowfall causing damage to trees, wires, utility poles and power outages in communities across the state," the Massachusetts Emergency Management Agency said. "Avoid downed lines, give yourself extra time, and follow detours from local public safety officials."
"With several communities experiencing power outages and downed trees, the administration is urging residents to stay off roadways and to use public transportation when possible," Gov. Charlie Baker said.
~320K outages at 4 PM
Utilities report this will be a multi-day restoration effort.
Those without power should stay with friends, family, at hotels or a nearby shelter – Call local public safety officials or 2-1-1 for shelter locations
Safety tips: https://t.co/7KtWzMhiMZ #MAsnow pic.twitter.com/2uYjyFYXYR

— MEMA (@MassEMA) March 8, 2018
MEMA urged residents who have lost power to report the outages to their utility company, while state fire officials offered tips for staying safe while the electricity is out.
Power out? Using your #generator? Make sure your CO alarms are working. Remember to place outdoors with exhaust facing away from the house, doors, windows, & vents to prevent carbon monoxide #CO poisoning. More safety tips: https://t.co/f8Z56cEFNe pic.twitter.com/CYsJyPAnnv

— MA DFS (@MassDFS) March 8, 2018
Power out? You need working #smoke and #CO alarms now more than ever. Plug in type CO alarms might need fresh back-up batteries if the power is out for an extended period of time. https://t.co/CXD1pm7uxj pic.twitter.com/o4gY1AhgIV

— MA DFS (@MassDFS) March 8, 2018
Power out? Be sure to shovel snow away from #dryer and #furnace #vents before it comes back on. Risk of #CO poisoning. #MASnow More tips to recover safetly from this storm: https://t.co/51Q2yzqNWA

— MA DFS (@MassDFS) March 8, 2018
As of 4 p.m., MEMA said there were more than 300,000 homes and businesses without power in the state. The state agency is tracking power outages town-by-town. See their outage map here.
Utility companies Eversource, National Grid, and Unitil are tracking the outages with their updating maps: