Weather
Smoke from the Pacific Northwest is causing a visible haze over New England
Meteorologists say New Englanders might notice a "campfire" smell, too.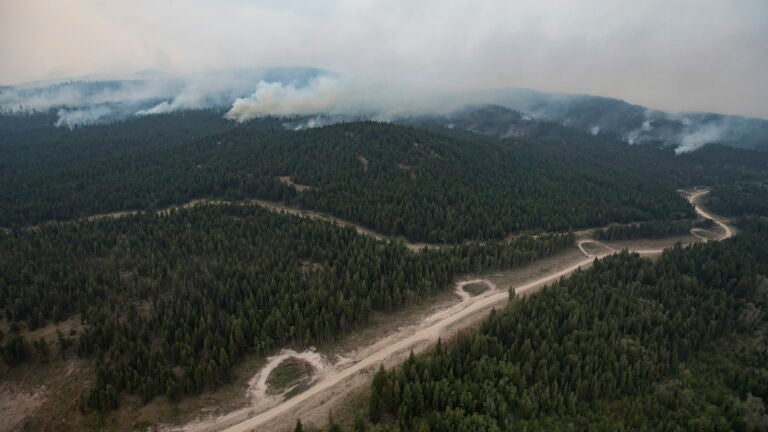 Smoke from the fires raging in Northern California and British Columbia is impacting skies as far away as New England, local meteorologists said Friday.
The haze you see out there is actually smoke from forest fires out in the western part of the N. America. pic.twitter.com/hPleDFg72U

— Dave Epstein (@growingwisdom) August 24, 2018
Around Boston, the skies took on a hazy appearance, which is more common when air temperatures are higher than the region experienced Friday, when temperatures hovered in the 70s and 80s.
"Normally if it would be this hazy … it's typically a sign of having much higher temperatures," said Lenore Correia, a meteorologist for the National Weather Service in Norton. "So if we had temperatures in the 90s, it might look this hazy, but we currently have temperatures in the 70s and low 80s … so it most definitely is the smoke."  
Meteorologist David Epstein explained that the smoke got caught in the upper flow of winds in the atmosphere.
"The Jet Stream moves west to east across the country. It has little dips within that, but the general trend is west to east, so eventually something caught in the Jet Stream will make it from the West Coast to the East Coast," he said. "If it doesn't fall out from clouds [as] rain or something … that smoke is basically moving from the West Coast all the way across the country, and we're now seeing it in New England."
Epstein, who also teaches a college course, put it another way: "If you dump in a gallon of orange dye in the Charles River in Natick, eventually it would probably end up in Boston."
Epstein predicts the smoke will clear out as the day goes on, but most New Englanders could see a vibrant sunset tonight. If the wind stays more west-to-east this weekend, the East Coast could see some lingering haze, too.
Some people might also be able to pick up a "campfire" smell, "but [the smoke]'s not low enough that it's going to bother your eyes or you're going to have trouble breathing," Epstein said.
https://www.facebook.com/growingwisdom/videos/240080870038838/