Weather
New England was hit with extremely high winds Monday. Mount Washington was no exception.
"The water in our plumbing was swishing back and forth."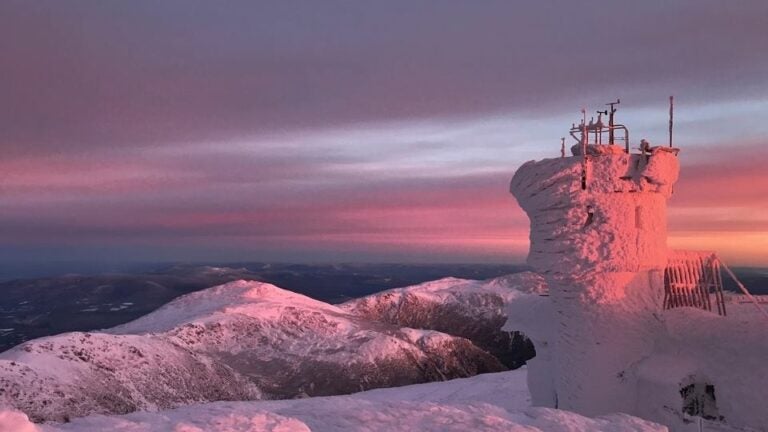 The summit of Mount Washington saw yet another historically windy day Monday.
Earlier this month, Mount Washington Observatory meteorologists recorded an "off the charts" gust of 148 mph, the strongest wind measured on the New Hampshire mountain's notoriously inclement peak in more than a decade. But they had to reach back even further in the records to find an equivalent for Monday's wind.
According to the Observatory, one gust Monday reached 171 mph, setting an all-time February record and a speed not seen on the summit since a 172 mph gust on Jan. 16, 1985.
Taylor Regan, an observer at the station, says the crew gathered around the Hays wind chart "watching with bated breath as the ink climbed higher up the paper wheel."
"The building rumbled with the force of what seemed like several freight trains, clueing us in to the next possible peak," Regan said in a statement Tuesday.
At 171 mph, the gust was in the range of a Category 5 hurricane, which the National Weather Service defines as a storm with sustained winds of 157 mph or higher. Mount Washington meteorologists said the average wind Monday was 110 mph — nearly the level of a Category 3 hurricane (111 mph to 129 mph). The highest one-hour average was 138 mph, which is squarely within Category 4 range.
According the the Observatory, Monday was the eighth windiest day on Mount Washington since they began keeping records in 1932. Earlier in the day, meteorologists had been captivated by a 162 mph gust.
"We're not done with this storm just yet, an even higher gust may occur through tonight," the Observatory presciently tweeted at the time.
Incredible!!! We're glued to the Hays Chart as winds reach a new peak of 162 mph. We're not done with this storm just yet, an even higher gust may occur through tonight! #nhwx #mountain #wind #category5 pic.twitter.com/k983XTmLgF

— MWObservatory (@MWObs) February 25, 2019
Tom Padham, another observer, told NHPR that the high winds sound like "a constant low rumble" to those inside the unique weather station.
"I will get a little bit nervous here if we start hitting 160 miles an hour or so," Padham said Monday, before the station observed the 171 gust. "Standing next to windows, at least, you can see them flexing back and forth."
Fortunately, according to Padham, the Observatory is built to withstand gusts of up to 300 mph. The strongest ever recorded on Mount Washington's summit was a gust of 231 mph in 1934, which stood as a world wind speed record until 1996.
While the 6,288-foot-tall mountain is known for its high winds, it was hardly the only location in New England experiencing them Monday. Across the region, more than 100,000 residents lost power due to gusts as high as 60 mph. A high wind warning was issued for all of Massachusetts, as well as parts of Maine, New Hampshire, and Vermont.
In Maine, gusts were blamed for the downing of a communications tower on Sugarloaf Mountain (as well as for a banana truck rollover on I-95 in Wells).
Despite those effects, the strength of those winds didn't quite compare with the type of gusts battering the station atop Mount Washington. Padham said it was unlike anything he has experienced in his six years at the observatory.
"The windows vigorously flexed back and forth in their casings, the water in our plumbing was swishing back and forth," he said Tuesday. "It was an experience I will never forget!"