Weather
Here's why your seasonal allergies are worse than ever this year
"This has been a really bad pollen year for a lot of people."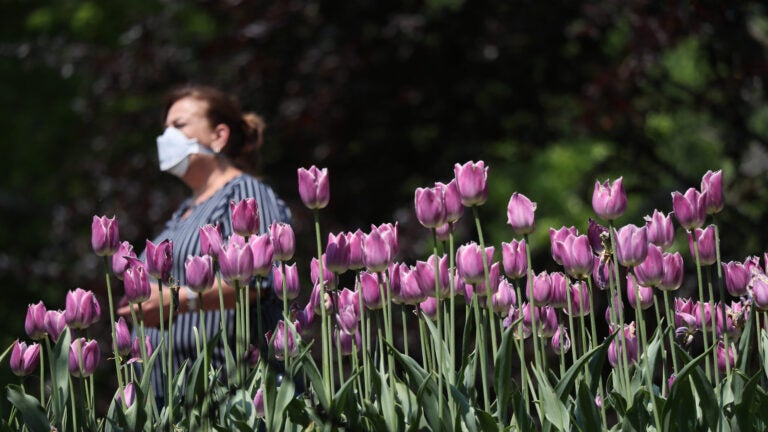 If your allergies have been more than just a little sneezing this season, you're not alone.
Local allergists say that patients are reporting heavier seasonal allergy symptoms this year. One possible reason people are noticing an increase? Less people are wearing masks outside compared to last season.
"Certainly this has been a really bad pollen year for a lot of people," Dr. Rebecca Saff, director of Mass General Hospital Allergy and Immunology Fellowship, told Boston.com. "What's different from last year is that the masks did help reduce the instances of people inhaling pollen. Now, people are out without masks and we're all getting together outside, and maybe that's contributing to everyone having worse symptoms right now."
The overall reason is no secret: climate change. Reports of seasonal allergies and increasing severity have been mounting for years, and Saff says global warming is an indisputable cause.
"The increased CO2 in the atmosphere seems to increase the amount of pollen that's released, so you get these higher peaks, and then it also seems to be making the growing season longer for these plants and so then you get longer pollen seasons," she said.
This problem has been known for a while: In 2010, the Asthma and Allergy Foundation of America released a report sharing how climate change will affect pollen, mold, and poison ivy, which will in turn increase air pollution and the risks for asthma and allergies.
Harvard's School of Public Health has also shared a study, published by the National Academy of Sciences, that found pollen seasons have been steadily increasing since 1990. The 2021 study found that pollen seasons have lengthened by 20 days and contain 21% more pollen, and researchers attribute half of the lengthened season and 8% of the pollen increase to climate change driven by humans. Local meteorologist and horticulturist Dave Epstein confirmed the impact of climate change, but also shared another perspective.
"There's pollen every year. Unless it was a very rainy spring the pollen is going to be bad, and the past several years we've had dry springs," he explained. "If you don't have rain to cleanse the air, you get pollen. There's nothing magical about it. Number two is there's more trees, and every year if a tree is healthy it gets a little bigger and with bigger trees, there's more pollen."
Brigham and Women's Hospital Associate Physician Dr. Lakiea Wright, an allergist and immunologist, told Boston.com that her patients are also reporting worse allergy symptoms, which she believes are due to the longer and more potent pollen seasons caused by global warming. She recommends a number of measures to prevent and alleviate symptoms.
"I always try to highlight simple solutions like closing the windows and if it gets a little warm running the air conditioner, closing the windows in your car because pollen, of course, is outdoors and if you open the windows you're bringing it indoors," she said. "Also, changing clothing when you come from outdoors to indoors because pollen is sticky and it could trigger some symptoms."
Newsletter Signup
Stay up to date on all the latest news from Boston.com