Weather
Most of Massachusetts under air quality alert due to smoke from western wildfires
The hazy conditions have been hard not to notice, from Fenway Park to satellites in space.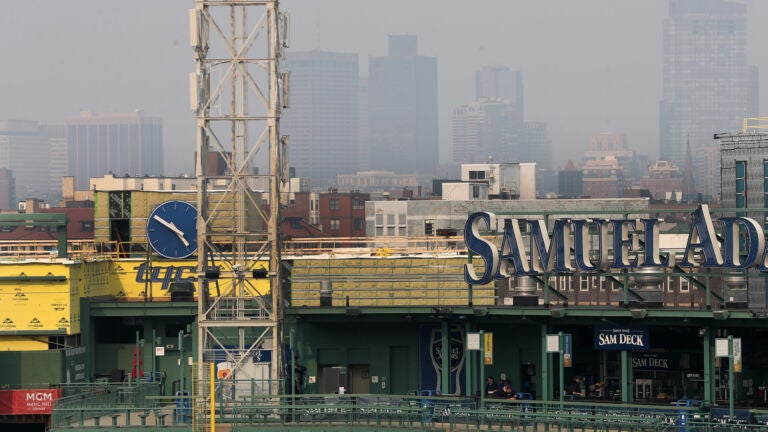 Most of Massachusetts is under an air quality alert through the rest of Monday, due to smokey haze that has blown across the state from wildfires raging in the western United States and Canada.
The state's Department of Environmental Protection tweeted Monday afternoon that the smoke had caused fine particle levels in the air to elevate into the "Unhealthy for Sensitive Groups range" in all Massachusetts counties except for Plymouth, Bristol, and the Cape & Islands.
According to the National Weather Service, the alert will remain in effect until midnight. Similar advisories have been issued in Maine, New Hampshire, Connecticut, Rhode Island, and Vermont.
"The smoky conditions are being picked up by the visible satellite across New England," the service noted Monday afternoon.
By early Monday evening, a dozen air quality monitors across Massachusetts — including in Boston, Worcester, Springfield, Lynn, Weymouth, and Haverhill — were reporting particle levels in the "Unhealthy" for all groups range, according to the department.
"Everyone may begin to experience health effects," the state's website advises. "People in sensitive groups should avoid prolonged or heavy outdoor exertion and consider moving indoors or rescheduling. Those with asthma should keep quick relief medicine handy. Everyone else should reduce prolonged or heavy outdoor exertion and take more breaks and do less intense activities."
Bill Fisher, a coordinator for the Massachusetts Emergency Management Agency, tweeted earlier Monday afternoon that fire departments across western and central parts of the state were "fielding multiple calls reporting smoke/haze in the area smelling like burning plastic" as a result of the conditions.
"There is a haze and smell of smoke all throughout Central MA," the Worcester Fire Department tweeted.
The haze was also visibly notable in the Boston area, clouding views of the city's skyline, frown downtown to Fenway Park.
According to the Massachusetts Division of Fisheries and Wildlife, the smoke and haze being experienced in Massachusetts is from the wildfires in central Canada.
"Smoke from these fires is being captured in the jet stream and mixing down to the surface here in New England," the agency wrote Monday on Facebook. "Smoke modeling indicates these conditions will move west to east across the state and could persist until humidity levels decrease and surface winds increase to help move the smoke offshore."
Newsletter Signup
Stay up to date on all the latest news from Boston.com