Weather
Tuesday night's sudden thunderstorms were wild and violent – here's the aftermath
In the middle of the storms, Cambridge firefighters rescued kayakers in distress.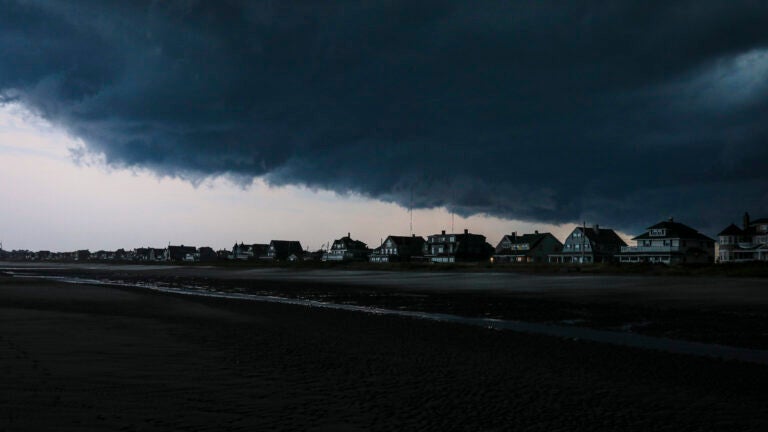 Downed trees and power lines, crushed cars, and a tree falling onto a house capped off a night of violent thunderstorms that tore through the region Tuesday.
The National Weather Service released a map showing where reports of wind damage occurred, as of 9:25 p.m. Tuesday. The service noted that the storms caused damage on both sides of the Mass. Pike, from Western Massachusetts to Boston.
The service's report on the damage shows many calls for wires down on streets, trees down, and a report of a downed utility pole in West Springfield.
Newton Street in Cambridge was blocked off while authorities worked to remove a large tree that had fallen on cars there, as filmed by NBC10 Boston.
On Myopia Road in Hyde Park, a tree fell on a home; no one was inside at the time, according to WBZ.
"A neighbor was out pulling out her recycling," resident Tim Galvin told the news station. "She saw a lightning bolt hit it and then the tree slowly fell over right into the middle of my house."
Boston firefighters said they responded to "numerous down trees and power lines around the city" during the storm. A video shared by the department shows wires sparking after a tree branch fell on power lines at the commuter rail station in Hyde Park.
In Cambridge, the fire department's marine units went to help kayakers in distress near the Longfellow Bridge and Broad Canal around 7:40 p.m., the department reported. Boston and state police helped, and all the kayakers were found.
Earlier in the day, prior to the storm, the department's marine unit had training on safety and water emergency operations, the department said.
"Coincidentally today's training skills with our marine partners were placed into full operational mode tonight searching for & ensuring the safety of kayakers & paddle boaters during the violent storm on the Charles River & Broad Canal," according to the department.
Newsletter Signup
Stay up to date on all the latest news from Boston.com