Weather
Charlie Baker urges residents to stay home Sunday as Massachusetts braces for Henri
"This one's not going to clip us."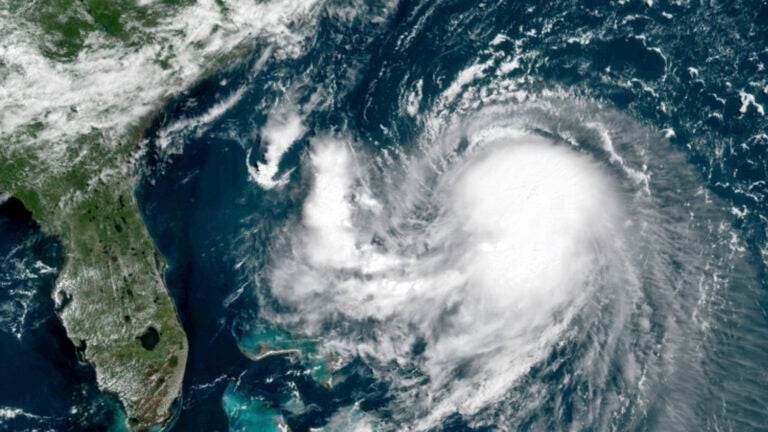 "Stay home on Sunday."
That's the unambiguous message Gov. Charlie Baker is sending to Massachusetts residents as the state prepares for Tropical Storm Henri to become the first hurricane to make landfall in New England in 30 years.
While the storm's specific path is still unclear, Baker said during a press conference Friday afternoon that Henri is expected to hit the region around Cape Cod and the South Coast before cutting through central and eastern Massachusetts, bringing with it "hurricane force winds," a "months-worth" of rain, and three to five feet of storm surge.
"It's pretty clear that this one's not going to clip us," the governor said.
Baker said the storm could knock out power for 100,000 to 300,000 residents and result in flooding "around most of the commonwealth."
"Everyone in the state, if possible, should plan to be at home by Saturday night, and plan to stay at home on Sunday," Transportation Secretary Jamie Tesler said. "Regardless of the track of the storm, there will be sustained winds and heavy rain across the commonwealth."
Officials particularly cautioned those vacationing — or planning to vacation — on Cape Cod, Martha's Vineyard, or Nantucket to avoid travel Sunday.
Baker urged all travelers to delay any trips to the Cape and Islands until Monday, and for those currently there to leave early Saturday or hunker down until Monday or Tuesday. Those with rentals beginning on Saturday should "get whatever they need to get done on that day," Baker said.
On its website, the Steamship Authority says it's possible that Henri will shut down service to both Martha's Vineyard and Nantucket on Sunday and at least part of Monday, and that travelers should plan accordingly.
Tesler said that, "so far," officials don't expect that they will have to close the Bourne and Sagamore bridges to Cape Cod, but that high winds could make traffic on the bridges unsafe.
"That is absolutely something we're going to have to watch," Tesler said.
"We don't want people to be stuck in the traffic on the Cape Cod bridges when the storm is in full force on Sunday," Baker said, urging drivers to stay off the roads in general Sunday; he noted that many drivers had already been stranded this week by the remnants of Tropical Storm Fred.
"Don't drive into the giant puddles that will exist on many roads around the commonwealth," Baker said.
"Traveling will be risky, and drivers will face road hazards in many areas," Tesler said. "So please plan ahead and stay home, if possible."
Tesler noted that Logan Airport remains open "as of now," but said passengers should expect the possibility of cancellations and check in with their airlines.
In the Boston area, MBTA General Manager Steve Poftak said the agency will be suspending the Mattapan Trolley, the Green Line's D Branch, and all ferry service for the entirety of Sunday, with no alternative options provided.
MBTA officials also plan to put up a defense system around, and eventually close, the flood-prone Aquarium Station on the Blue Line. And the entire MBTA system will be operating on a reduced schedule intended only for "essential travel," Poftak said.
"Folks should not be out traveling unless they need to be out traveling," he said.
MBTA officials will have tree cutting crews, water pumps, and backup power generators ready if needed, but Poftak said some issues will have to wait.
"We will not put MBTA staff or contractors in harm's way, so there will be cases where we will not be able to address problems until after the storm has abated," he said.
Baker said that their biggest concern is that "if people don't take this seriously … they could end up in a very bad spot."
"I know that August weekends in Massachusetts are usually a great time to be outside and enjoy what's left of the rest of summer, but it looks like this storm is going to have a big impact on the commonwealth, and we really would urge everybody to do everything they can to stay home on Sunday," he said.
Newsletter Signup
Stay up to date on all the latest news from Boston.com