Weather
Massachusetts officials expect 'multi-day' process to fully restore power after autumn nor'easter
"They do need to wait until the winds come down before it's really going to be safe to get up into a bucket truck."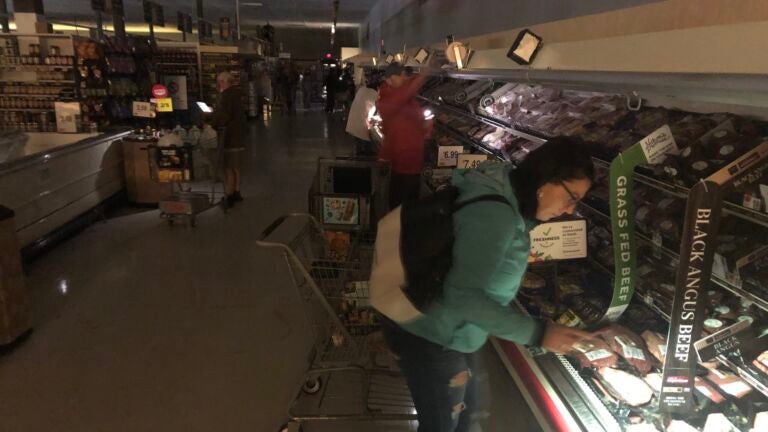 The worst of the autumn nor'easter that knocked out power for nearly a half million households across southeastern Massachusetts may be past, but the storm is not over yet, delaying restoration efforts.
During a press conference Wednesday afternoon, state officials said they expect it to be a "multi-day process" to fully restore power in Massachusetts, as high winds continue to prevent crews from fixing power lines in many areas.
"National Grid and Eversource and the other utilities are already working to restore power where they can," Gov. Charlie Baker said. "But in some cases, they do need to wait until the winds come down before it's really going to be safe to get up into a bucket truck."
As of Wednesday afternoon at 4:30 p.m., 466,445 customers remained without power, according to the Massachusetts Emergency Management Agency — with the outages concentrated along the South Shore and Cape Cod. In many South Shore towns, upwards of 90 percent, if not 100 percent, of customers still did not have power.
In Plymouth County, 85 percent of customers remained without power; in Barnstable County, it was 74 percent.
Officials recorded hurricane-force wind gusts of more than 80 mph across the region Wednesday morning, downing trees, blocking roads, and damaging power lines.
"Anybody who lives anywhere between Quincy and on the end of the Cape can probably not have to go very far to find really good examples of how rough this storm was on their communities," Baker said during the press briefing in Situate.
Officials stressed that residents should assume that any downed wires are live, and implored them to stay away. According to Baker, anyone who cannot stay in their house without power should try to stay with friends or family, or reach out to their local town officials, police, or fire department.
Baker said he didn't have any "significant" concerns about lines forming at some South Shore gas stations, after some stores were forced to close or convert to cash-only due to the outages.
"When we talk about a multi-day event, we're not talking about many multi-days," he said. "We're talking about something that's going to take a few days to clean up. As it gets cleaned up, obviously those stations will become available to get replenished with fuel."
In the meantime, Baker encouraged those that don't need a full tank of gas to "fill it halfway up or three quarters of the way up, so whoever's behind you has an opportunity to fill up as well."
Baker noted that, thanks to an astronomically low tide, the state did avoid what could have been "very significant flooding and water damage" if the storm had arrived just a week later in the season.
"I'm doing the best I can to find that positiveness in all of that," Baker said.
Still, conditions remain potentially hazardous.
Kathleen Theoharides, the state's energy and environmental affairs secretary, said that peak wind gusts between 55 and 65 mph are expected Wednesday afternoon. And she said it won't be until 9 p.m. or 10 p.m. that sustained winds will drop below 35 mph, allowing crews to go up in bucket trucks to fix wires. Until then, utilities companies were focused on clearing trees on the ground.
Theoharides noted that crews had been pre-staged in advance of the storm and that personnel from as far as Canada were helping in the cleanup efforts. Baker said those on the roads should be mindful of the possibility that crews may not be especially visible due to nightfall, as well as the leaves that have yet to fall.
"It's really important we make sure we give these guys and gals enough room to actually do the work they need to do to clean the trees out and clean the roads up, so that we can then get people up into the bucket trucks and get everybody's power back as quickly as possible," Baker said.
Newsletter Signup
Stay up to date on all the latest news from Boston.com