Weather
Mass. towns paying snowplow drivers up to $310 an hour amid shortage
"There's been a shortage in the labor industry for a number of years and certainly it's accumulating now."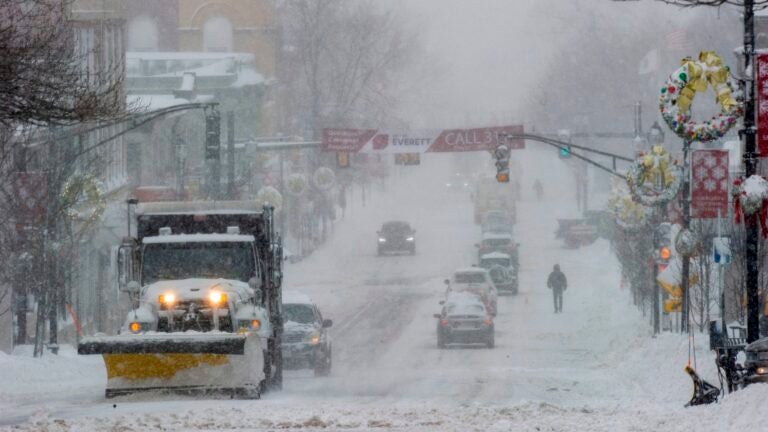 Anyone with the equipment to plow snow could make some serious money this winter.
It was tough to find snowplow drivers last winter, and this year is no different. Towns around Massachusetts are offering high hourly rates for drivers with a commercial license.
Watertown is paying up to $200 for plow drivers with a commercial license, and the rates increase to $310 for those with specialized equipment. Worcester and Lowell are paying up to $155 an hour, and Sandwich is offering up to $135. Chelmsford is paying up to $110, and even MassDOT is looking for drivers, though offering a lower rate of $31.25, NBC10 Boston reported.
Last year, the shortage of snowplow drivers was predicted to impact storm response. Boston.com reported in December that state Transportation Secretary Stephanie Pollack said "some major roads may have only one lane open for travel" during the heaviest periods of snowfall. At the time, it was largely due to work absences from COVID-19 infection and quarantine but this winter it seems a little more complicated.
Communities are struggling to attract drivers, WCVB reported, because many are pulling away from big contractors, putting them in high demand. Though competition for drivers isn't new, Watertown's Superintendent of Public Works Gregory St. Louis told WCVB it's gotten worse.
"There's been a shortage in the labor industry for a number of years and certainly it's accumulating now," he said.
The city is trying to hire around 50 plow drivers for the upcoming season.
Chelmsford towing company owner Chris Ferrera told NBC10 it's been tough to hire anyone, and he's had to give raises to keep the workers he has.
"We can't find anybody; I can't find anybody," he said. "That's a problem because I can't respond to the needs of the town or the community that I work for, and so who is going to fill that void?"
North Andover's Director of Public Works Jim Stanford told The Boston Globe this year's hiring challenges are the worst he's seen in his 30 years on the job. One of his big fears is school delays: if the city can't hire enough drivers, town employees will work more hours to clear the roads themselves.
"It's going to take us too long to get all the routes, so we'll have to let the superintendents know that we're not ready for them to open," Stanford said. "That's really where the biggest fear comes from, from our perspective."
Massachusetts isn't alone in this: a report from USA Today highlighted that 11 states are still recruiting plow drivers, including Rhode Island. Like Stanford, Mark Geib, administrator of Michigan's state Transportation Systems Management Operations, said he hasn't seen a shortage like this in his 30 years working at the state.
"It's not just for the traveling public, but it's also for emergency services, the ambulances and police and fire and all that," he said. "We need to keep the roads clear so people can get around, especially in emergency situations."
Newsletter Signup
Stay up to date on all the latest news from Boston.com