Weather
Boston had the warmest year on record in 2021
The first week of 2022 brings flood warnings, cold temps.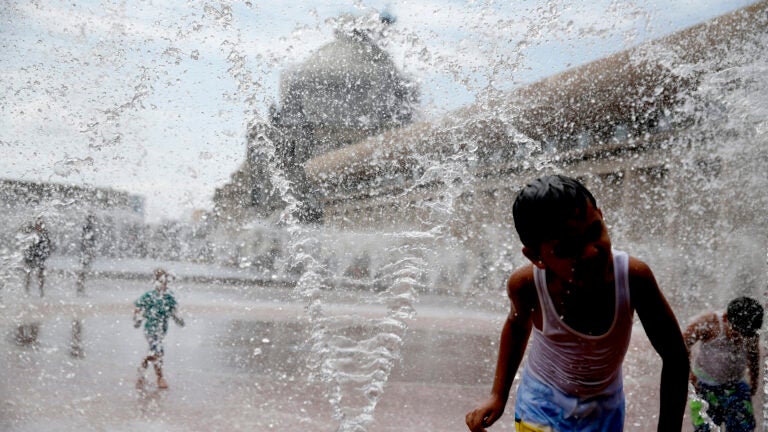 Boston hit record warmth in 2021, topping a record last set a decade ago.
In 2021, Boston had a mean temperature of 52.4 degrees, beating out 2012's record of 52.2 degrees. It was also the 16th wettest year in local recorded history, with 52.3 inches of rain and 21.7 inches of snow, according to meteorologists.
The National Weather Service's Boston bureau tweeted about the record Saturday, saying, "The 2021 climate stats are in! Boston & Providence set a new record for the warmest year in their respective station history. Worcester & Hartford came in at the 5th warmest."
Boston was far from touching its snowfall record, which clocked in at 108.6 inches in 2015. The city's rainiest year happened in 1878, with 65.5 inches of precipitation.
Providence hit its record warmth by just a fraction of a degree — its median 2021 temperature of 54.1 degrees beat out 2020's max of 54 degrees even.
This week's forecast: Foggy with coastal flooding
Boston's warm weather won't continue into the first week of the new year, with low temperatures due this week, along with a risk of coastal flooding.
The NWS's Boston bureau warned of minor flooding from Monday morning through Monday afternoon along Morrissey Boulevard in Boston. More flooding is also due along the North Shore, from Marblehead northward along the coast to Newburyport.
People in the following counties should also be wary of possible coastal flooding: Suffolk, Plymouth, Norfolk, Essex, Barnstable, Dukes, and Nantucket.
"The combination of high astronomical tides and modest wave action will result in flooding of some immediate coastal roads and some road closures are anticipated…," the service said. "Although spotty nuisance inundation is possible with the late Sunday morning high tide, the greater concern is the late Monday morning/midday high tide cycle," the service said.
Forecasters urged people not to drive through flooded roadways.
Sunday will see rain and clouds, with a high in the mid-40s, and an evening low of around 23. The low temps will stick around through Monday — with a slight chance of snow that day — and drop to between 17 degrees and 35 degrees on Tuesday. Wednesday may usher in snow early in the day, then rain and a high near 50. Thursday will be sunny during the day with a high near 43, and the evening may see snow after 10 p.m. with more snow likely on Friday.
Weird Weather News: Fish rain in Texas
Hundreds of fish fell from the sky in a little Texas town last week, giving residents a bizarre end to 2021.
The city of Texarkana, Texas, posted photos from the phenomenon on Facebook on Dec. 29, saying, "2021 is pulling out all the tricks … including raining fish in Texarkana today. And no, this isn't a joke."
Texarkana officials called the phenomenon "animal rain," and said it happens when waterspouts and drafts sweep up tiny water animals such as fish, crabs, and frogs, then release them when it rains.
"While it's uncommon, it happens, as evidenced in several places in Texarkana today," the post continued. "So, show us your fishy pics! And please, for the sake of everyone, let's tiptoe into 2022 as quietly as possible."
Newsletter Signup
Stay up to date on all the latest news from Boston.com