Weather
The upcoming storm will impact the east coast from Carolina to Maine. Here's what to know.
"It's always better to be overprepared than underprepared."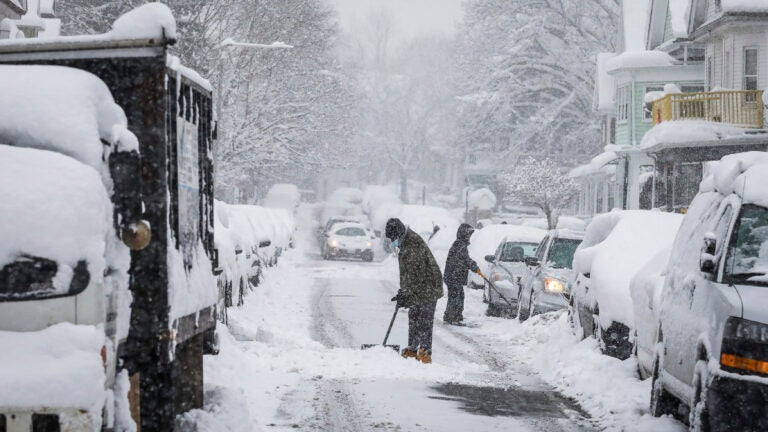 A sprawling storm system that is forecast to bring winter weather from North Carolina to New England this weekend could have a "significant" impact as it moves up the East Coast, a meteorologist said Thursday, warning of a storm that could snarl traffic along the Interstate 95 corridor and threaten power outages to millions.
Although the storm poses a serious threat to nearly a dozen states, its exact track remained uncertain as of early Thursday. "There's still a lot of inconsistencies in the model runs, especially over the last couple of days, where they're waffling back and forth," said Tiffany Fortier, a meteorologist with the National Weather Service in New York.
The models are showing tracks to the west and east, she said, and their lack of agreement was making this storm "very complex." Later on Thursday, forecast models may begin to show a more confident track, especially for the New York City region, where the storm could be "hit or miss," she said.
The upcoming storm would send another round of heavy snow to much of the East Coast, which already had a lot of snow this month, including a system that stranded hundreds of drivers south of Washington, D.C.
"It's always better to be overprepared than underprepared," Fortier said. "Because there is so much uncertainty, the best recommendation is to keep an eye out and just stay updated with your local weather service office."
Here's a look at what to expect from this weekend's storm.
It's going to start in the South by Friday evening.
The storm would probably form east of the Carolinas by Friday evening, the weather service said. Light snow could break out across the central Appalachians and mid-Atlantic by Friday evening before pushing north, where snow accumulations could exceed a foot in some areas. Strong winds and coastal flooding in some areas are also possible, forecasters said. As of early Thursday, a winter storm watch for the weekend stretched from eastern North Carolina up through New England.
What's the forecast for the mid-Atlantic states?
A winter storm watch was in effect from Friday evening through Saturday for portions of Maryland, Delaware, far southeastern Pennsylvania and a large swath of New Jersey, according to the weather service. Snow accumulations across the region could be as high as 9 inches, but the coastal counties of New Jersey could see 12 inches.
Precipitation will begin falling as rain in Central North Carolina before changing over to snow Friday evening. Several bands of snow were then expected to move across the area before gradually ending Saturday morning. Similarly, portions of Virginia and Maryland will start off with rain before transitioning to snow, with some locations expecting to see a foot. Areas around Richmond, Virginia, could see just a few inches, but it was unclear how much snow would fall in the D.C. region.
The New York forecast is very uncertain.
Forecasters said there was potential for heavy snow and high winds for eastern portions of the New York City region Friday through Saturday night, but stressed an "unusual amount of uncertainty" in snow amounts.
Lee Goldberg, a meteorologist for ABC 7 in New York, projected that eastern Long Island and the southeastern portion of New England had the best chances for blizzard conditions and a foot or more of snow. The New York City region and its surrounding areas could see up to 6 inches of snow — or as much as 12 inches depending on the storm's track. Areas north of the city and west were predicted to get a few inches of snow or to see no snow at all.
How will the storm affect New England?
Across New England, heavy snow and strong winds were predicted, which could bring blowing snow, scattered power outages and some damage, the weather service said. Coastal flooding and beach erosion were also possible. Portions of Connecticut, Massachusetts and Rhode Island were under a winter storm watch from late Friday through Saturday.
The region could see up to 18 inches of snow with wind gusts as high as 60 mph, especially on Cape Cod. Travel conditions would be difficult to impossible, meteorologists said. Areas farther west, including Springfield, Massachusetts, and Danbury, Connecticut, could see much lower snow totals.
This article originally appeared in The New York Times.